The President's Award was established to honor an individual or company who has made significant contributions to ASA-Midwest and the independent automotive service industry. This award was presented during the VISION Celebration of Independents Awards Dinner on March 5.
The 2016 President's Award was presented to Jeremy O'Neal with AdvisorFix. "Jeremy has made significant contributions to our association by presenting valuable management training sessions to our members, allowing them to increase their revenues and streamline their businesses. He has made himself accessible for questions and advice, and continually goes above and beyond for ASA-Midwest, our staff and our members. We truly value Jeremy's contributions and he exemplified every aspect I look for when selecting a recipient," said Jerry Holcom, AAM, ASA-Midwest Affiliate president and owner of S&S Service Center.
The Educator of the Year award was established to honor an educator that goes above and beyond in inspiring students, developing innovative training programs and working with the industry to further the opportunities for tomorrow's technicians. This award was presented during the VISION eXchange luncheon on March 4.
It was presented to Jeffry Curtis. Curtis has over 45 years of experience as a diesel equipment technician and has been an instructor for over 22 years, currently holding the position of Diesel Equipment Technology Instructor at Bellingham Technical College. To help his students gain knowledge and experience outside of the classroom, he takes them to Europe to visit transportation factories and museums. But his dedication to the automotive industry reaches much farther than the classroom. Curtis has served numerous officer positions for the National Association of College Automotive Instructors, including president and VP, and currently serves as a board member. He has influenced many with his contributions on iATN and was instrumental in the development of the iATN educator forum. He has volunteered his time to be a part of the VISION Educator Think Tank program since its inception.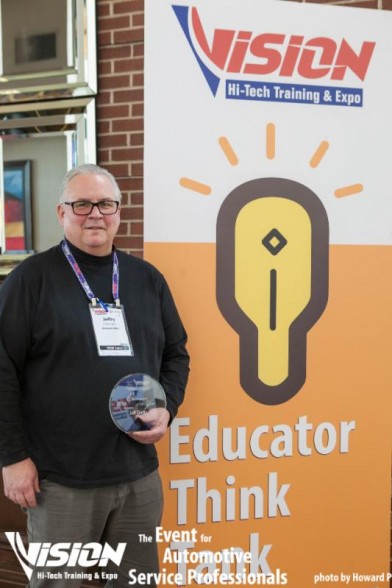 "Jeff's energy, passion and commitment to tomorrow's automotive professional is inspiring to all. He is respected and admired by many of his industry peers and continually goes above and beyond in offering advice and assistance to fellow educators. We are proud to have Jeffry Curtis as the recipient of our 2016 "VISION Educator of the Year," said Sheri Hamilton, VISION conference manager and ASA-Midwest executive director.
VISION is the event for Automotive Service Professionals offering the industry's leading management and technical training as well as a 60,000-square-foot exhibit hall featuring the latest tools, equipment, services and technology. Professionals from 41 states and six Canadian provinces attended the four-day event.
For more information about VISION, visit www.visionkc.com.
ASA-Midwest's purpose is to advance professionalism and excellence in the automotive repair industry through education, representation, and member services. ASA-Midwest is one of the industry's premier affiliates serving independent automotive service facilities throughout Missouri, Kansas, Iowa, Nebraska, Arkansas and Oklahoma.
For more information about ASA-Midwest, contact sheri@asa-midwest .org or visit www.asa-midwest.org.