While I sold a lot of systems and helped fundamentally transform and improve these customer's business operations, the fact was that I didn't know how to manage a shop or even write an estimate." To get around that, I used to take potential buyers to another shop and let them see the computer system in real time. They loved seeing the other shop's operations and learning how they ran their businesses. The computer actually became secondary. I always felt that that more shops should be able to be a part of the sharing process. That gave me the idea to use video to share best practices and the best operation, but without the travel. I could also use the video to help everyone meet the industry movers and shakers, attend national meetings and workshops, and learn about key trends. Once the computer company was sold, I launched BodyShop Video Magazine. The idea for BodyShop Video Magazine was to bring best practices and management information to the masses of shops across the entire US in an efficient manner. We ended up with over 7,500 shops and approximately 75,000 viewers. I ran it from 1988 until 2000 with several additional business ventures added.
You mentioned working on video training, what were the challenges and issues there?
Our approach to video training was "Edutainment." The videos had to be entertaining and they also included real time examples and not just a lecture. We had to get good at making the content bite size, fast moving and interesting. With video and self-study programs, the subscribers could learn at their pace, and watch as often as they liked.
We also complemented the video with classroom and executive retreat venues. I have actually delivered over 850,000 hours of management education. During that period, I actually traveled 210 days and did over 50 programs per year. We reached over 5,500 shops directly with our classroom and retreats during an 8-year run. It took an enormous toll in both family and personal relations, but the business boomed because of our efforts.
management Over time we added consulting, marketing services, even shop services and created several new products and a new business. We launched Business Development Group in 1995 and ended up with 1,500 Member shops. We introduced EOM, the Electronic Operations Manual in 1998 and eBOSS in 2000. We sold over 2,500 copies of those software programs. We even opened into several other industries. All of that actually served as the basis for our business operations today.
What were the industry conditions that prompted you to create a network?
What were the industry conditions that prompted your to create a network?
The biggest issues were the loss of control of the business, ownership of the consumer customer, and the lack of profits for independent collision repair businesses. Every part of the industry was grabbing for a piece of the pie and taking their taste of the profits, but no one was truly an advocate for the independently owned collision business.
Another major issue was the consumer. Somewhere in the last 15-year shuffle, the consumer was forgotten or worse. They have been manipulated. While insurers found more and more willing shops to work and repair for less and less, the consumer was being left out and so was their choice, treatment, and safety.
What really lit the flame of passion was seeing all of the unfair trade practices go on and no one was offering a solution or better way to do business. We watched how the best in class shops continued to invest in their business, provide better and better service and treatment and play by all the rules with equipment, training, tools, etc., but the unqualified shops were being paid the same door rate! Unfortunately, the unknowing and uneducated consumer could not tell the difference between which were qualified and not … that is, until it was too late.
We set out to create a solution that could and would fundamentally change the industry and address those issues.
Tell us about Assured Performance Network
We actually built our business plan based upon two models: One was what we should do, and the other was what not to do. We used the business model of ACE and True Value Hardware, which are both Co-ops. They do so many things right by bringing the advantages of group and collective power to individually owned businesses. Most of us think of them as franchise or company owned and in fact they are all independently owned businesses working together collectively. By joining together in a co-op, they sell more, make more profits, and they are far better organizations than ever before.
The other model we followed was what not to do. We looked at all of the various initiatives attempted in the industry before and tried to make sure we avoided making the same mistakes. That is how we came up with the formula of doing the opposite of our would-be competitors.

For example,
1) We set qualifying standards and only allow those that meet those to participate. We only allow best in class, independently owned shops participate.
2) We focused on the consumer customer and not the insurer. We are consumer focused and insurer friendly. This means we do not pander to insurers. We want to provide a unique and special experience for the consumer and own them for life!
3) It is not a pay to play program. Shops must qualify to participate and then instead of charging them, we pay them to be a part of the program through "Assured Performance Financial Rewards".
4) We also set out to make sure we had a qualified shop in every community and have complete coverage of the entire US! That has never been done before.
5) We want to collectively harness the buying and marketing power of the critical mass of the industry representing tens of billions.
You said that Assured Performance Network is actually two related organizations based on two different models?
To create a legal entity and accomplish our objectives we create two complementary organizations: 1) A non-profit consumer advocacy organization and 2) A legal cooperative (co-op) that is owned and controlled by the members. Only those shops that can meet the qualifications set by the consumer advocacy organization can participate in gaining rebate-rewards through the co-op. This process ensures the consumer referral program, and the co-op is filled with only the best in class shops.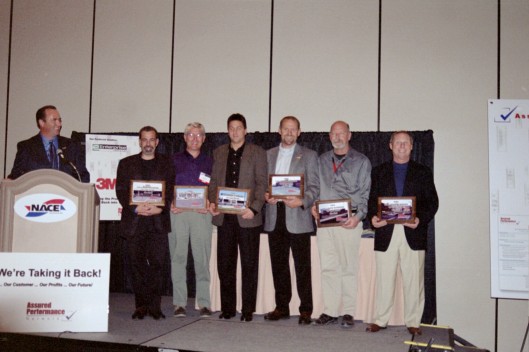 How many shops are currently in the network? How does the co-op purchasing work?
Only about 1 out of 10 shops were able to make the grade and gain qualification. Regardless, today we have approximately 3,500 shops currently. They represent nearly complete coverage of the entire US with a shop within 15 minutes of 95% of the US population. Collectively, they perform nearly $10 billion in collision repair with nearly $5 billion dollars of buying power and over $200 Million in collective marketing dollars!  We are now adding more shops in the metro areas to strengthen the co-op buying power.
Our biggest obstacle is that most shops think any program that does not cost them is too good to be true. It is not. The key aspect of our Network that makes it possible is the fact that the Network is both a non-profit organization, and a co-op. Neither can make a profit so there is NO reason for us to charge more than we have to or need to. It changes all of the rules.
We do as much as we possibly can for the least amount of cost. The result is that we are able to do fantastic things never before possible. Our secret is that we can spread our costs over 3,500 to 5,500 shops. Instead of products and services costing shops thousands per shop per year, we can make it cost as little as a hundred dollars or less!
Another thing to keep in mind is that our Network has more market share than State Farm and Allstate combined! The collective group buys nearly $300 million in paint and approximately $4 Billion in parts! Just imagine what we can begin to do as shops learn to work together just as the hardware stores did through ACE and True Value.
All of our buying programs are optional. We do not force the shops to buy from one particular vendor or switch jobbers, etc. We respect the fact it is their business and we are only there to help, not hinder. However, we can only offer "Financial Rewards" on the brands and with the manufactures that have elected to participate. Therefore, they will only get rewards when they buy from a preferred vendor.
Besides the great strategic partners we have now like Enterprise Rent-a-Car, 3M, 1-800 Radiator, and others, we just finished pilot programs with OEMs such as GM. Our shops performed far beyond any expectation.   We also have an online program to help shops identify top wholesale parts dealers and jobbers through www.BodyShopBuying.com . These dealers and jobbers have agreed to provide special discounts, rebates and services to Qualifying shops in our network. They also participate in the posting of purchases for the key manufacturers that offer rewards as well. Shops are able to enter their zip code and find the dealers and jobbers in their area that are willing to provide something special. All that adds up to more reward dollars for our Member shops to invest in marketing, education and business development ... or if they perfer a new boat!  No other program pays the Members to participate!
What's the essential difference between a network shop and one not in the network? (Is there an ideal profile of a network shop?)
If a shop can't qualify, they are out!  If they can, there are three categories of participation in our program: Qualified, Certified and Buying Group. Some shops are only participating in the Co-op Buying Group. Shops that have met the basic qualifications become ranked as "Qualified" and are promoted through our consumer web site www.CollisionCare.org and 800 # referral program. They have passed a 72 point selection/vetting process to ensure they have all of the right credit rating, years in business, licenses, permits, regulatory compliance, tools, equipment, training, testing, customer service aspects and more.
The second category of shops in our network are designed as "Certified."  They must also pass another 225 standards of excellence. They are  physical inspection and verification of their compliance.  The shops that are "Certified" can officially use our exclusive Collision Care VIP marketing and customer retention tools.
The Assured Performance Collision Care VIP program is how a shop is able to leverage their special distinction as "Certified." They are given the tools to set themselves apart from all of the other shops that are not able to meet the criteria and standards we set. They are able to market, sell, and deliver something special and unique. This helps them make a distinction in the minds of the consumer that not all shops are created equally, nor do they provide the same level of service and quality.
Assured Performance has a consumer estimator designed for the vehicle owners, right? How does this benefit the shop owner?
We leveraged the collective buying power of our group and had a special product made. It includes all of the scrubbing elements offered by several companies for thousands each year, but it also provides the shop with a very special tool, an "Estimate Translator!" The Estimate Translator converts the gibberish filled estimate that is generated by any of the major estimating systems into one that looks nice, has a little sales sizzle, and is easily understood by a consumer. With just a few mouse clicks, it translates the shop jargon estimate into lay terms that the receptionist or anyone in the shop can easily explain to the consumer. It also allows the consumer to clearly understand what will be done to their vehicle in the repair process.
It really gives our Network shops gain a competitive advantage in the sales process. It even enhances compliance with consumer protection "full disclosure" laws. This further illustrates our commitment to providing the consumer with a far better VIP experience than they get today in the traditional shop process or DRP program.
What's going to prevent Assured Performance from the failings that other networks have encountered?
Many groups have run into challenges delivering on their promises of more cars, insurance relationships, etc. Good intentions do not make a viable business plan. You can't achieve fundamental change without critical mass. Even after decades of trying, they never get large enough to make a difference because they charge too much and never deliver enough. Consider this. Even if one could grow at 30 shop growth per month, it would take nearly 10 years to get to the critical mass needed to blanket the entire US as we have. Without this critical mass no one can offer consumers and insurers a national solution. With only a few hundred shops, a group really does not have the type of purchasing power to really make a major impact with the vendors.
We used these business planning flaws as the basis of our business plan. We never make the promise to deliver more cars or agree to price concessions to get more low profit DRP work. We only promised to build a network and leverage it in every way possible for the group's advantage. Our promise was to build a national network that could fundamentally change everything. We have done that! In addition, we have already delivered over two million dollars in Rewards. We have provided web sites, marketing, promotion, PR, education, software, SOP's, commercials, advertising, exclusive discounts, consultancy, and so much more …
And, remember, it did NOT cost the qualifying shop to participate, any more than the personal investment they already made to be the best in class body shop in their market area, and comply to our standards of excellence. Now, with 3500–5500 best in class shops nationally, the better question is not what can we do, but what can't we do! The shops now have the platform and the vehicle to do everything that was unimaginable. It is now only a matter of them learning to use the tools and weapons they now have!

Scott Biggs can be contacted at biggs@assuredperformance.net. Biggs is the author of Break On Through (2007), a book on reinventing Body Shop Marketing, Sales and the Customer Experience. It is available from Assured Performance Network, www.assuredperformance.net, 949-221-0088.