...over 70% of their repairable claims go through photo AI."
CCC offers a product, Estimate-STP, which, Verlen said, on low-impact collisions can write a complete estimate with no needed review or changes by a human. Beyond that, he acknowledged, it's still "a joint process between the human and the AI."
But the AI does "make the process much more efficient," he said, in part by getting a consumer an estimate faster, which in turn speeds their decision-making about choosing a shop and scheduling repairs.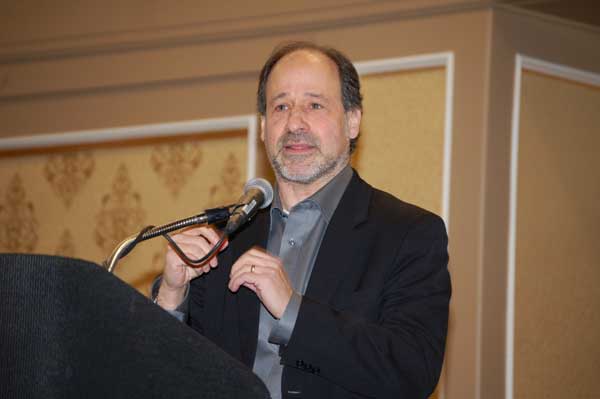 Jason Verlen of CCC Intelligent Solutions said about 22% of repairable claims are currently processed through AI photo-estimating.
"So there's huge increases and improvements in cycle time" and the customer experience, Verlen said. "But it's not like AI solves all the world's problems."
He noted the panel moderator talked about recently watching an estimating contest at a Texas trade show in which 16 estimators writing for a quarter panel replacement on a mainstream vehicle came up with 16 different estimates, ranging from 130 lines to 400 lines.
"So someone may ask me: 'Is your AI accurate? Does it match what a human would do?' My answer is: Which one of those [16] guys do you want me to match," Verlen said. "That's why I say AI is no magical bullet. That's why we combine AI with build sheet data, with business rules, with insurer guidelines, and that's how we come up with an estimate that's reasonable to the situation."
He suggested to "reduce skepticism" among new users, the systems' thresholds should be set high at first so "virtually everything the AI generates on an estimate a human will agree to." Then gradually loosen the thresholds to get more complete estimates, he said, after skeptics have "been trained to see that it does work" even if there are at times a "difference in opinion."
Jimmy Spears of Tractable said his company's artificial intelligence estimating system has become adept at quickly determining from photos if a vehicle is a total loss.
"One of things that AI does a wonderful job on is triage," Spears said. "We're in the high 90s of calling balls and strikes: Is this car repairable or is this car not repairable."
For insurers, he said, the system can...