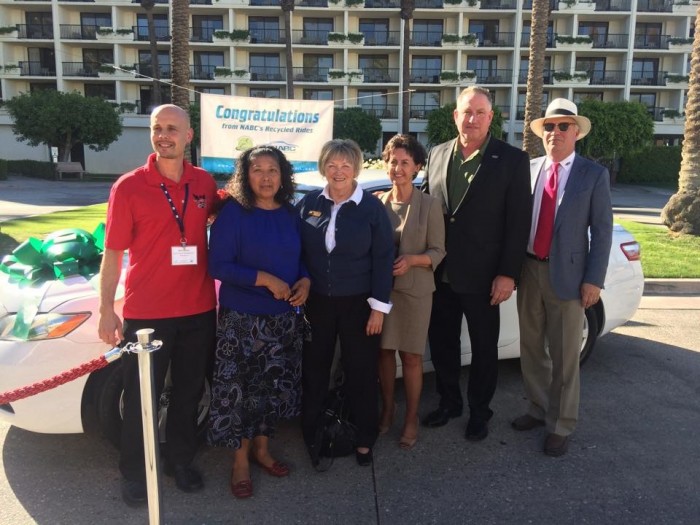 Participants in the Recycled Rides presentation – Ben Clymer, Jr., recipient Rosa Magana, Palm Desert Mayor Susan Weber, Bobbie Neff of Community Connect, Domenic Brusco of PPG Industries, and Rick Tuuri of AudaExplore, a Solera Company.
The April Recycled Rides events are among the 104 vehicles currently in progress or completed to date in 2015. "We have already hit the 50% mark of last year's total Recycled Rides and thanks to our members, are well on the way to surpass the number of vehicles donated last year," said Rick Tuuri of AudaExplore, a Solera Company and Chair of NABC's Recycled Rides program.
The National Auto Body Council's Recycled Rides program brings together collision industry members to repair and donate vehicles to individuals and service organizations in need. Insurance carriers, rental car companies, and salvage yards donate vehicles, which are then repaired as a volunteer effort by collision repair shops. Manufacturers and suppliers contribute to the effort by donating parts and materials.
Highlights of the National Auto Body Council's Recycled Rides events in April include:
Collision Industry Conference in Atlanta where Gerber Collision and GEICO teamed up to donate a 2009 Honda Accord to a single grandmother, raising two young granddaughters. She had lost her job, her home and up until recently, was living in a Family Promise shelter. LKQ Corporation also donated parts and materials.
Automechanika in Chicago where two Recycled Rides vehicles were donated to help give women a second chance to jumpstart their lives. A young woman who fell into trouble with school and the law as a teenager after the death of her parents, was selected as recipient for a 2010 Nissan Altima donated and repaired by CARSTAR of Mundelein, Illinois and Allstate Insurance. With the support of the Women With Drive Foundation, which nominated her for the Recycled Rides program, she recently completed training to be a welder, joined a union and has a new job with a local construction company. A second vehicle was donated at Automechanika to the nonprofit group Another Chance Outreach Center, based in Gary, Indiana, which provides support services and programs to veteran, battered, and ex-offender women. The refurbished 2006 Toyota Prius, donated and repaired by 1-Collision Schererville in Indiana and State Farm Insurance, will help the organization provide transportation to participants in the residency program as they transition back into independent living
The PPG Automotive Refinish Spring MVP Conference in Palm Desert was the setting for a fourth NABC Recycled Rides presentation in April. Allstate Insurance and Ben Clymer's The Body Shop teamed up to donate a 2009 Toyota Camry to a Coachella Valley single mother and her young children. PPG Automotive Refinish donated paint and materials.
Vehicle titling and registration services were also donated by 1-800 Charity Cars for these events as well as many other Recycled Rides nationwide.
"Recycled Rides is a life-changing experience not just for the recipient but for everyone who participated and contributed to these vehicle donations," said Chuck Sulkala, Executive Director of the National Auto Body Council. "We are very proud that through our Recycled Rides program, members of the National Auto Body Council demonstrate the professionalism and integrity of the collision industry by providing many struggling families with the keys they need to help improve their quality of life."