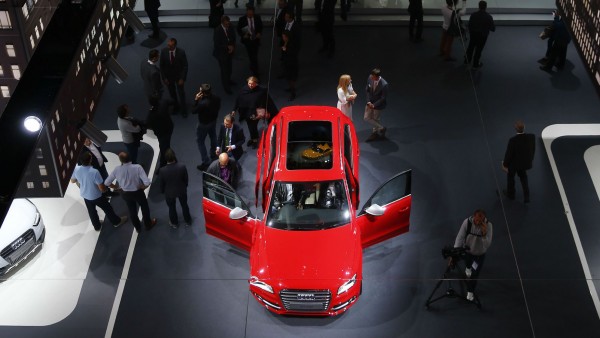 The modified, autonomous Audi SUV that will be completing the longest driverless trip in North America - from San Francisco to New York City.
Reuters/Kai Pfaffenbach
Six engineers at Delphi, an auto-parts makers, left San Francisco on March 22 to begin their cross country trek with four radars, three cameras, six lidars, a localization system, and absolutely no hands, reported qz.com.
Delphi flagged off a modified Audi SUV on a 3,500-mile (5,600-km) automated trip, which will be the longest ever competed by a driverless car in North America. The six engineer passengers will collect data, reported qz.com.
The SUV will be subject to a wide range of conditions, both in terms of weather and terrain, helping developers understand how such a vehicle performs out in the real world, reported qz.com. It will reach the Atlantic in early April, just in time for the New York Auto Show, according to Bloomberg.
Delphi's interest is in selling auto electronics to carmakers, so the high-profile test is more about development and creating new technologies; not selling automated cars. On smaller roads, one of the engineers will take over driving, but on highways the vehicle will drive itself.
The SUV is expected to produce some 2 terabytes of data on the trip, according to Bloomberg. That is about the equivalent of half a million songs, explained qz.com.