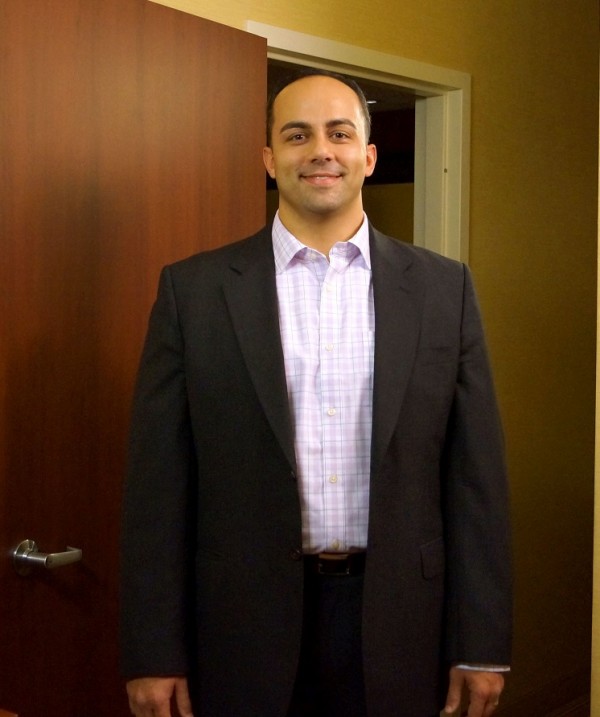 CBS
Maaco President Jose Costa before receiving his makeover for Undercover Boss.
Click HERE to download a PDF of this article.
"I went on this journey with an open mind, to learn as much as I could," said Costa. Relatively new to the company, Costa had only been hired a year earlier. "I felt that it was a good opportunity to go undercover and truly see the operation from a blank, unbiased perspective," said Costa. "I wanted to see it uncensored—what truly goes on behind the scenes."
In January, Costa was featured on the Emmy Award-winning reality series that features corporate executives going undercover in their own businesses. In the episode, he experienced a day in the life of four MAACO employees, during which he sanded, prepped and painted vehicles. He said that he wasn't expecting the work to be so labor intensive.
"I think part of the premise of the show is to make the boss look like he doesn't necessarily know or understand how hard it is," said Costa. "The truth is that it is very hard to do the type of work that we do in our body shops day in and day out."
He said the experience was very eye-opening to hear from the franchise owners and gave him a great impression of what a typical day is like at a franchise. After going through this unique experience, Costa said he is more motivated than ever.
"I got tremendous satisfaction from helping employees and franchises realize their professional and personal dreams. While on the show, I came to realize that I could make a difference to employees on all levels of the Maaco Corporation."
He said his favorite part of the show was giving the rewards away to the employees. Originally from Venezuela, Costa said a large part of his career has been in franchising, working with KFC, Yum Brands and Burger King.
"My drive comes from my family's values and upbringing," said Costa. "My grandparents and parents were immigrants who came from Europe to Latin America with a dream to succeed by working hard."
When Costa joined Maaco in 2013, his goals were clear.
"The board gave us the challenge of doubling the size of the brand to close to 1,000 locations by 2020 and doubling sales from $500 million to $1 billion in five years," said Costa.
He said there's a roadmap to follow in order to reach these goals and it involves innovative thinking across the company.
"Part of the challenge was transforming a 43-year-old brand," said Costa. "It was a market leader in many ways but it was also caught in the 1970s."
Over the last two years Costa said the company's advertising has changed dramatically. Approximately 20 percent of their budget is being invested in revamping their social, mobile and digital operations. One of the company's major goals is to bring more technology into the operation.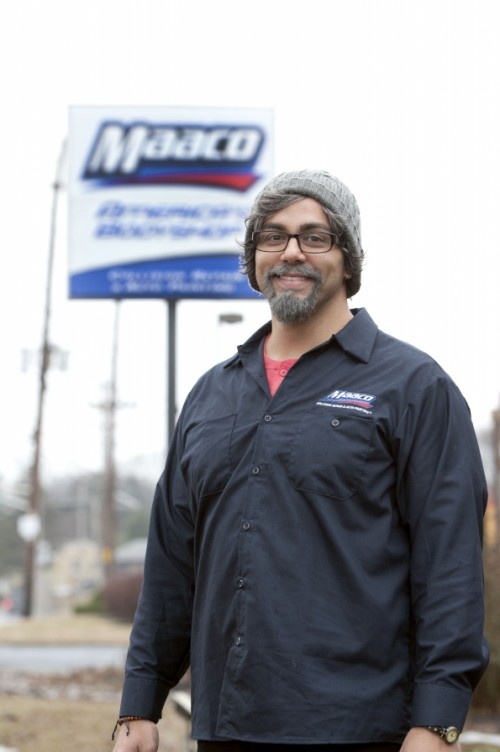 CBS
Maaco President Jose Costa ready to have a behind-the-scenes experience as a Maaco technician.
Maaco began working with the company AudaExplore in 2013 to develop a production management system and customize an application they named One Maaco (see accompanying article: AudaExplore Technology Driving Performance in Collision Repair Shops). Some of the features include mobile estimating, online appointments, electronic tracking of inventory and parts management and payroll. Costa said these additions have already improved efficiencies and franchise owners have noticed a huge increase in profitability.
"Historically, the brand was positioned more around paint and the truth is we do more than $100 million in collision work and not a lot of people know about it," said Costa.
The company plans to change this perception through their marketing and advertising campaign. Costa said there are three main components. First, the company introduced #MAACOver in 2013 to encourage social conversations through Facebook, Twitter, LinkedIn and YouTube. Next the wording "North America's Bodyshop" will be incorporated on almost all of their buildings, signs and materials used in 2015. Maaco also recently announced it is bringing back its "Uh-Oh, Better Get Maaco" slogan first used in 1981. From unhappy neighbors to angry deer, Maaco commercials will follow a modern family and the "uh-ohs" that bring them to Maaco.
Another change at the company is in regard to education. Maaco University was shortened from four weeks to three weeks and fieldwork has been incorporated in the training process. With more than 350 franchise owners operating nearly 500 locations, Costa said part of the challenge was how to get them I-CAR certified. A quarterly boot camp was implemented with the assistance of I-CAR. Now 20 to 30 owners are brought in for an accelerated course where they complete the hands-on training portion and then continue with online classes. Close to 65 centers have been certified through this program. Costa said by certifying the owners and then having them train their own employees, it has benefited the franchises.
"It improves retention and it improves the moral of the shop," said Costa.
One of the projects Costa said he is most excited about is the idea of a retail concierge service where the sales office is separated from the production facility. Over the last 18 months, Maaco has been testing this concept at 13 locations, including Chino Hills, CA and Marietta, GA. The idea is to set up a 1,000 square foot small Maaco office next door to a large retail chain like Target or Wal-Mart.
"We wanted to be more relevant to women," said Costa. After conducting extensive research, Costa said they found "Women were skeptical to do business with us because we used to advertise $299 and $399 and the average repair order was around $1,000. It was that bait and switch mentality that we wanted to very clearly and in a transparent way show the consumer why the price point goes up."
To help accomplish this, Maaco incorporated 30-second videos that explain the repair process. Costa said these changes have improved efficiencies but there have also been challenges. They found too many things were incorporated the first year and it was difficult to measure the impact. He said some of the programs worked and others did not. One example is when the company decided to move away from using price advertising in April 2013.
"By early June we had to put it back on because it hurt us tremendously. We're really sensitive to price even if we like it or not, consumers react to our price point," he said.
Although there were many challenges that year, the company still had positive sales of three to four percent growth. In 2014, Maaco ended the year with more than six percent growth.
"For the first time in the history of the brand we crossed $20,000 average weekly sales," said Costa.
The average center reaches $1 million a year and he said the goal is to continue having the franchise's bottom line grow.
"The more profitable the franchises are the more they will invest back into the business," said Costa. "If you bring innovation and other options for the franchise owners to grow and at the same time they're making more money, it's a win win for both the franchise owner and the franchisee."
Maaco is part of Driven Brands, the Charlotte, NC-based corporate parent of automotive companies including Meineke Car Centers, Econo Lube & Tune and other automotive-related businesses.
Click HERE to watch Maaco President Jose Costa in action on Undercover Boss.