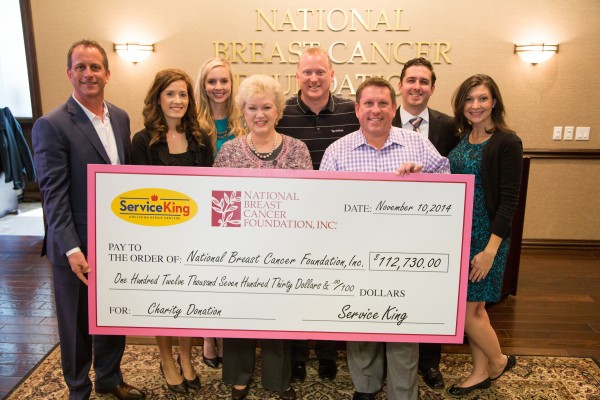 Photo Credit: Brandi McComb
Service King Collision Repair Centers and its teammates joined together to raise more than $112,000 in support of the National Breast Cancer Foundation Inc. ® (NBCF) during the month of October.
Service King pledged to match teammate donations to NBCF during its National Breast Cancer Awareness Month initiative. In an overwhelming and inspiring response, teammates from across the country rallied to raise $56,000 to support the cause.
"The response from our teammates was truly inspirational," said Chris Abraham, Service King CEO. "Breast cancer touches countless lives in so many ways. We are honored to come together as a family and raise funds for the National Breast Cancer Foundation and its mission to raise awareness and find a cure."
Throughout the month of October, Service King encouraged teammates at its locations nationwide to raise awareness by wearing Eliminate Breast Cancer t-shirts and pink wristbands. Service King also shared messages of hope with its customers by including pink warranty packages and mirror hangers in each vehicle repaired.
Additionally, Service King honored its teammates who had personally been affected by breast cancer through its 'Faces of Breast Cancer' series, hosted on its social media platforms and new blog, The Service Advisor.
"Service King's dedication and support of our mission to help women now has truly been inspiring," says NBCF Co-Founder & CEO, Janelle Hail. "The funds raised by Service King will help us provide thousands of free early detection services for women in all 50 states."
Service King and the NBCF's efforts focused primarily on raising early detection awareness. The funds raised will help the NBCF provide education and support services, as well as early detection services through the National Mammography Program, which offers free diagnostic screenings to underserved women across the country.
To learn more about Service King and NBCF's partnership during Breast Cancer Awareness Month, visit The Service Advisor.