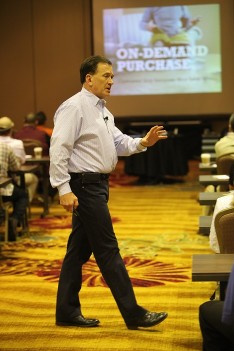 Steve Schoolcraft while giving a presentation. Many remember him as an animinated presenter.
Steve Schoolcraft, often referred to as a visionary by many in the collision repair industry, died unexpectedly on May 19, peacefully in his sleep. He is survived by his wife Alexis, his two sons, Nicholas and Michael, and granddaughter Noelle.
"His passion, drive and dedication to the collision repair industry was unparraled," said Tina Biancalana, vice president of client development for Phoenix Solutions Group, based outside of Chicago, Illinois. "Steve touched many lives and left a lasting memory on everyone he met."
Steve graduated from Lake Forest Graduate School of Management, and was educated in behavioral psychology. He spent many years of his career at Illinois Tool Works and Sun Chemical in executive sales and marketing roles.
In 1989, Steve established Phoenix Solutions Group as a marketing firm for the dealership community. It eventually evolved to become a marketing consulting company focused on enhancing the customer experience for collision repair facilities through strategic marketing and CRM advisory services. Over the years, the company has helped approximately 700 body shops across the United States learn how to drive revenue, increase retention and improve their marketing efforts.
In addition, Phoenix Solutions Group assists collision repair businesses complete the OEM certification process and is the exclusive distributor of the Body Shop Booster technology, which helps simplify the estimating process for both consumers and body shops.
Ryan Taylor, founder and CEO of Body Shop Booster, met Steve nearly three years ago while introducing the technology to the U.S. market. Taylor found the companies that performed best with the product were also associated with Phoenix Solutions Group. He reached out to Steve and flew to Illinois from Calgary, Alberta, Canada where he is based. "In classic Steve style, he said, 'Man, we have to work together!'" recalled Taylor. That led to a partnership between the two companies.
"I look at Steve Schoolcraft as the Steve Jobs of collision repair," said Taylor. "He built an amazing company and platform and he was masterful at attracting like-minded individuals." After countless hours of collaboration with the Phoenix Solutions Group team, Taylor said, "They are what really drove Steve's vision and drive the machine on a daily basis."
He said Phoenix Solutions Group is focused on what he refers to as "...actionable intelligence, which focuses on giving shops the intelligence to make smart decisions for their businesses to drive tangible results," explained Taylor. "Despite our horrific loss of Steve, he built something that was designed to last and carry on."
Biancalana said the Phoenix Solutions Group leadership team and staff remain committed to continuing Steve's vision and legacy, which is putting customer needs at the heart of all that Phoenix Solutions Group does. Steve's oldest son, Nicholas, has already joined Phoenix and is committed to delivering and moving Steve's vision forward. "Like his father, Nicholas is results-driven and will be a tremendous asset to the team," said Biancalana.

Nick has an extensive background in marketing and customer experience strategy. In his recent role as a global consultant with Accenture, Nick led many projects where he identified and assessed complex customer experience problems and developed solutions to increase customer and employee engagement.
"Steve leaves the industry with a legacy; he leaves the world and all of us who knew him with very heavy hearts," said Biancalana. "We will ensure his passion for excellence will continue for generations to come."