Co-hosted by PPG Automotive, the event was hugely successful, and Brandon Eckenrode, director of development for CREF, noted, "Thanks to all our sponsors and registrants, a year's worth of planning resulted in a great afternoon of golfing and networking, and it also helped us raise a significant amount of funds for high school and college collision students."
Eckenrode continued, "As long as it doesn't rain, we always feel confident that we will have a great event and turnout. Luckily, we had clear skies and a nearly sold out crowd of 144 golfers participate in this year's event, so we couldn't be happier."
Feedback from those in attendance, as well as those who only talked to golfers, indicated it was another successful golf fundraiser for CREF. Some of the changes in 2016 included food trucks serving lunch, several drink stations, including a margarita bar, and a wide assortment of promotional items donated by event sponsors.
CREF holds its Annual Golf Fundraiser during Industry Week each year "to bring together sponsors and golfers in helping to raise additional funds FORE a great cause - to help our efforts in supporting high school and college collision school programs, instructors and students," Eckenrode explained. "Players have a great day on the course through our incredible sponsors."
According to Eckenrode, "These types of events help not only raise additional funds but also awareness about our efforts in supporting the future professionals of the industry. Understanding and respecting that there are many great charitable causes and fundraising events that industry members participate in and organize, ours is unique in the fact that we are supporting the future of our industry. I am obviously slightly biased, but without us supporting these students and helping to better train them for industry employment, the industry would be facing an even larger staffing issue it already does."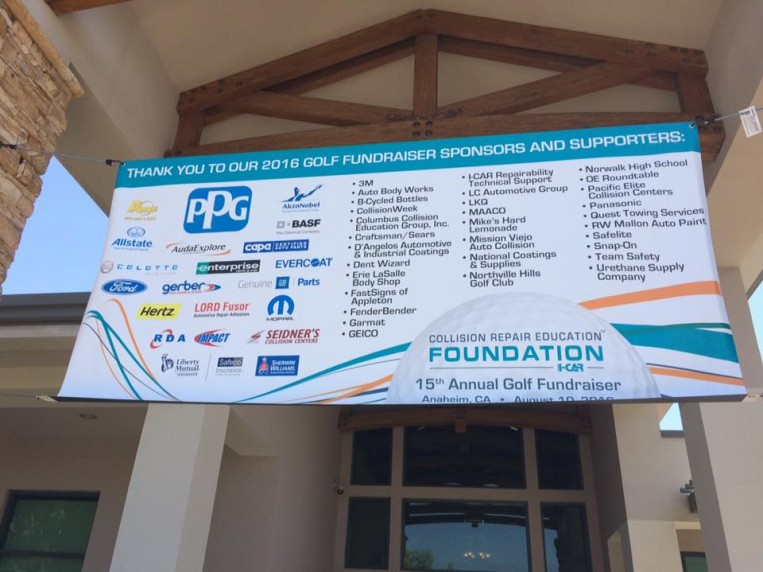 CREF will hold its 2017 Golf Fundraiser during NACE in Atlanta. "We are looking into various golf courses in the greater Atlanta area right now and working with other industry groups on figuring out the best day/time for the event, but planning for next year has already begun," Eckenrode added.
Industry members who would like to receive information about sponsorship or registration for the 2017 golf fundraiser should contact Brandon.Eckenrode@ed-foundation.org.
CREF's efforts to support the next generation of the collision repair industry will also continue throughout the year as they host their Cars, Careers and Celebrities Career Fairs in cities across the nation in order to connect industry professionals with potential future employees.