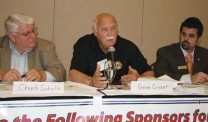 The Encarta Dictionary defines a caucus as a group, often within a larger group such as a legislative assembly, who unite to promote a particular policy or particular interests. Des Moines is a fitting location for this type of political venue since the city holds the first political caucus for the presidential nomination every four years.
The intent and focus of this Caucus was to learn from each other, to gain a better understanding of how other state's legislative processes are working—or not, and to move forward together.
ICRA Chairman, Jim Thompson welcomed the crowd, asking NFIB's Andy Warren for an overview of the Iowa political landscape. Warren shared some not so good news with Iowa business owners and sage advice for everyone in the room – setting the tone for the evening's discussion.
"If you haven't been paying attention to legislation in your state and in Washington D.C.," Warren implored, "then you better start. For example, the death tax for an estate of $600,000 or more could be at 55%. Iowa is 45th on the list of the worst states to do business in the country. Start Paying Attention."
Warren then passed the microphone to moderator Dan Risley who began the panel discussion. Risley opened up the discussion by stating it may be time for the industry to 'Show Up or Shut Up" and congratulated Iowa for filling up the room. He then introduced each panelist and asked them to identify themselves and report on current events of their association.
Bob Smith,
Missouri Collision Coalition

Smith and his wife Margo own Storm Appraisal in Kansas City, Missouri. Bob is the lobbyist for the Missouri Collision Coalition, representing three regional associations: SCRS Mo-Kan, ASA Mo-Kan and AASP Mo-Kan.

The industry needs to start referring to steering as "deceptive referrals"—a term that legislators are more likely to understand. It needs to define patterns or practices and develop an even keel to help the consumer understand auto repair procedures. Change is difficult and these processes (legislative) are for the long term. Business is going to be different."

For Missouri Collision Coalition legislative activity: go to www.storminc.com.
Bob Skrip, ABAC
Bob Skrip is a Connecticut shop owner and the incoming President of the Auto Body Association of Connecticut. The Connecticut collision industry is fortunate to have an advocate in their state, Attorney General Blumenthal, whose wife was a victim of steering. This brought home the fact that "those body shop guys" were telling him the real story. It is good to have an inside track to your state's Attorney General's office.
The association hired a media firm to bring the industry's message to the public. They hold an annual "HonkFest' at the state capital in Hartford. ABAC along with the State Towing association, circled the state capital honking their horns during lunch hour, getting the attention of local media, legislators and consumers.
Possibly because Hartford is the home of more insurance companies than anywhere in America, the ABAC is more than a little disheartened by the lack of success from their legislative efforts. The enforcement mechanism is in place, but there is no enforcement. The association is going to be a "legislative watch dog," recognizing that many laws are already on the books and the lack of enforcement will require a different approach.
Connecticut consumers are learning their rights, largely due to the media blitz and grass roots campaigns. Consumers are beginning to recognize this slogan: Your Car—Your Choice. For more Connecticut activity, please go to www.abaconn.com.
Sue Peterson, WACTEL
Wisconsin Auto Collision Technicians Association puts consumer choice at the top of its legislative efforts. In 2007, the consumer choice legislation was reintroduced (having failed in previous attempts) and received strong opposition from the insurance lobby which referred to this bill as "anti-DRP" rather than a consumer choice bill. The bill was defeated in March 2008.
WACTAL is working on the Consumer Choice bill for the next session and looking forward to educating Wisconsin legislators. For more information regarding WACTAL, visit www.wactal.com
Chuck Sulkala, MABA
Chuck Sulkala, owner of Acme Body and Paint in Jamaica Plains, Massachusetts, and Massachusetts Auto Body Association executive director Steve Regan, sent these legislative thoughts:
•Professionalism is the most important asset to work in the legislature.
•No matter how long a legislative initiatives take, always remain professional.
•Offer legal language as a solution.
MABA has nine separate bills under consideration at this time, including a favorable labor rate bill and a strong anti-steering bill. As the only state without DRP agreements, Massachusetts shops have to wait for tear down, estimates and supplements. Rates are set by the Insurance Commissioner. For more information regarding the Massachusetts Auto Body Association, please go to www.massautobody.org.
Gene Crozat at meeting.jpg
Cutline: Gene Crozat represents the Collision Repair Association of California at the National Collision Industry Legislative Forum in Des Moines, Iowa.
Gene Crozat, CRA
Crozat is the owner of G & C AutoBody in Santa Rosa, California. He has been in the industry since 1961 and owns three shops in Northern California. CRA was formed when five northern California shop owners saw the walls closing in. 'Steering' means driving a car to most people, so it is important to take the time to articulate and explain your message clearly.
CRA legislation is not against DRPs. It is against steering and for consumer choice. In California, it seems many consumer complaints to the Insurance Commissioner's office are ignored. It is recommended that copies of each complaint be mailed to the State Legislators as well.
This spring, collision repairers came to Sacramento in force supporting the AfterMarket Parts Bill SB 1059. Shop owners packed the hearing room standing 3 deep against the wall. SB 1059 passed the house 14–13, only to be defeated on the House floor May 21 in a 19–18 vote. For more information on CRA, please go to www.cra-ca.com.
Barry Dorn, WMABA
Washington Metropolitan Auto Body Association Vice President Barry Dorn, owner, Dorn's Body and Paint in Mechanicsville, Virginia, has been working tirelessly to build shop support for the association's efforts.
WMABA matches shops with their delegates to create an email and mailing list to disseminate information to their representatives. Legislators don't know your problems—you have to inform them over and over and over. There is a lot of misinformation in legislation, so it is important to have an effective lobbyist.
Currently there are laws in effect that are not being enforced. "The Sheriff is not on the street and everybody is flyin." For more information on WAMBA, please go to www.wmaba.com.
Bob Jones, ICRA
Bob Jones is Iowa Collision Repair Association (ICRA) Legislative Co-Chairman with Mark Martin, Ankeny Auto Body, both in Des Moines. "With NFIB's Andy Warren, we went to the State Capitol to try to change the 1938 law that states collision repairers may not be reimbursed for sales tax on paint and material." Warren did get a law submitted by Senator James Balkcom, which did not make it through this year. This legislation and more will be on the agenda for the next Iowa session.
Steering of work is an important issue in Des Moines. Jones shared this quote from SCRS founder, John Loftus: "Some of these word tracks are written so well they can tell you to go to hell in such a way you are looking forward to the trip." For more information regarding ICRA please go to www.icra.com.
Spontaneous questions:
Before moving into the panel discussion, moderator Risley shared his observations "Unity, Persistence, Consumer Focused and Money. It Takes Money." Unity was the key word in this observation.
Risley then threw out some rapid fire questions at the panel. The unrehearsed questions included:
•We have approximately 40,000 shops in America right now – how many will we have in ten years? All panelists agreed we will drop at least 40%.
•In the next five years will steering be Better – Worse – Same? 1- better 5- worse.
•Are insurer shops legal or illegal? It was an entertaining exercise representing harsh facts that cannot be ignored.
Panelists were then asked to address these points in relation to their association and state: Steering, Suppressed Labor Rates, Database Abuse, Prevailing Market Rate, Paint & Materials, Parts (i.e., aftermarket), Shop Licensing, Consumer Disclosure.
What was learned
The message learned from this first National Collision Industry Legislative Forum was crystal clear. The challenges facing the industry are the same – from sea to shining sea. We learned that good laws are in place throughout the United States that are not being enforced. We learned that we cannot give up at our state capitols.
As Barry Dorn says, "We do it over and over again." We learned that is can be very 'disheartening' to find that efforts are thrown away and ignored by lawmakers and enforcement bureaucracies. We need to 'Start Paying Attention'.
This is the unpleasant and harsh reality that America's collision industry is facing today. The frightening truth is what most of us face every day on every estimate. Unity was the key word Dan Risley identified from panelist comments. It is with Unity that our industry needs to tackle the future. If we don't, Crozat asks: "Who is going to be the last person in town to shut off the lights?"
If you are interested in having a Collision Industry Legislative Forum/Caucus in your region, please contact Janet Chaney.
For a copy of the DVD of this three hour meeting and Panelist contact information, contact Chaney at 480.720.2565 or email janet_chaney@earthlink.net. Shipping charges will apply.