Index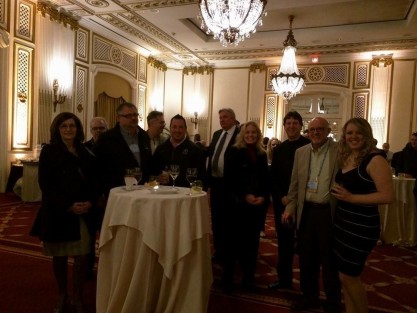 L to R: Laura Windham (Marvin Windham's wife); Dan Hutton (Indianapolis, IN long-time member); Rick Monteiro (Escondido, CA long-time member); Alan Yancey (Lawrenceville, GA long-time member); JD Ipsen (Salt Lake City, Utah newer member), Paul Allred (Charlotte, North Carolina long-time member ); Susan McDaniel (Phoenix, AZ current Secretar/Treasurer); Rick Cutaia (Charleston, South Carolina current President); Marvin Windham (Birmingham, AL long-time member); and Blaine Turner at an NADA reception in San Francisco, CA in 2015.
In 1989, Chuck Hartle met Bart Cooper at a 20 group meeting in Dallas, Texas. Over the next four years the two developed a great friendship that changed their lives as parts managers forever.
During this time, the pair developed the idea of forming a National Mopar Parts Managers Guild. In 1992, the tandem became a trio with the introduction of Cy Yates. The three managers continued to conceptualize the idea of developing a National Parts Managers Guild. This was the beginning of the Mopar Masters Guild, as we know it today.
In February of 1993, the first annual Mopar Masters Guild meeting was held in New Orleans, Louisiana. The small group met in conjunction with the National Automobile Dealers Association (NADA) annual convention. This tradition still continues today and gives managers a platform to tackle business challenges together as well as interact with Mopar.
Realizing how important guild, vendor and brand interaction is, the Mopar Masters Guild has expanded its communication throughout the years. The Mopar Masters Guild Magazine, website, vendor meetings and Mopar events all contribute to the sharing of knowledge – knowledge that is beneficial to all Chrysler brand dealers.
Since the first meeting in 1993, the guild has been active in the development of many factory programs. Members say that not a day goes by that a Chrysler brand dealership does not use a program that the guild has played a role in.
Over the past 24 years, some members have moved on to new adventures. Likewise, many Mopar employees have also come and gone. Members say the most important thing however, remains the concept started with the three guild founders – the concept of sharing information with others has made many members, better managers and people. Today with the addition of a forum available to all Chrysler brand dealership employees, the Mopar Masters Guild's future continues to looks bright.
The guild is governed by its own bylaws established that same year and are led by elected officers serving two-year terms. The guild was founded on the principles of sharing ideas and best practices with like-size dealers in a non-competitive environment. The initial membership was invited from Chrysler's Mopar Masters Club, which was a dealer group representing the top 100 distributors of Mopar parts in the country. The group has evolved into an established collective voice with Chrysler as well as a proven sounding board, helping vendors better their product offering to the automotive industry.
From its inception, MMG has funded its meetings, interactions with vendors, the website and newsletter through supporting vendor's membership dues.
Today, Mopar Masters Guild's mission statement is: The exchange of information by like-size dealers in a non-competitive environment.
Autobody News asked the following six MMG members about their experience with the guild over the years.
Paul Allred, parts director for Stateline Chrysler Jeep Dodge Ram, in South Carolina.
Allred has been part of the guild since 1992 after hearing about a couple of parts managers forming the guild at NADA in New Orleans. After being part of a local guild for many years he said, "I wanted to be exposed to these other larger dealers from across the country to learn how they conducted business."