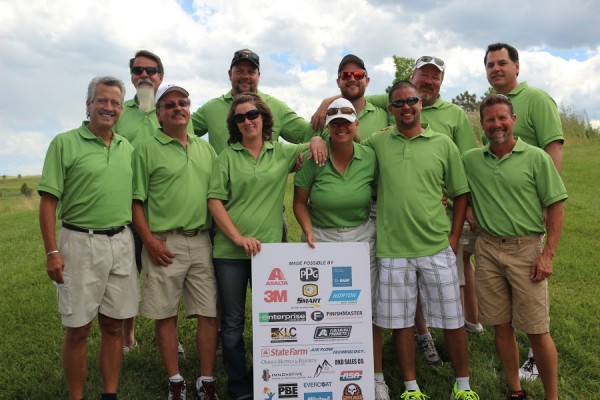 FinishMaster's CO sales team shows gratitude to event sponsors.
Chris Johns, Tournament Coordinator and Business Development Manager for FinishMaster, stated, "This was our 19th annual FinishMaster golf tournament, and it was attended by 122 body shop personnel, dealership personnel, mechanical shop personnel, insurance companies, rental car companies, manufacturer representatives and management, multiple vendors and warehouse providers, ASA members and The Children's Hospital, as well as the Colorado FinishMaster sales team. The event benefits The Children's Hospital with the generosity of everyone's donations, raising over $5000 this year. The event has lasted for over 19 years due our customers, attendees and manufacturer/vendor sponsorships who all contribute for the great cause of raising money for The Children's Hospital."
Sign-in began at 7AM with an 8:30AM shotgun start for the four-man scramble. Tournament fees of $125 per golfer included greens fees, carts, GPS, range balls and lunch as well as a chance to win a variety of guest door prizes. Golfers also received goody bags with Cutter and Buck golf shirts, Axalta golf tees, Norton USB Car Chargers, FinishMaster golf balls, AutoStaffNow tee packets, PPG Coozies, ASA-CO Notepads, The Children's Hospital iPad covers, State Farm Insurance bags, and drink tickets for the course.
The yearly event benefits The Children's Hospital, plus it provides attendees with a fun afternoon of golf and networking with industry members. The event exceeded Johns' expectations with the generous donations raised for The Children's Hospital, and he said attendees responded "very positively with everyone enjoying the golf, camaraderie and business networking. Many travelled from as far south as Colorado Springs, CO and as far north as Cheyenne, WY. This is a great event with longevity in the market and positive results from year to year and for years to come."
According to Johns, "The FinishMaster event went great with perfect 'Chamber of Commerce' type weather, pristine Omni Interlocken golf course conditions, an Augusta style barbecue provided and over $5000 worth of door prizes available. It's important to the industry because it provides a neutral venue for interacting with customers, would-be customers, manufacturer/vendor relationships and industry networking, all for a great cause to benefit The Children's Hospital."
This year's Golf Sponsors included 3M, Axalta, BASF, PPG, Norton and Enterprise Rent-A-Car. KLC Equipment and A&H Finishing provided Silver Sponsorships, and Bronze Sponsors were Air Flow Technology, SATA and Evercoat.
FinishMaster also expresses appreciation for the sponsorship of Omni Hotel and Resorts, State Farm, Mitchell, PBE, Rex Marketing, Starbucks, Einsteins, AutoStaffNow, Gunslinger Custom Paint, Hacienda Colorado, Chili's, Edgewater Pizza, Geno's Burritos, Uniram, Wizards, Innovative Tools, Common Grounds G.C., RKD, Hickory House, Texas Roadhouse, Lowes, UFC Gyms, and Purgatory Cellars Wine.