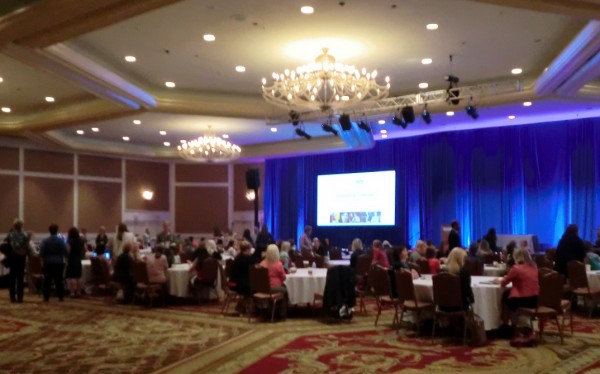 Women from all over the country gathered in Washington DC for WIN's 2015 Educational Conference.
This year, I was able to attend a portion of WIN's Educational Conference for the first time, and I was very impressed with what I found - the welcoming nature of this group, their positivity and the overall organization of the event exceeded all of my expectations.
In fact, not being a WINner made me feel a bit like a loser at first, but these warm women embraced me as one of their own and made me feel like a part of this amazing industry more thoroughly than ever before.
Although I wasn't present for Monday's presentations - "Change Makes Me Happy... Or Is It the Other Way Around?" by Paul Gange and Jeff Peevy's "The Sustainable Competitive Advantage" - attendees praised both sessions as extremely interesting and informative.
On Tuesday morning, WIN members rose bright and early in support of WIN's Scholarship Industry Walk.
The educational portion of Tuesday began with Renee Ricciotti, event emcee, welcoming attendees and expressing gratitude to those who participated in the morning walk as well as to BASF for sponsoring the walk.
She also announced that professional headshots would be taken during the breaks and encouraged everyone to take advantage of the opportunity before stressing the importance of complying with antitrust laws during the conference.
Ritchiotti then introduced Keynote Speaker Mike Anderson of CollisionAdvice.com who presented "Choosing Your Destiny," sponsored by Enterprise. Anderson's positive presentation focused on the three C's of Life, which teaches "you must make a choice to take a chance, or your life will never change."
Following a short break, Susanna Gotsch of CCC Information Services Inc. presented "Smart Connections: What the Future Holds for Our Industry."
Noting that the world has changed dramatically in the few short years since the smart phone revolution in 2007, she stated that the US economy has started to recover with an average of 246,000 jobs being added each month in 2014.
Although miles driven dipped during the recession, 88.7% of employed individuals still commute to work in a privately owned vehicle.
With gas prices falling, people are more apt to take trips and drive more, resulting in more accidents.
Recent years have also shown an increase in the number of telecommuters who work from home at least one day a week; conversely, the increased popularity of online shopping has led to influxes in freight traffic. Gotsch touched on the likely possibility of a shortage of qualified repair technicians and the introduction of autonomous vehicles. In terms of accident frequency trending, she predicts slow but steady shifts.
Gotsch also pointed out that today's age of insurance is completely different compared to 10 years ago; how it's written, marketed, sold and priced has all changed drastically. Auto claim severity trending is up about 3% per year, while claim frequency has also risen by 3.5% annually.
Gotsch credits this to the increased frequency of storms that leads to the necessity for repairs.Next, Gotsch examined increases in auto sales and the impact of regulatory changes on the repair process.
Over 90% of new vehicles sold in 2014 contained at least one part constructed with lightweight material, just one fact leading to increases in vehicle complexity.
A lot more happens with these cars when they're in the shops in terms of technological advances in safety features and programming.
She noted, "The auto segment is dealing with the transition from a primarily mechanical-based industry to a software-based industry."With crash avoidance technology slowly coming along, Gotsch asked how the industry will adapt to these changes in the marketplace, and she predicted, "While collision avoidance is ultimately a good thing, it will force shops to adapt to the new market to stay afloat. The market will see fewer but more expensive repairs."
New vehicle sales have returned to pre-recession levels, Gotsch stated, and the average age of repairable vehicles has increased and is now plateauing; however, there is no foreseeable plateau in the average age of total loss vehicles.
Average repair costs have risen over the past four quarters, and due to OEM price-matching programs, OEM parts are seeing increased utilization.
Meanwhile, labor rates have increased moderately, as vehicle scrappage rates have fallen. In closing, Gotsch noted that we are living in a "100-year-old ecosystem that's creaming for change and technology. There's potential for continued change, but we need to be able to adapt. There are a lot of changing features and changes in the marketplace, but the marketplace is healthy and growing."
After lunch, WIN held their Annual Membership Meeting, led by WIN Chair Denise Caspersen who began by reading the association's mission and reminding attendees that WIN's purpose is to provide education, offer networking opportunities and to recognize leaders. She introduced WIN's 2015 Strategic Initiatives, which include growing the WIN network and building the organizational capacity necessary to better serve their growing network.
Next, Caspersen introduced WIN's Board members for 2015-16; this year's board will consist of Denise Caspersen, Margaret Knell, Terri Neely, Shellie Andrews, Petra Schroeder, Amy Nuttall, Katie Henwood, Susanna Gotsch, Beverly Rook-Twibell, Michelle Sullivan, Melissa Miller, Jessica Rob, Marie Peevy, Jaclyn Byers, Nina Pedraza-Zinna, Cheryl Boswell and Yen Hoang.
The board also recognized departing members Trish Gould and Ruth Weniger.WIN's Executive Committee for 2015-16 will include Denise Caspersen as Chair, Petra Schroeder as Vice Chair and Melissa Miller as Administrative Vice Chair. Beverly Rook-Twibell will serve as Treasurer with Jessica Rob acting as Secretary.
Margaret Knell is WIN's Immediate Past Chair.WIN's Cornerstone Award for 2015 was awarded to Susanna Gotsch.
The Cornerstone Award is designed to recognize the efforts of a member whose actions and unique contributions demonstrate her commitment to the WIN mission and vision and who also sets an example for others.
Ruth Weniger of Powerful Business Strategies LLC then led an exercise on the Value of WIN, sharing her story of joining the association, the friendships she has built, and the invaluable education she has received from each year's conference. Because members need to tell the organization what they need in order to get value out of their WIN memberships, Weniger asked attendees to share the value they get from WIN and also questioned what they need that they're not getting. One attendee noted, "This is where I come to get my inspiration."
Next, Caspersen appealed to WIN members to consider joining the association's committees before introducing the Conference Committe who provided an update on their initiatives and also announced that the 2015 WIN Conference boasted the highest attendance to date with 191 participants.
The Membership Committee announced that the association has already accumulated 357 members so far this calendar year, compared to 371 at the end of 2014.
Subsequently, updates were provided by the Marketing and Communications, Scholarship, Sponsorship, Governance, Nominating, MIW and Industry Outreach Committees. Following a short break, attendees proceeded to two of three 30-minute sessions.
The first option was "Feedback: Giving and Receiving" by Marianne Godwin and Mary Yama of Mitchell International. Noting that most people are terrified of feedback because it's rarely good, Godwin stated, "Feedback is a gift. If it's given in the right manner, something can happen."
Giving quality feedback begins with stating the behavior, followed by discussing the impact. Next, ask for the other person's perspective, and then make a suggestion or request. Finish by coming to an agreement between both parties.
The person receiving feedback should summarize the feedback given, ask questions to better understand, and finally, respond. After demonstrating, Yama and Godwin asked attendees to practice in pairs.
The second breakout session was "Reality Marketing" with Cheryl Senko of PPG Industries. Reality Marketing is designed to work in a small business environment and is built on a foundation that considers your customer's perspectives, opinions, challenges and pains.
After determining what is remarkable about your business, you should define your ideal customer and consider how you can pose a solution to their problems, such as the inconvenience, loss of vehicle value and use, and unexpected expenses associated with an accident.
In addition to educating the customer and helping them see your business as the solution, Reality Marketing is used to develop compelling "headlines" that enable consumers to relate to your company. Used in all manners of marketing, reality headlines address the customer's pain and your solutions, grab a prospect's attention, and create an emotional connection. Building on the description of the ideal customer, headlines capture the essence of what you can do for your customer by featuring what makes your business remarkable.
The third breakout session on Tuesday afternoon was "Bridging Silos: Using Marketing Concepts to Attract, Retain and Grow Talent" with Sandra Herron of MiddlEdge, Inc.
A WIN member survey asking about the most pressing issues they face yielded the four following responses: aging workforce and a lack of younger, trained employees; finding skilled, trained technicians and creating a work environment in which they take pride in their craft; employee involvement and making all staff part of the solution; and retaining quality employees.
Herron saw this as an opportunity to break out of traditional ways of thinking to find new ways to solve the old problems of recruiting and retention. She believes applying marketing tools to HR challenges is logical because employee behavior mimics consumer behavior and customer satisfaction is closely correlated to employee satisfaction.
Marketing begins with research because collecting feedback is necessary for determining unmet needs and untapped opportunities. Listening to the workforce also allows for decision-making based on facts, rather than intuition and feelings.
Herron explained segmentation which is the art and science of grouping customers with similar needs and preferences, as well as targeting, the process of identifying niches with specific, actionable needs and preferences. Positioning is the process of branding the organization in the mind of the target market.Herron explained how marketing people use the "marketing mix" to build capabilities for delivering on the customer promise, and this consists of produce, price, placing and promotion.
Because marketing people know that both markets and consumer expectations change, they stay on top of trends. Likewise, when it comes to collision repair industry businesses interested in attracting and retaining quality employees, it's important to heed relevant trends, such as learning opportunities, salary data and competitor benefits.
On Tuesday evening, WIN held their Gala Dinner and Most Influential Women Award ceremony, recognizing 2015 scholarship recipients and MIW honorees.
On Wednesday morning, Sean Carey of SGC Management Consultants Inc. presented "Connected Cars/Connected Claims" followed by Ruth Weniger's "Time Management 'There's No Such Thing.'" As the 2015 WIN Educational Conference concluded, all in attendance were in agreement that the event was successful, informative and inspirational.