Click HERE to download a PDF of this article.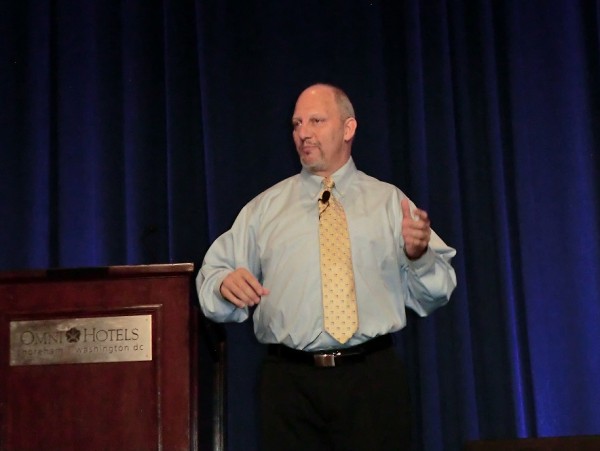 Mike Anderson's "Choosing Your Destiny" was extremely popular with WIN members.
Attendees shouted, danced and sang at various points during "Choosing Your Destiny: The Three C's of Life. Choices. Chances. Changes."
Anderson began by talking about his past and how he joined his father's collision repair shop after returning home from the military. After taking the shop over, he abided by the philosophy "you don't steal fish from someone else's pond."
Instead of recruiting employees from other shops, Anderson found people from overseas through an AIPT program, and he also invested heavily in Skills USA and in women as he looked to the industry's future. Because Anderson was well-known for his skill in estimatics, DuPont Performance Coatings enlisted his aid to teach classes, launching his career in consulting. About five years ago, Anderson sold his shops and founded CollisionAdvice.com, an on-site consulting firm for shops. He also facilitates 20 groups in the US and Canada, so he spends much of his time traveling and speaking on industry issues. "I'm not married and I don't have kids; I decided this industry would be my legacy.
"An important part of this legacy, according to Anderson, is providing opportunities for the next generation of collision repair professionals through Skills USA as well as by promoting opportunities for women in the industry.
Anderson also noted, "A big problem in this industry is a lack of trust. We spend a lot of money on checks and balances, but in order to put this industry back in good standing, we need to regain trust."
Throughout his presentation, Anderson interwove anecdotes about his experiences, trials and victories with Tourette's Syndrome.
"Choosing Your Destiny: The Three C's of Life. Choices. Chances. Changes" began with Anderson praising WIN's effort to encourage, develop and cultivate opportunities to attract women to the collision repair industry. On behalf of CollisionAdvice.com, he donated $1000 to WIN's Scholarship Industry Walk in gratitude of the work WIN has done to change the industry for the better, one woman at a time. He proves his belief that "women rock" by employing four women full-time while his two part-time employees are both male. Anderson believes that in order to be successful, you must be transparent.
When he owned a shop, he did not participate in DRPs, but as a consultant, "I found that there are quality DRP shops and non-DRP shops that perform poor quality repairs; I've also met ethical insurance people who want to do the right thing. I realized that I was wrong because I was judgmental. The first step to Choosing Your Destiny is to own your stuff, be transparent and admit when you're wrong. WIN encourages positive dialogue, but you have to choose to be positive every day."
Asking attendees to consider their calling in life, Anderson suggested that each person's purpose is "to be successful, to improve society, and to give people chances we didn't have. The three C's of life teach us that you must make a choice to take a chance, or your life will never change."
Anderson believes that most people in life settle for less because they're scared of change. Though no one chooses mediocracy, many settle for it.
"People often think they're not worthy, but life is too short. You have a right to have your needs met. Too many people look at change in terms of cost instead of gain, but most people only use 10% of their potential, which means they're leaving 90% on the table!" Anderson went on to ask about attendees' dreams, noting that his dream for "our industry is to have, build, maintain and restore trust between all parties through transparency."
Because there is a lot of wisdom that can be learned from pioneers in the industry, Anderson believes it's time to gather statistics on women in various fields, and he challenges I-CAR to undertake the initiative. He insists that men and women have the same skills and need to learn from and support one another each day.
"It may not be the easiest path, but you can accomplish anything with determination; it's not the strongest opponent who wins but the one with the strongest will. Nobody chooses your destiny but you. I want you all to be successful and reach your dreams."
Urging the importance of highlighting women in the industry and getting more women involved in national associations, Anderson encouraged attendees to get out of their comfort zones.
"Don't worry about what others think. Worry about your character, not your reputation. Your character is who you are, and your reputation is who others think you are. If you're trying to pretend that something else is holding you back, stop it!"Recalling his fear to ask girls to dance at school events in his youth, Anderson admitted that fear was the only thing holding him back, and he urged the audience to let go of that fear because "the fear is worse than what really happens. You can't innovate from within your comfort zone - the magic happens when you step outside of your comfort zone."
"Everyone must choose to ignore critics. Most people take themselves out of the game before even trying because they listen to their negative internal dialogue, which prevents them from seeing the opportunities in front of them. The only thing standing between you and your goal is the story you keep telling yourself as to why you can't achieve it," Anderson admonished. "Quit telling yourself you're not worthy because you ARE!"
Transparency is key to success, but many fear this makes them vulnerable. Anderson taught attendees that choosing to be vulnerable is a sign of courage, not weakness. Being average is as close to the bottom as it is to the top, so you must choose to be above average.
"You have a choice 86,400 seconds each day," Anderson reminded everyone. "Destiny is not a matter of chance; it's a matter of choice."
Anderson believes that when you start a task or take action, the universe conspires for your success. He encouraged everyone at the WIN Conference to take a chance by sharing their vision. Sharing an anecdote about how he had the idea of getting Easter bunnies for 600 kids at the Children's Hospital, Anderson told how he managed this feat in just three short days because he shared his idea with a group of like-minded individuals who conspired with him to turn his dream into reality.
He stressed, "You don't need to have it all figured out to move forward with a vision; people will help you if you share your dreams. Tap into the people you know, don't be afraid to be transparent, and share your dreams. Your dreams are catchy and contagious. If we surround ourselves with a good cause and good people, we can change the world. If you're not taking chances and having failures in life, you're not having fun. I challenge you to ask yourself: what if it does work and you change the world?"
Asking what people are valued for, Anderson implored attendees to take a chance by tapping into people's potential, but instead of taking a chance blindly, seek wisdom from role models you can look up to and who take an interest in your career. Mentor others in turn because the next generation is the future.
Anderson validly points out, "If you want a reason for mentoring younger people in the industry, just ask yourself who will repair your grandkids' cars."Noting that some rules are just old habits that people are afraid to change, Anderson encouraged everyone to challenge pointless rules. "You have to take a chance and do the right thing. Sometimes, we go through things, not for our own benefit, but to encourage someone else. You have to bring excellence to the field and play to win. Don't quit taking chances; if something doesn't work out, it's just not meant to be. Life doesn't get better by chance - it gets better by change! Some people pursue meaning while others create it. What are you creating?" Anderson asked.Anderson emphasized the importance of focusing on the outcome because "if you never believe it, you'll never see it."
Accepting responsibility means turning "I might" into "I will" and "I'll try" into "I can."
Anderson noted, "'try' is a powerless word that means you've given up before you even started. It's time to get in the game and be the observed, not the observer. I want women to be players in the game, not just fans on the sidelines! Get engaged. You need to believe that change CAN happen. Fight for what you want. Fight for your dreams. Don't let anything hold you back... break free! And remember - you don't need permission to achieve greatness!"As his presentation drew to an end, Anderson had attendees sing along with him to "Time of My Life." In closing, Anderson noted, "You are destined for greatness. You determine your calling; you write your own story! I believe in everyone. Please keep being the wind and changing the world. I want to see WIN have a louder voice in the collision repair industry."