When I got my first writing assignment from Autobody News in 2006, I was excited.
I was also a little anxious because I knew very little about the collision repair industry at the time. I also don't know anything about cars, and can't even change my own oil. So, I've been basically faking it for the past 15 years!
At my very first SEMA Show, I met some of my fellow automotive journalists and picked their brains about hot topics to write about and other tips they were willing to share.
One veteran reporter painted a rather unpleasant picture of the state of the industry and all of its issues. He described insurance companies coercing auto body shops into bad---and unprofitable---"partnerships," and midnight shops sneaking around and doing unsafe and poor-quality repairs performed by shady types not afraid to break local regulations while cutting corners on every repair.
My first impression was wow---this is going to be a lot of fun. That reporter's account of the industry turned out to be a gross exaggeration.
Yes, there are positives and negatives as in any industry, but in the end, the good things outweigh the bad. I have never seen a midnight shop---because I don't stay up that late---and most shops must perform quality work to keep the doors open. Plus, unless you're an investigative journalist, you normally end up writing about the more successful shops and collision-related companies out there.

One thing I noticed right away is many body shops---from large MSOs all the way to mom-and-pops---aren't afraid to help local nonprofits and people in need in each of their respective communities. Giving cars to deserving people is a perfect charity model for body shops because it involves the shops, their employees, local vendors and the insurance companies that normally provide the vehicles to be given away.
The National Auto Body Council (NABC) Recycled Rides program has turned into a huge nationwide effort, with collision repairers all over the country getting involved. Since its inception in 2007, they have given away more than 2,500 vehicles valued at $36 million, and more than 300-plus auto body shops have been involved.
Many shop owners covet the opportunity to be involved in the program, while others do not.
One shop manager told me, "We are in the business of fixing cars, not giving them away!" But then he attended an NABC Recycled Rides event at a SEMA Show one year and was so moved...
...he changed his mind, and now the shop gives away two or three vehicles every year.
When people see others helping those in need, it creates a ripple effect, and pretty soon it takes on a life of its own.
Helping people is infectious and there's no vaccine for it. Once it gets in your blood, you're hooked. I don't often remember famous quotes, but for some reason this one from Muhammad Ali stuck with me: "Service to others is the rent you pay for your room here on earth."
Attansio started Amazing Groceries several years ago, in which he walks up to people at grocery stores and pays their bills.

When I began witnessing these Random Acts of Kindness (RAKs) with body shops stepping up to help others, it made a strong impression on me. My first thought was how can I give back? I'm not rich, so donating money is not an option. So, I began looking around for things that I could do as a writer and an artist.
I have been to countless car giveaways over the years and every time I cry. I am a crier, what can I say?
One of the first ones I attended took place in 2007 in Northern California's East Bay, when Mike's Auto Body gave five cars to deserving families during the holidays. Eventually, they asked me to be their Santa Claus at their annual presentations, and of course, I was happy to oblige. This month, Mike's Auto Body will be giving away its 100th vehicle as part of its 21-year Benevolence Program.
Over the years, I've interviewed a lot of people in the collision repair industry who are well-known for their charitable efforts.
Jimmy Lefler, the owner of Lefler Collision and Glass, embarked more than a decade ago on an amazing journey to help people in Myanmar, formerly Burma.
Lefler, his family and some of his crew work closely with an organization, Uncharted International, that has 12 orphanages with more than 600 orphans in Myanmar. He established a home for elderly widows, a human trafficking recovery center and...
... The Loom House, which provides jobs for the children who grow up in the orphanages and for the women who, without a job, would end up in horrible situations.
Another article I wrote recently was about Kendrick Paint & Body, a third-generation MSO with eight locations in Georgia. This shop sponsors more than 40 to 50 charitable events every year, giving lunches to first responders and raising monies for organizations such as SafeHomes Domestic Violence Center, American Red Cross and the City of Augusta, just to name a few.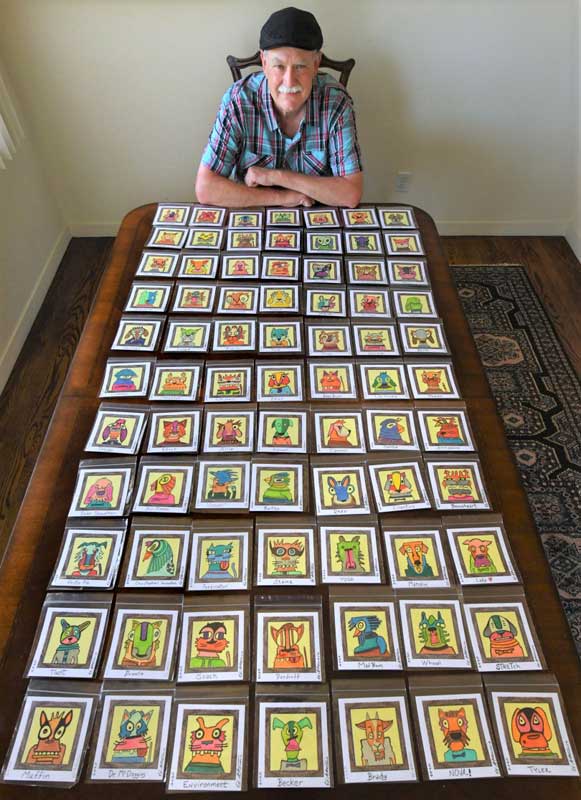 Attanasio started the Pandemic Pet Project, using his art to raise more than approximately $100,000 for 200-plus pet rescues all over the world.
In another story I wrote, Tim Morgan, COO at Spanesi Americas, founded Second Chance Ranch, a nonprofit pet rescue organization, in 2018 when he witnessed pit prejudice and felt it was just a bunch of bull. So, he purchased a 3-acre farm and converted his barn into a kennel that can accommodate a pack of pit bulls.
Morgan's total dedication to helping animals really resonated with me, so I began looking around to play a role myself in some capacity. For many years, I volunteered at the Humane Society---walking dogs and doing laundry and for a time, I went to Golden Gate Park in San Francisco to catch feral cats. One day, an angry feline scratched me so bad people thought I was in a fight. So, I decided to stick with helping dogs to avoid cat scratch fever.
A lot of other people in the collision repair industry have influenced me to become a chronic giver. I started Amazing Groceries a few years back, buying groceries for needy folks during the holidays. During the pandemic, I started the Pandemic Pet Project, using my art to raise money for pet rescues all over the world. Then, it led me to the donkeys.
Randomly and wonderfully, the people at Oscar's Place in Hopland, CA, found me and asked me to be their publicist. Most people aren't aware of the fact thousands of donkeys are being destroyed every month to be used as medicine in other countries. At Oscar's Place, they go to donkey auctions in Texas and California to outbid representatives from Canada and Mexico, thereby saving them from certain deaths. I tell people I have been working for donkeys for many years, and now I am working for them!
If you've been thinking about giving a vehicle to a deserving family, organization or individual, NABC Recycled Rides is always looking for auto body shops to get involved. If you want to help your community, just look around or even better---create your own benevolence program and pick the causes and charities close to your heart.
Make 2022 the year you step up and make a difference in your community and make it part of your DNA. Good things happen to good people and if you can do it, why not?