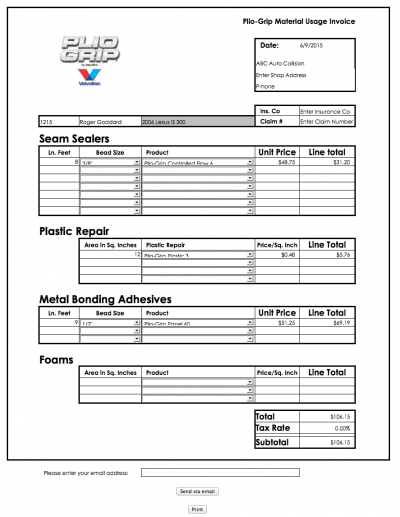 This screen shot from the new PLIOGRIP Material Cost Recovery System shows that techs can easily create an invoice showing exactly how much adhesive they're using on each repair, thereby increasing their chances of getting reimbursed by the insurance company.
Well, according to the people at PLIOGRIP and Bonding Solutions, there is now an app that will allow body techs to report exact numbers when it comes to their adhesive usage on every repair. It's called the PLIOGRIP Material Cost Recovery System —the brainchild of Jeff Miller, PLIOGRIP's technical sales manager and developed by Shaun Worthen, a former body tech who now works as an independent insurance adjustor and moonlights as an app developer.
Miller believes that this app is a breakthrough that will benefit both body shops and insurance companies.
"We wanted to come up with a system that would be fair for the shops and the insurance companies and I am confident that we've achieved both," Miller explained. "In the past, collision repairers were using a method that wasn't providing them with definitive numbers that everyone could really count on. They were relying on a visual inspection and getting close, but now they don't have to settle for just a ballpark figure. With this app, we're eliminating the guesswork and making the process for reimbursement easier for the shops by using the latest technology available."
It all comes down to documentation and an accurate way to quantify the use of a product that has been traditionally hard to get a bead on, according to Shaun Worthen, the developer of the PLIOGRIP Material Cost Recovery System.
"Most insurance companies don't ask questions when it comes to reimbursement about paint and paint-related materials, but when it comes to adhesives, they will sometimes be a little reluctant. But, if they can get accurate numbers that are well-supported, we're confident that the insurers will be comfortable with our system, which means that the shops will be compensated."
The system will allow users to measure how much adhesive they're using on every repair by picking a bead size and then accurately measuring the amount used in linear feet. With drop-down boxes and intuitive navigation throughout, the PLIOGRIP Material Cost Recovery System also contains a calculator and an area where the user can make notes about the repair. At the end of the process, they now have a concise invoice that can be submitted electronically to the insurance company.
Developing the app wasn't an easy process, but after eight months of hard work and after looking at 10 different interface designs, the system was ready to stick.
"We knew it had to be easy-to-use and we also wanted it to be simple for techs to accurately gauge how much adhesive they're using. We made it as straightforward as it can be, with fewer steps, so that techs can use it and then move on to the next job without inputting a bunch of information that isn't crucial."
Josh Lofrano from F. Lofrano & Son in San Francisco and Marin County, CA manages one of his family's shops in San Rafael, CA and has had an opportunity to look at the recovery system prior to hitting the market. He definitely sees a need for the system and anticipates using it on a daily basis.
"Finding a system that can help us to get compensated for the PLIOGRIP adhesives that we use is important" Lofrano said. "With four locations, we do a lot of plastic work and in many ways, measuring the usage of any product is an iffy proposition. Now with this system, we'll be able to capture more revenue on each plastic repair we do, which will help the bottom line and make us more effective overall."
For shops that are interested in incorporating the PLIOGRIP Material Cost Recovery System into their production, Miller explained how to get it.
"It's free to use, but you have to be either a jobber or a shop customer of PLIOGRIP," he said. "All of our 75 reps nationwide will have the system on their iPads after June 1st and they can show you how to use it. They'll set you up with a username and a password and then you can try it out."
Miller thinks it will quickly become the go-to system for body techs from the Big Apple all the way to the City by the Bay, he said.
"The PLIOGRIP Material Cost Recovery System will enable shops to make a profit on every plastic repair they perform, which means more money stays in the shop. Every shop owner in the country will appreciate the accuracy, accountability and time-saving qualities of this system."