Index
Each of the quarterly surveys, conducted by Collision Advice and CRASH Network, focuses on a different aspect of collision repair, asking shops about which "not-included" procedures they bill for, and about how frequently each of the largest auto insurers pays for those procedures. More than 900 shops across the country responded to the January "Who Pays" survey on refinish operations.

The surveys have continued to show even when there are a majority of shops routinely being paid for a particular "not included" operation, there can be a significant percentage of other shops not even putting it on their estimates. "Mask sunroof opening" is a good example of this. Although 56 percent of all shops taking the January survey said they are paid for this operation "most" or "all" of the time when it is needed and billed for, 43 percent of the shops responding to the question are not even billing for it.

"While this procedure is clearly necessary to perform on some jobs, it has no automatic formula in the estimating systems, so it is up to the shop to determine the appropriate charge and itemize it on the estimate," Anderson said.

The surveys now break the results down by 11 different geographic regions, and they have found some modest regional differences in shop billing practices. Shops in the Pacific Northwest region, for example, are more likely to charge for the "not-included" refinish operations asked about in the January survey than are shops in other regions. The Northeast region had the highest percentage of shops saying they "never asked" to be paid for the not-included operations listed in the survey. The regional differences are not large, however, with 24.8 percent of the Northeasterners saying they "never asked" compared to 16 percent of shops in the Pacific Northwest.

Interestingly, shops in the Northeast are no less likely to be paid "always" or "most of the time" when they do add a "not-included" item to their estimates. On average, across all regions, when the data for all the operations are combined, 60.3 percent of shops are paid "always" or "most of the time." In the Northeast, that figure is 60.1 percent – statistically identical to the national average. In other words, this particular survey found Northeast shops aren't less likely to be paid for a "not-included" refinish procedure when they bill for it; they are just a little less likely to bill for it.

Anderson said the consistent responses to some of the survey questions this year compared to last year are an indication of the accuracy and reliability of the surveys. Like last year, for example, about 47 percent of shops this year said paint shop employees perform the feather, prime and block operation, but nearly 52 percent bill for this procedure as body labor rather than refinish labor.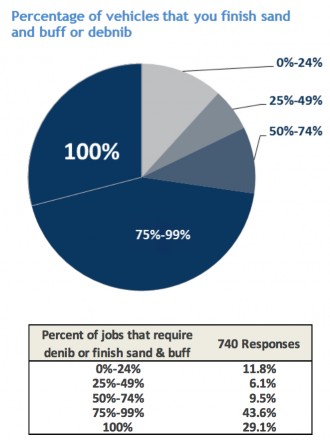 Nearly three-quarters of shops report that 75 percent or more of vehicles require either the "denib" or "finish sand and buff" operation.

In addition to the refinish labor operations, the January survey also asked shops about their choice of CSI vendors, and how they calculate charges for refinish materials, Anderson said more than 2,500 shops have taken one or more of the "Who Pays for What?" surveys since they began in 2015, and he says they often tell him that "just participating in the surveys is a great reminder of procedures they are performing every day, but may not be listing on estimates or invoices."