Index
Mike Anderson of Collision Advice said he sees several ways to measure whether his quarterly "Who Pays for What?" surveys, now in their third year, are having an impact.
The industry trainer and consultant said the first way is whether the surveys find an increase in the percentage of shops successfully getting paid for some of the "not-included" labor operations the surveys ask about. The most recent survey found that for each of the 21 procedures detailed in the survey, more shops this year reported insurers are paying them "always" or "most of the time" compared to the same survey last year.

But a second way Anderson said he is measuring the surveys' success is a little more subtle. He hoped the surveys would raise awareness of not-included operations and reduce the percentage of shops who acknowledge they've never even included some of the operations on their estimates or invoices. After all, when those shops are asked why they've never asked to be paid for one of those procedures when it is necessary and done, about 75 percent of them say they were either not aware that the item was "not-included," or it simply never occurred to them to charge for it.

By that measure, the surveys are clearly having a positive impact, Anderson said. The survey conducted in January, for example, found that nearly every "not-included" refinish operation asked about had a higher percentage of shops (compared to a year earlier) now negotiating to be paid for them.

Although about 66 percent of shops report being paid to "refinish pinch welds after clamp damage" always or most of the time when it is necessary and performed, about 1-in-7 shops say they never have billed for that "not-included" operation.

"If you don't bill for it, you will never be paid for it, yet the biggest percentage of shops not billing for these procedures say they never thought of billing for them when they are required as part a repair," Anderson said. "These surveys were designed to help raise that awareness."

The latest of the 2017 "Who Pays" surveys, focused on frame and mechanical labor operations, is being conducted throughout the month of July; click here for more information or to take the survey.
Each of the quarterly surveys, conducted by Collision Advice and CRASH Network, focuses on a different aspect of collision repair, asking shops about which "not-included" procedures they bill for, and about how frequently each of the largest auto insurers pays for those procedures. More than 900 shops across the country responded to the January "Who Pays" survey on refinish operations.

The surveys have continued to show even when there are a majority of shops routinely being paid for a particular "not included" operation, there can be a significant percentage of other shops not even putting it on their estimates. "Mask sunroof opening" is a good example of this. Although 56 percent of all shops taking the January survey said they are paid for this operation "most" or "all" of the time when it is needed and billed for, 43 percent of the shops responding to the question are not even billing for it.

"While this procedure is clearly necessary to perform on some jobs, it has no automatic formula in the estimating systems, so it is up to the shop to determine the appropriate charge and itemize it on the estimate," Anderson said.

The surveys now break the results down by 11 different geographic regions, and they have found some modest regional differences in shop billing practices. Shops in the Pacific Northwest region, for example, are more likely to charge for the "not-included" refinish operations asked about in the January survey than are shops in other regions. The Northeast region had the highest percentage of shops saying they "never asked" to be paid for the not-included operations listed in the survey. The regional differences are not large, however, with 24.8 percent of the Northeasterners saying they "never asked" compared to 16 percent of shops in the Pacific Northwest.

Interestingly, shops in the Northeast are no less likely to be paid "always" or "most of the time" when they do add a "not-included" item to their estimates. On average, across all regions, when the data for all the operations are combined, 60.3 percent of shops are paid "always" or "most of the time." In the Northeast, that figure is 60.1 percent – statistically identical to the national average. In other words, this particular survey found Northeast shops aren't less likely to be paid for a "not-included" refinish procedure when they bill for it; they are just a little less likely to bill for it.

Anderson said the consistent responses to some of the survey questions this year compared to last year are an indication of the accuracy and reliability of the surveys. Like last year, for example, about 47 percent of shops this year said paint shop employees perform the feather, prime and block operation, but nearly 52 percent bill for this procedure as body labor rather than refinish labor.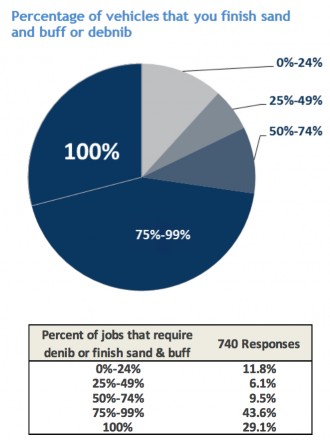 Nearly three-quarters of shops report that 75 percent or more of vehicles require either the "denib" or "finish sand and buff" operation.

In addition to the refinish labor operations, the January survey also asked shops about their choice of CSI vendors, and how they calculate charges for refinish materials, Anderson said more than 2,500 shops have taken one or more of the "Who Pays for What?" surveys since they began in 2015, and he says they often tell him that "just participating in the surveys is a great reminder of procedures they are performing every day, but may not be listing on estimates or invoices."
Shops can take the current survey (or sign up to be notified about future surveys) at www.crashnetwork.com/collisionadvice. The surveys each take about 15-20 minutes, and should be completed by the shop owner, manager or estimator who is most familiar with the shop's billing practices and the payment practices of the largest national insurers. Individual responses are not released in any way; only cumulative data is released.

At the website, shops also can download the results of previous surveys, reports that break the findings down by region, by insurer and by DRP vs. non-DRP. The reports also include analysis and resources to help shops better understand and use the information presented.

Anderson has yet another way to know the "Who Pays for What?" surveys are having a positive impact: the participating shops say they are. A record 84 percent of shops who took the "Who Pays for What?" survey in January said they have been able to use previous such surveys to improve their business.

"That number has typically bounced around the 70 percent range in the past," Anderson said. "The fact that a growing number now report the surveys are helping makes me very proud. Knowledge is key in this industry."
John Yoswick, a freelance writer based in Portland, Oregon, who has been writing about the automotive industry since 1988, is also the editor of the weekly CRASH Network bulletin. He can be contacted by email at john@CrashNetwork.com.