Q: Can you tell us about the shop's "Express Repair Process?"

A: Express repair is a mindset. It's more of a lean processing system than it is the machinery and equipment. The express repairs we have been doing involve pre-ordering parts, pre-painting them and getting them all ready so the customer can come in and wait for a repair. Now with our new technology, we don't have to pre-paint them and can turn around cars in one to two days where it would normally take three or four.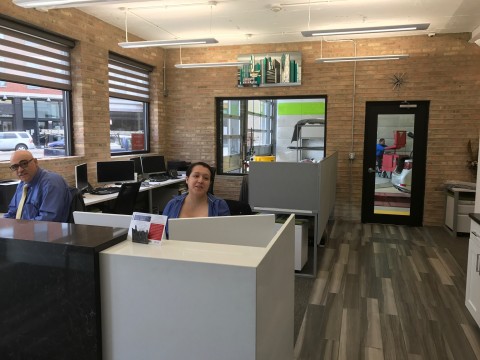 Marco Melone and Stephanie Martinez, customer service representatives (CSRs) at Erie LaSalle Body Shop.
Q: After being in operation for 83 years, how have some of the changes in the industry impacted your body shop and what will it take to be successful in the future?

A: I've been in the business for over 40 years and I've seen the transition from having old, standard cars with big chrome bumpers to the sleek unibody cars of today. Technology is changing exponentially in vehicles and going forward, that is what is going to take us to the next level.
I believe it's going to take an investment in training and proper scan tools to ensure that customers are put on the road safely with no codes coming up in the car that could perhaps put them in a dangerous situation. It's also going to take training for our technicians to properly repair vehicles and educating our customers so they fully understand what it takes to fix a car today. It's not as cut and dry as it used to be. If you get a bump in your rear bumper, technically the OEMs say you are supposed to pre-scan and post-scan the vehicle to make sure all codes are clear. Those are things that haven't been done in the past and right now there are only a handful of shops doing it.
Q: How has it been helpful for your business to get involved in associations both in the community and professionally?

A: I do very little advertising outside of networking and associations. I actually went to a networking event last night. You meet great people and great leaders in the community. It's nice to talk to people, get to know them and engage with them. I can hear their stories and they'll hear mine.
We belong to many professional associations including Assured Performance Network, Automotive Service Association (ASA), Inner Industry Conference on Auto Collision Repair (I-CAR), Society of Collision Repair Specialists (SCRS), the Collision Repair Education Foundation (CREF) and local state associations such as the Association of Automotive Service Professionals of Illinois (AASPI).

We have been part of Mike Anderson's MSO business council group with Axalta for the last several years and attend conferences across the United States with best-of-class shops.

In addition, we are members of civic associations including several Chamber of Commerce organizations, and the River North Business Association that named us Business of the Year.

When you serve your community well, people learn about it. Not only will they respect you, but they will think of you. The idea is when someone has a mishap with their car I want them to think of me first.