Index
What if a vehicle was involved in accident and your shop repaired the vehicle, but failed to scan it and make sure that all of the ADAS were in operation. Who would be liable if the same vehicle was in another accident and wound up in litigation? You of course. I know that scanning is the buzz word today, but is it something new? The answer is NO.
At first there were few standards and each manufacturer had their own systems and signals. In 1988, the Society of Automotive Engineers (SAE) set a standard connector plug and set of diagnostic test signals. The EPA adapted most of their standards from the SAE on-board diagnostic programs and recommendations. OBD-II is an expanded set of standards and practices developed by SAE and adopted by the EPA and CARB (California Air Resources Board) for implementation by January 1, 1996.
What is ESC?
ESC (Electronic Stability Control) is constantly monitoring how the vehicle is responding to the driver and road conditions. If a problem starts to develop, it takes whatever measures that are necessary to bring the vehicle under control. The engine power is reduced letting off of the throttle, retarding the timing and simultaneously applying the brake. All these processes coupled together will counter the forces that are causing the vehicle to lose traction or control. This whole process is accomplished without the driver's input.
Which MIL (Malfunction Indicator Light) tells you that ESC is not operating?
The answer is none of these lights and there are no MIL displays like this. Most dash displays will look like this...
And most manufactures do not have an MIL for a non-operating ESC system. Some vehicle makers do have a switch to disengage ESC.
By the year 2012, the Federal Government mandated that all cars, truck and SUV's have Electronic Stability Control.
What component produces the signal for the ESC computer module?

The SAS (Steering Angle Sensor)
As the steering wheel moves in direction, the speed and number of revolutions are transmitted to the vehicle's computer. If the ESC module thinks if vehicle stability is compromised, corrective actions will be taken automatically.
When is the SAS calibrated?
Every time you repair/replace/R&I suspension components and in some cases, R&I a battery.

How many vehicles have ESC/SAS?

Hunter Engineering company states that Over 40 million vehicles on the road today require a reset/recalibration of the steering angle sensor (SAS) following a wheel alignment, as instructed by the vehicles manufacturer, on certain cars equipped with Electronic Stability Control (ESC). This number will continue to grow since all vehicles produced for USA consumption from 2012 on have been equipped with ESC. The procedure resets the steering angle to match the vehicle's new thrust line after the alignment has been completed.
The collision industry over the years dealt with 2 and 4 wheel alignments and number on insurance carriers said if you did work to the front suspension, only a two wheel alignment was called for. Today's vehicles that are involved in an accident and require a wheel alignment, only one type of wheel alignment should be performed and that is a COMPLETE 4 WHEEL ALIGNMENT. The alignment process starts with adjusting the rear wheels so that they are parallel to the center line of the vehicle (zero thrust angle). Next the front wheels are adjusted so that they are in the same parallel plane as the rear wheels. When that operation is completed, the steering angle is set according to the OE's specifications.
It should be noted that the rear wheels are the directional wheels. Note that the rear wheels have a positive thrust angle and arrow points to the right (car will move to the right and if everything else in specs). The front wheels steer the vehicle.
Why is this important?
Many of the ADAS (Advanced Driver Assistance Systems) work off of a zero thrust angle on the rear suspension. Not having a zero thrust line will cause the vehicles radar to read different than it is suppose to.
So next time an adjuster wants only a two alignment and you comply, you could put your customer in a very compromising situation that they are not aware of risks. You are the professional. Do not put your customer's safety in jeopardy because an insurance adjuster wants to save a buck.
What other ADAS systems involve a ESC/SAS?
Here you go. Adaptive Cruise Control, Automatic Parking, Blind Spot Monitor, Forward Collision Warning, Hill Descent Control, Lane Departure Warning, and Adaptive Headlamps to name a few. Again, all these systems are tied into the ECS/SAS.
Let's shift gears and take a look at the scanning process as it relates to collision repair.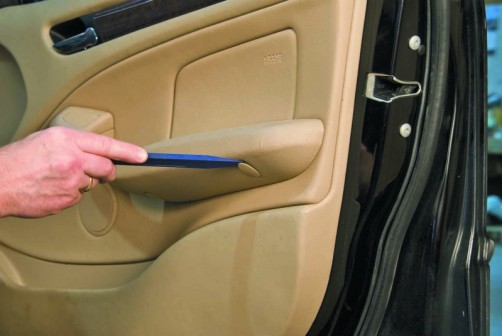 You are removing a door trim panel for paint access. Do you think it will be necessary to perform a scan?
The answer is yes. Take a look at what Fiat-Chrysler Corp has to say about scanning.

"Safety and security related systems, such as antilock brakes, supplemental restraint systems (SRS – air bags), occupant restraint controller (ORC), seat belts, active head restraints, forward facing camera and radar, blind spot monitoring, and other automated electronic driver assistance systems, MUST be tested for fault codes (DTCs) that could be active (current) or stored following a collision. Use of the Mopar wiTECH vehicle diagnostic tester is necessary before and after collision repair."

"Furthmore, voltage loss, collisions, significant vehicle disassembly, interior trim repair or removal, and glass removal and replacement operations could trigger DTCs prior to or during collision repairs, which could result in improper vehicle performance." These two paragraphs were taken from the Fiat-Chrysler web site. Next, take a look at what Honda states about post scans.

"Any repair that requires disconnection of electrical components in order to perform the repair will require a post-repair diagnostic scan to confirm if the component is reconnected properly and functioning. Damage that requires body parts replacement will always require a post-repair diagnostic scan."
Remember, mirror switches,window switches,power door locks, fuel door switch, and trunk switch can be attached to a door trim panel and they are connected to a computer module that uses electrical current to operate.
Any of these items could set off a diagnostic trouble code (DTC). If you do not think this is nuts, look at the next flow chart from Honda.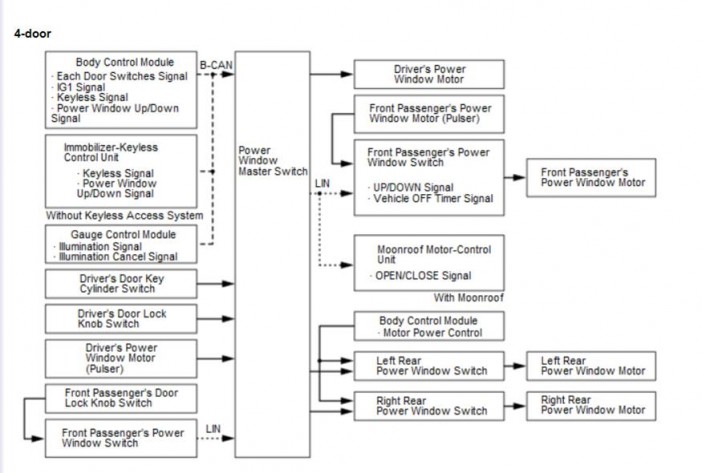 Chart here shows the inputs and outputs of the power window master switch, which is an electronic control unit (ECU) or "computer" with inputs, processing, and outputs. Any on the 15 trouble codes can be triggered by just R&I of a trim panel and look what it takes to diagnose the problem.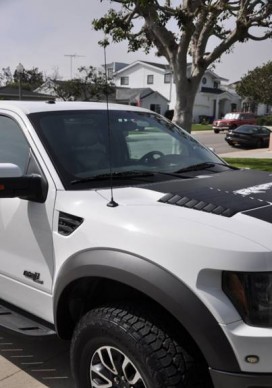 The photo above is of my 2012 Ford Pickup. I was given an Air Pro Diagnostic Remote Scan Tool for this article. I hooked it up with the help of a repair shop owner. The first thing he did was set up a device that would maintain a constant voltage during the scan. After a couple of minutes, I received by an email printout on the scan.
The technician on the other end phoned me to explain that my radio antenna had a negative to ground DTC. He asked me if I had my antenna off which I replied that two days prior, I had my truck washed. When the car wash removed the antenna and started up the truck, it triggered a code. This code did not affect the radio operation. The tech than proceeded to clear the code.
There are a number of ways that a shop can perform a pre or health scan and a post repair scan.

You can purchase an aftermarket scan tool. They vary in price from inexpensive too expensive. Usually the higher the price, the greater the capabilities of the units. Cons: the programs may not work on current year vehicles, programs have to be continually updated, and may not have OEM proprietary information. Another way to have a mobile service come to your shop for each scan or sublet the work to a automobile service shop or OEM dealer. You know the pros and cons of both. Finally, there are remote diagnostic services that use the internet. AsTech and Air Pro are companies that either supply in interface unit (AsTech) or a laptop (Air Pro) that connects by the internet or with a remote location where a technician can read the codes. To get a better understanding about the pros and cons, visit the CIC web site.
In order to take a look at how a remote diagnostic unit works, I performed a pre scan on a 2017 Toyota Camry that had damage to the rear bumper and lower portion of the right rear quarter panel.

A technician from Marina Autobody hooked up his Air Pro Unit to the OB2 port.
The prompts on the lap were followed. A report was sent to the shop after the scan was completed.
Two fault codes were triggered by the blind spot system. The technician found that the blind spot monitor was not connected, which he proceeded to reconnect.
It should be noted that Toyota in CRIB # 177 states the following:
Any of the following conditions could set a DTC, illuminate the SRS MIL, or cause the PASSENGER AIRBAG light to indicate incorrectly, regardless of occupancy:
• The OCS Electronic Control Unit (ECU) is replaced
• Accessories such as a seatback tray are installed on the passenger seat
• The passenger seat is removed and replaced or reinstalled
• The vehicle is involved in an accident or collision.

In other words, a calibration of the OCS system needs to be performed. The Air Pro technician also performed this operation when the technician performed the next scan. The codes for the blind spot module were also cleared.
With the codes clear, the vehicle was ready for its final Q/C and detail for delivery.