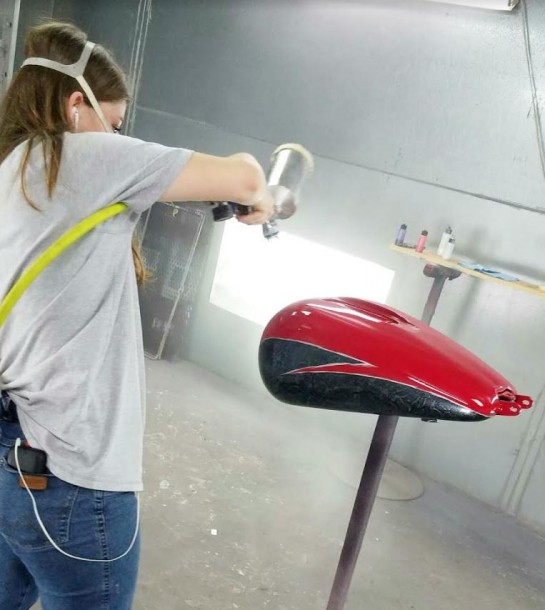 Destiny Armendariz worked at her father's custom paint shop before taking auto collision classes in school.
Destiny Armendariz is not your average teenager. Apart from playing football as a middle linebacker at Kingwood Park High School, she will begin her third year of collision and refinishing courses in the fall.
"I grew up spending a lot of time at my dad's shop," said the 16 year old. "He is pretty well known for his custom paint work on Harley-Davidson motorcycles."
Her father, Emil Armendariz, owns a shop called Debonair FX in Humble, TX.

"I now work at Debonair FX on weekends to continue perfecting my paint skills," she said.

Armendariz said when she tells people she is an automotive painter, they are usually skeptical of her skill level, which she assumes is because of her gender and age.

"I love seeing their reactions when they see my work because they can't believe I did it," she said.

Armendariz said she is the only female in her auto collision courses at her high school in Houston.

"It's good," she said. "If any of my classmates need help or have any questions, I am always ready and willing to assist in any way I can."

She said sharing her equipment with other students who may not be as careful or tidy as she is can be a challenge.