"Even aside from whether or not those guys will return to Congress, we do feel pressure to move this, no question about that," Nordwind said. "It's an added element that our sponsors may not be with us in the next Congress. We're moving as if we have no more time left. This is our Congress."

Despite millions of dollars in donations to the Quality Parts Coalition from its 80 members (which includes insurance companies, LKQ Corp., and other manufacturers and distributors of non-OEM parts), the proposed legislation in the 2015-16 Congressional session failed to pick up more than two dozen other lawmaker sponsors, though it did receive a committee hearing in February of 2016.

Also speaking at the ABPA event was Ray Colas of LKQ Corporation's government affairs department. He discussed various efforts this year within state legislatures to either tighten or loosen restrictions on the use of non-OEM parts for insurance claims. Perhaps not surprisingly, Colas' perspective on some the legislation different significantly from those representing collision repairers.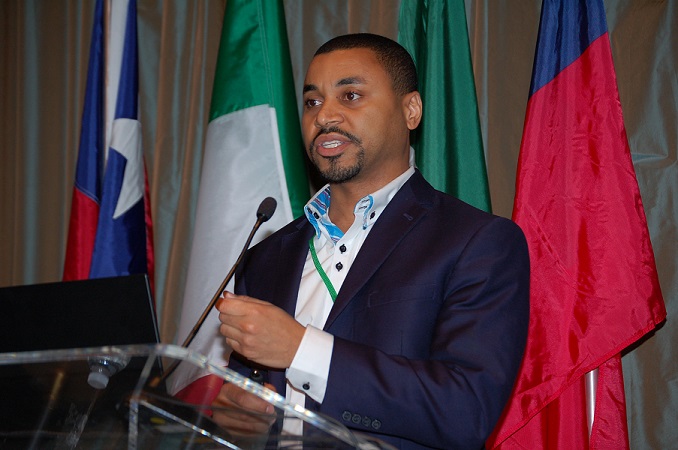 Ray Colas of LKQ Corp.'s government affairs department discussed various efforts at state legislatures around the country reduce restrictions on use of non-OEM parts.

Just a week prior to the ABPA event, for example, Aaron Schulenburg of the Society of Collision Repair Specialists questioned legislation proposed in Arkansas earlier this year that would have overturned that state's limits on the use of non-OEM parts without the written consent of the vehicle owner.

"It's concerning that there are lobbying efforts to repeal transparency to the consumer," Schulenburg said. "Anything that reduces [consumer disclosure] should be concerning to all of us in the industry, no matter what segment you're in."

But in Colas' presentation to the ABPA, he said the Arkansas law was targeted because it was among the most restrictive limits on non-OEM parts use in the country.

"We're always on the defensive in different states to protect our industry from restrictive legislation," Colas said. "But this year we thought that we'd actually play on the offensive side."

He argued that it makes no sense that Arkansas law limits the use of non-OEM parts on vehicles still under the manufacturer's warranty given that the insurance policy, not the vehicle warranty, determines what crash parts will be used to repair the vehicle.