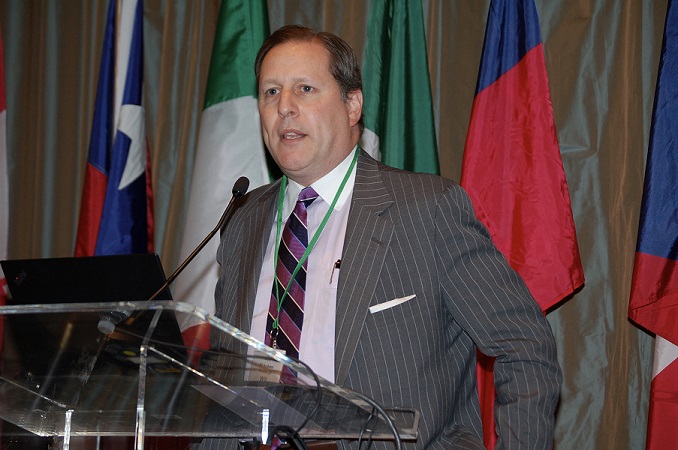 Lobbyist Will Nordwind of the Quality Parts Coalition said his organization is pushing federal legislation to reduce automakers' parts patents from 14 years to just 30 months.
Federal and state legislation related to non-OEM parts was a key topic at the recent Automotive Body Parts Association (ABPA) convention. About 150 people, primarily representing manufacturers or distributors of non-OEM parts, attended the event, held in Atlanta.
Lobbyist Will Nordwind of the Quality Parts Coalition told convention attendees that he hopes to see a first-ever Senate Judiciary Committee hearing during this Congress on the "Promoting Automotive Repair, Trade and Sales (PARTS) Act," proposed federal legislation that would slash the time that automakers can use design patents to prevent other companies from producing replacement crash parts from 14 years to just 30 months. Earlier versions of legislation have had several House committee hearings since it was first introduced in 2007, but never one in the Senate.

"Our mission now is to get this bill moving," Nordwind said. "I can tell you eight or nine years ago when we started lobbying for this bill, no one knew what we were talking about. Everybody now knows what we're talking about. We've educated the Congress. And now we need to get to the next level, which is to move the bill."
He said he held about 20 meetings in late April with members of Congress or their staff.

"At each of those meetings, we were starting to hear that the car companies have already begun to lobby against the bill," he said, urging ABPA members to contact their members of Congress.

Norwind was asked if there is added pressure this year given that one key sponsor of the legislation, 83-year-old Sen. Orrin Hatch (R.-Utah), may retire next year, and that another, Rep. Darrell Issa (R.-Calif.), only narrowly won reelection last year.
"Even aside from whether or not those guys will return to Congress, we do feel pressure to move this, no question about that," Nordwind said. "It's an added element that our sponsors may not be with us in the next Congress. We're moving as if we have no more time left. This is our Congress."

Despite millions of dollars in donations to the Quality Parts Coalition from its 80 members (which includes insurance companies, LKQ Corp., and other manufacturers and distributors of non-OEM parts), the proposed legislation in the 2015-16 Congressional session failed to pick up more than two dozen other lawmaker sponsors, though it did receive a committee hearing in February of 2016.

Also speaking at the ABPA event was Ray Colas of LKQ Corporation's government affairs department. He discussed various efforts this year within state legislatures to either tighten or loosen restrictions on the use of non-OEM parts for insurance claims. Perhaps not surprisingly, Colas' perspective on some the legislation different significantly from those representing collision repairers.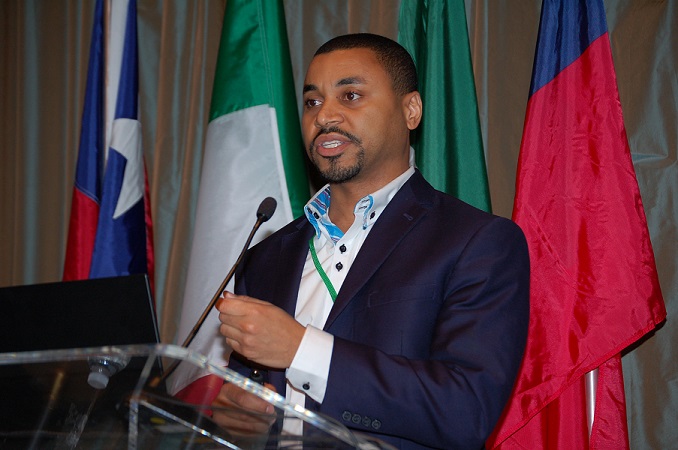 Ray Colas of LKQ Corp.'s government affairs department discussed various efforts at state legislatures around the country reduce restrictions on use of non-OEM parts.

Just a week prior to the ABPA event, for example, Aaron Schulenburg of the Society of Collision Repair Specialists questioned legislation proposed in Arkansas earlier this year that would have overturned that state's limits on the use of non-OEM parts without the written consent of the vehicle owner.

"It's concerning that there are lobbying efforts to repeal transparency to the consumer," Schulenburg said. "Anything that reduces [consumer disclosure] should be concerning to all of us in the industry, no matter what segment you're in."

But in Colas' presentation to the ABPA, he said the Arkansas law was targeted because it was among the most restrictive limits on non-OEM parts use in the country.

"We're always on the defensive in different states to protect our industry from restrictive legislation," Colas said. "But this year we thought that we'd actually play on the offensive side."

He argued that it makes no sense that Arkansas law limits the use of non-OEM parts on vehicles still under the manufacturer's warranty given that the insurance policy, not the vehicle warranty, determines what crash parts will be used to repair the vehicle.
"That [argument] worked for us in the Senate [which passed the repeal], but once it got to the House, there's a ranking member on the committee who owns a dealership," Colas said. "So all the members looked to him as the industry expert. He again provided misinformation, saying how our parts are unsafe, and how we need to preserve the warranties on these vehicles."

Colas said the Arkansas bill was pulled in order to keep it alive, and supporters are asking the state's Attorney General to conduct a one-year survey into any consumer complaints related to parts over the last three years.

"We know there aren't any, as it applies to accident, injury or death," Colas said. The study results are to be reported to the legislature and Governor, he said, "so that a decision can be made then by a governing body as to whether or not these parts should continue to be restricted."

Arkansas isn't the only state where LKQ Corporation has supported legislation this year to loosen restrictions on non-OEM parts use. Colas said LKQ pushed for bills in Tennessee and West Virginia this year that would allow for fewer limits on the use of non-OEM parts. Like the Arkansas bill, the West Virginia bill is dead, Colas said, and with Tennessee "now the [auto] manufacturer mecca of the United States...the chance of us passing [that legislation] is slim."

But Colas said LKQ likely will follow the same path in Tennessee and West Virginia that it has in Arkansas: asking those states' attorneys general or insurance commissioners to conduct studies into whether use of non-OEM parts has led to accidents, injuries or deaths, and "then report back to leadership in that state...whether or not these parts should be restricted."

Colas said after meeting with a New York lawmaker who introduced a bill this year that would require that vehicle owners provide a written signature consenting to the parts that will be used in the repair of their vehicle, that lawmaker "has no interest in moving the bill." But later in his ABPA presentation Colas also said, "We have no problem with making sure the consumer is aware of the type of parts being used for repairing their vehicle."

In Wyoming, Colas said, the Department of Insurance is proposing a change to its 1988 regulations regarding the use of non-OEM parts. Those regulations currently prohibit insurers from requiring the use of any such parts unless the parts are equal in quality to OEM "in terms of fit and performance," and unless the consumer is notified that "he or she is not required to accept non-OEM parts" and consents to their use in writing.

The Wyoming Department of Insurance has proposed an addition to the regulation that states, "No insurer shall directly or indirectly require the consumer to pay any difference in price if the consumer elects to use OEM parts in the repair of the vehicle."
LKQ's Colas said this is something his company is opposing.

"If you incentivize that consumer by telling them whether you choose OEM or aftermarket, there's no cost impact to you, why would they ever choose an aftermarket part, if it's essentially going to be for the same price," Colas said. "We're telling [regulators] that you're effectively eliminating the use of aftermarket parts if you adopt such language. So we are in a battle there in the state of Wyoming...It is a threat to our industry in that state."
John Yoswick, a freelance writer based in Portland, Oregon, who has been writing about the automotive industry since 1988, is also the editor of the weekly CRASH Network bulletin (www.CrashNetwork.com). He can be contacted by email at john@CrashNetwork.com.