Page 2 of 2
Illinois Body Shop Relies on CCC to Stay Ahead of ADAS Technology (article continued)
O'Hare implemented CCC® Diagnostics to manage scanning and calibration work.
"With CCC Diagnostics, we are able to set up certain criteria based on vehicle manufacturer or the type of payer---if it's DRP or a different insurance company, for example," added Serling. "The diagnostic tool also makes sure that we don't miss anything on the estimate, such as a scan or calibration. If we do, it's flagged, so we can make the adjustment. That helps us to catch any errors and stay in compliance."
Serling said compliance with OE repair guidelines is always a critical consideration given the shop's certification status. He noted some diagnostic work is performed in-house using OE-specific scan tools in accordance with factory guidelines. He said O'Hare also relies on third-party providers Opus IVS and asTech, which offer remote diagnostic solutions and services.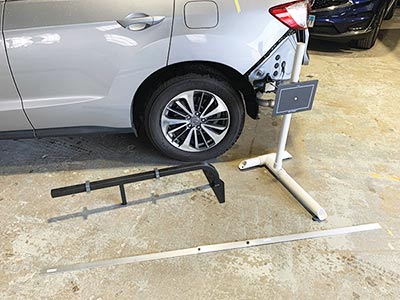 "asTech and Opus have all the software and the OE scan tools," said Serling. "We are able to hook up remotely and talk with their technicians as they use their scan tool to retrieve the diagnostic trouble codes. It's one of our main sources of knowledge. Having access to the technicians helps us identify what needs to be repaired and recalibrated. We also save on cycle time with a faster turnaround and we know the repair was done the right way."
Doing repairs the right way is essentially O'Hare's mantra. "We are 100% responsible for every repair," said Serling. "As a certified repair shop, we want to protect the brands we represent. It's on us to make sure that every car is safe and was repaired properly and restored to pre-accident condition."
In reflecting on O'Hare's accomplishments beyond the technical and operational aspects of the company, Serling said, "It's our longevity. Tom Stiefbold, the owner, has been here almost 40 years. We have that sense of community that a newer shop can't reproduce."
He also noted Stiefbold plays an active role in advocating on behalf of the collision repair industry, serving on the board of the Alliance of Automotive Service Providers of Illinois (AASPI). "Being involved in legislative and regulatory issues demonstrates the high quality of our commitment to safe and proper repairs," said Serling.
CCC Intelligent Solutions
877-208-6155
www.cccis.com
Facebook: @CCCIS
LinkedIn: @ccc-intelligent-solutions
To read more auto body shop profiles from the June 2023 Shop and Product Showcase, click here.