Page 2 of 2
IDEAS Collide Encourages Collision Repairers to Think Differently, Outperform (article continued)
"That is the true power of positive work culture," he said. "It not only transforms our businesses and our teams, but it also enriches our personal lives, bringing us closer to the ones we love."
By investing in employees as if they were family, Bradshaw has found they will go above and beyond for the business.
"Our business would not be the success that it is without our people," he said. "They come first and foremost."
A New Approach to Mentorship
With a growing technician shortage, two representatives from the company Mentor Mentee shared best practices about mentorship, CEO Ryan Weber and Business Development Manager Marc Brune.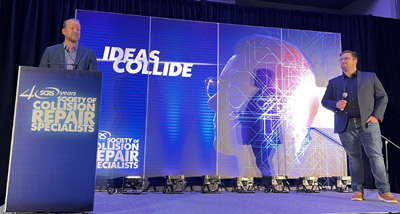 Weber said the company approaches mentorship differently than traditional programs where an employee is matched with someone more experienced. Instead, Mentor Mentee offers a technical mentoring platform.
"The outcome is to strengthen that new person's ability and skills in a technical field," he explained.
Weber asked attendees to imagine tackling repairs without diagnostics, plans or tools.
"It would be chaos," he noted. "The same applies to a workforce and mentoring."
By incorporating technology into the apprenticeship process, Weber said it can help replace a skilled workforce and pass down critical knowledge from one generation of workers to the next.
"Just as we would not approach a vehicle without the proper diagnostic tools…a lot of times what we see is that mentees and entry-level technicians that come into the industry are missing one of the most important tools of all, a great mentor," said Brune.
Weber shared two of the four critical areas part of their proprietary system.
The first is assessing culture. Weber advised asking employees if they believe the company believes in them.
The other critical area is assessing the mentor involved in the program to determine if they are willing and able to instruct and believe in the industry.
Brune recommends educating everyone involved in the program and focusing on three areas: working across generations, the ability to communicate a clear vision for the future and demonstration.
"Just like we wouldn't let our technicians use a tool they don't know how to use, the same applies to mentoring," he said.
Whether a shop is already running a program or getting ready to launch one, Weber said it's important to begin with the end in mind. He suggests creating a customized task list for the technicians' roles to provide direction. He also recommends employers be aware of how wide they are leaving the door open.
Without a career plan, Brune said an employee will likely have their eyes open to other jobs, even if they pay just a few dollars an hour more.
"By supporting and investing in your people, you're able to close that door," he said.
To ensure mentees continue to thrive, Brune recommends monitoring their progress. He advocates setting priorities, holding everyone accountable and providing feedback.
"Not every technician is cut out to be a mentor, but those with the right support can make an immense amount of difference within your business," he said.