Page 1 of 2
Hunter Engineering Focuses on Developing Strategic Solutions for Collision Repairers
By Stacey Phillips, Autobody News
Published Feb. 7, 2023
In the 1930s, Lee Hunter Jr., a 23-year-old architectural student in St. Louis, MO, often had a dead car battery in his Packard convertible. He set out to create a device that would reduce battery charge time. In 1936, he introduced the Kwikurent, a battery charger that reduced charging time from 24 hours or more to less than an hour.
After serving in the U.S. Army Corps of Engineers and the Ordnance Corps during World War II, Hunter founded Hunter Engineering Company in 1946 and introduced the Tune-In wheel balancer.
As the company grew, Hunter developed other innovative equipment. Hunter's team of engineers has received more than 350 patents and set many industry precedents, including a simplified lightbeam alignment system, a computerized dynamic wheel alignment and the thrust line principle, which many say is the foundation of modern four-wheel alignment.
For his impact on the automotive industry, Hunter was inducted into the Automotive Hall of Fame in 1992.
Today, the company is known for designing, manufacturing and selling a wide range of equipment, including computerized wheel balancers, tire changers, alignment racks, on- and off-car brake lathes, vehicle lifts, autonomous alignment and tire inspection equipment and ADAS calibration tools.
Tom Settle, director of field development and training, said Hunter's award-winning patented alignment systems are used by independent shops, regional and national chains, dealerships and OEM manufacturing facilities worldwide.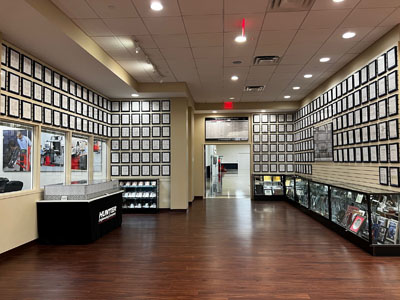 The equipment is manufactured in four plants---three in Mississippi and one in Bridgeton, MO, where a research and training center is located. Also in Bridgeton is Hunter's 26-acre global headquarters. The company has international offices in Canada, Germany and China.
"Unlike most other manufacturers, all printed circuit design and assembly is performed in-house and produces over a million boards and cable assemblies every year," said Settle. "This allows the company to create new products faster and maintain superior quality control."
Throughout its history, the company has been focused on the automotive repair side of the business.
With the shift to electric vehicles (EVs), Steve Dawson, Hunter's regional manager in the Washington, D.C. area, said the biggest growth over the next nine years will be in ADAS calibrations. As a result, the company has developed products to meet these needs, such as the ADASLink® diagnostics scan tool powered by Bosch. The equipment allows for dynamic (driving) ADAS calibrations as well as static (fixture) ADAS calibration with the Bosch DAS 3000. The DAS 3000 uses built-in cameras and rear wheel-mounted targets to position the fixture.
"We see tires, electrification and ADAS being critical [in the future]," said Dawson. "ADAS is expected to grow 400% from 2021 to 2030."
With these changes, Dawson predicts automotive service will ultimately focus on the undercar.
"Shops that are not prepared for undercar in the EV world are going to be missing the boat," he said. "Gone are the days of basic services, such as oil changes, that used to be the bread and butter of a repair shop."
Hunter Products Showcased at SEMA
During the November SEMA Show in Las Vegas, NV, Hunter showcased its products and equipment.
Hunter's latest innovation, unveiled during the show, is the Hunter Maverick™ tire changer, which uses some of the same technology as the Revolution™ fully automatic tire changer.
Settle said the machine allows technicians to control the tire-changing process using variable controls.
"What we find in the body shop world is that fully automatic balancers and tire changers make life easier, especially for those who don't have the knowledge or ability," he said.
Another tire changer on display was the Hunter Revolution™. Using the semi-autonomous WalkAway™ mode, Settle said, the machine does all the heavy lifting. "If I'm in a body shop environment and I'm not a seasoned tire technician, I can go out to this particular tire changer and all I have to know is the diameter of that wheel and tire and then let the machine do the work," he said.
Settle also shared information about the Hunter Road Force Elite® wheel balancer. He said the balancer can perform a Road Force® test and balance faster than a traditional balancer and diagnoses vibration issues traditional balancers often can't identify. It also automatically measures wheels dimensions with its patented vision system.
Hunter sales representative Will Cronin said proper alignment is extremely important, especially with ADAS on vehicles today. Visiting shops within his designated territory, Cronin finds repairers aren't always familiar with how to do a calibration.
"Today, many body shops have generalists who do a little of everything," said Cronin. "Hunter's equipment is easy to use and cuts down time dramatically."