Huffman Collision Center Chooses Audatex, a Solera Company, for Streamlined Estimating, Reliable Tech Support (article continued)
Dietert said seven to eight hours later, the support techs resolved the issue. But unfortunately, that wasn't the end of it.
"I then haphazardly found out I couldn't get photos I had taken with AudaMobile to migrate over to the new system," he explained. "The tech support didn't do anything wrong; it was an issue with my email."
Dietert said he called Audatex again and spoke with a young woman.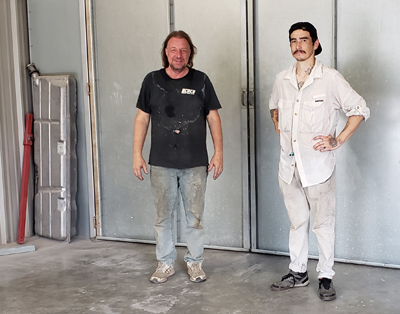 "I explained my email issue, and she said, 'I can get that taken care of for you,'" he recalled. "She figured out I had downloaded the wrong email server and then migrated everything to my email perfectly."
With her insight, Dietert said he could get the photos to the insurance company, and "everything was good."
"If I didn't have her help, I never would've figured it out," he said. "It was such a good experience, and I could tell she was highly trained. The biggest thing was she was engaged, compared to some people who would've just given up."
Dietert added that within an hour, the Audatex support tech had everything fixed, and the shop was up and running again.
He also said that Audatex recently made enhancements to its estimating system, and he's looking forward to engaging with the training when he has downtime.
"I will continue to use AudaMobile until I close my shop down, which, sad to say, will be coming soon," Dietert said.
The Texas shop owner explained the state is expanding the road in front of his business and using eminent domain to clear out any buildings standing in their way.
"I found this out around 2019, so it has been a long time coming," Dietert said. "Five years ago, it was a prediction, and now it's happening; they've already started expanding the road about two miles away. Homes, churches, businesses; all of it's going."
Dietert added he's grateful to have a huge lot. He's debating using the money from the state to relocate his business further back on his property.
"But I haven't made that decision because I am nearing retirement age," he explained. "If this happened 10 years ago, it would be a different story."
Another option is to give the property to his daughter, a hairstylist, so she can open her own business.
"When you're 35, you can do things like that," he said.
Dietert said he wouldn't be surprised if another body shop opened in the same spot.
"Otherwise, I hate to say it, but there's going to be a lot of people in despair because they have to drive a little further to get their body work done," Dietert said. "All in all, I do feel we've had a good run here."
Audatex, a Solera Company
Sonia Javed
Marketing Strategy Director
(202) 768-1707
Sonia.Javed@solera.com
To read more auto body shop profiles in the October 2022 Shop and Product Showcase, click here.