Page 2 of 2
Helfman Collision Center Uses PPG's Newest Color Matching and Mixing Tools to Shoot for Success (article continued)
"First, our blueprinter takes the photo with the spectrophotometer and then the painter reviews the software and usually does just one spray-out to dial it in," Luther said. "Then our production manager or a porter does the mix at the MoonWalk mixing system and delivers it to the painter. It works out well, and the fact that we don't have to do multiple spray-outs surely helps. We're definitely saving time by using PPG's tools."
By wasting considerably less product, Luther's new equipment can pay for itself very quickly.
"You can waste as much as 7 to 8 ounces of paint every time doing multiple spray-outs, so doing just one to succeed is a big deal," he said. He estimates he is saving at least $500 of product every month by cutting down on spray-outs, without even factoring in the time element.
Using all of the paint in the bottle is also a huge plus, Luther said. "Previously, a lot of the extra paint and toners were wasted, but not anymore. Now we are getting paid for the paint and it is going on the car and staying out of the waste stream."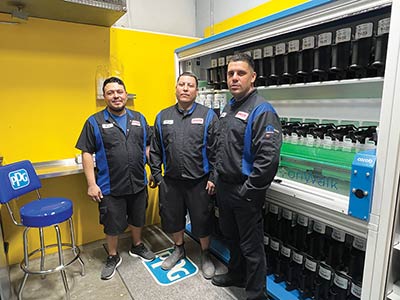 Earlier this year, PPG came to Helfman Collision Center for a two-day training that set up everyone for success using the mixing and color matching system.
"Six of our people went through the training and it was surprisingly easy," he said. "We've integrated it into our production system well, and we know that we will get better the more we do it."
The crew has been cross-trained on every aspect of the PPG VisualizID software, DigiMatch spectrophotometer and MoonWalk mixing system, so anyone can step up when needed.
Helfman has been an I-CAR certified shop since day one. Luther said PPG's mixing and color matching tools keep his customers happy with a great finished product every time. The shop will also benefit from increased efficiency and a crew that is set up for ongoing success.
"It's worked very well and we are pleased with the results," he said. "Our goal is to give our people the right tools so that they can do the best job they can."
PPG
440-572-2800
rusnak@ppg.com
www.ppgrefinish.com
Facebook: @PPGRefinish
Twitter: @PPGRefinish_NA
Instagram: @ppgrefinish
YouTube: PPG Refinish (USA/Canada)
To read more auto body shop profiles from the June 2023 Shop and Product Showcase, click here.