GM, Lucid Motors & Rivian Share EV Collision Repair Considerations
Written by Stacey Phillips, Autobody News
Published Feb. 23, 2022
Sales of alternative power vehicles, including electric vehicles (EVs), currently represent about 5% of all U.S. light-vehicle sales---but that share is expected to reach 45% by 2035, according to research by the Specialty Equipment Market Association (SEMA).
GM, Lucid Motors and Rivian representatives discussed the unique vehicle platforms they have developed and how their offerings differ from traditional vehicles during the OEM Collision Repair Technology Summit at the 2021 SEMA Show. The session was part of the Society of Collision Repair Specialists (SCRS) Repairer Driven Education (RDE) Series.
Following their presentations, a panel discussion was moderated by Kye Yeung, president of European Motor Car Works, and Ron Reichen, owner of Precision Body & Paint.
The session explored the construction and repair considerations and opportunities, and how the collision repair industry will need to adapt.
"The inevitable growth of this market makes the perfect fit for a summit that has always had an eye on the developing landscape of modern vehicles, with a focus on emerging trends that influence vehicle repairability and collision industry preparation," said Aaron Schulenburg, executive director of SCRS.
The following is an overview of some of the highlights during the session.
GM
During the OEM Summit, GM representatives Jennifer Goforth and John Eck, collision manager for GM, discussed the OEM's EV strategy and the GM Collision Repair Network.
Goforth shared information about the steps GM is taking to help transform the automotive industry and some of the newest technologies being used to maximize power, range and flexibility.
"We're looking at technologies we need today and in decades to come and we're investing heavily in those new technologies to bring them to market," she said. "We can't go forward alone; that's why we are here today."
She said GM is passionate about its zero crashes, zero emissions, zero congestion strategy.
"The key to this vision is electrification," said Goforth.
The electric architecture being used to power the OEM's newest technologies, such as Ultifi and Periscope, is GM's Vehicle Intelligence Platform.
Goforth also discussed GM's research and development in regard to safety.
"At GM, safety is in our DNA. There is nothing more important than ensuring the safety of our loved ones," she said. "Most of all of our crashes that happen are due to driver error, so we're focused on bringing new technologies that can reduce human error such as automated rear braking, forward and side collision alerts."
The company is looking at new technologies that reduce distractions while driving, such as hands-free communications and touch-free navigation.
GM plans to launch 30 new electric vehicles by 2025.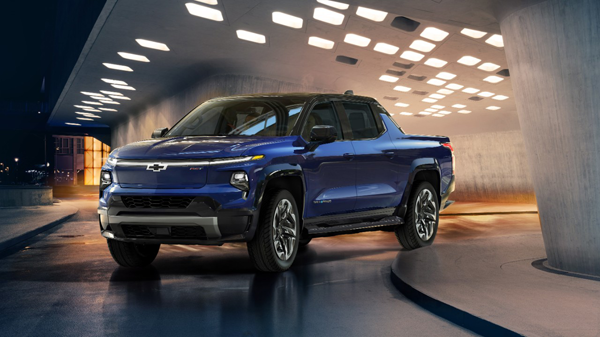 GM's 2024 Chevrolet Silverado EV RST.
"That doesn't mean that we are giving up on combustion engines," noted Goforth. "Those are going to be an important part of our portfolio for the next 10 or more years."
What that means for the industry, explained Goforth, is that repairing vehicles with internal combustion engines will be essential for the next 20-30 years because these vehicles will be on the road for many years.
With a tremendous amount of technology coming out, Goforth said there will be many repairable parts. However, right now, some will not be serviceable, such as critical structural components and batteries.
Eck then shared information about the GM Collision Repair Network, which will continue to focus on recognizing facilities that invest in tools and training to ensure an excellent customer experience.
"Our focus is on a safe and proper repair that utilizes all of our service information," said Eck. This includes a heavy emphasis on diagnostics and inspections.
With a massive amount of technology being integrated into vehicles, Eck stressed the importance of scanning, calibration and checking diagnostic trouble codes (DTCs).
"Making sure things are working as designed is critical to us," he said. "We're going to continue to create and add more support to the industry and make ourselves accessible."
GM's OnStar Insurance, which is expected to launch in all 50 states this year, will be an important component of this.
"We've been learning over the last few years post-collision how we can help customers navigate, but with OnStar Insurance expected to be national in 2022, they are going to be expecting a network that is fully supportive of driving safe and proper repairs for customers' needs," said Eck.
Eck shared that GM is very focused on ensuring that repairers have the most current information.
"Working with the industry, we've learned how to be hardware agnostic," he explained. "That has helped us add flexibility to the marketplace and understand what is going on from a cost structure and not making [repairers] buy OEM tools specific to GM."
GM offers technical documents for repairers to use during the estimating/blueprinting process. Examples include service bulletins, safety protocols, Advanced Driver Assistance Systems (ADAS) documents, position statements and post-repair inspections.
For certified inspections, virtual or in-house audits are offered to shops depending on what the facility prefers.
Over the last year, GM worked with SCRS to devise and launch a post-inspection form to help repairers negotiate with insurance carriers. Since then, GM has received positive feedback from repairers and insurance carriers.
"Several large carriers have said, 'This is great; we are actually reducing our conflicts with the shop because now we know exactly what is expected,'" said Eck. "They might not like some of it but they understand it and it's documented."
He said SCRS was very helpful in sharing the form with association members and the industry.
"We really want to continue to work with SCRS to find solutions like that to help you as the repairer make safe and proper repairs," he said.
Lucid Motors
With global headquarters in Silicon Valley, CA, and an assembly plant located in Casa Grande, AZ, Lucid Motors began delivery of the company's first customer vehicle---the Lucid Air---in late 2021.
Andy MacDonald, senior manager of Lucid's global body repair program, and Andrew Hall, head of vehicle safety, participated in the OEM Summit panel discussion and provided an overview of the Lucid Body Repair Program.
Currently, there are 50 body shops in the U.S. and Canada going through the certified program approval process, which they were able to join by invitation only.
The Lucid Air on display at Lucid Motors' studio in Short Hills, NJ.
"As we ramp up production and vehicle parts grow, we will add to that number of shops," said MacDonald. "We are interested in working with shops that can deliver high-quality repair capability and excellent customer service. That's the cornerstone of what SCRS believes in and it's a privilege to work with you."
MacDonald estimated there will be about 100 shops in the program in 2022 and that number will continually increase. Approved body shops will be fully trained and equipped to complete repairs, including all mechanical work.
"Lucid's program will restrict structural repair parts, such as aluminum safety systems parts and high voltage parts, to the approved network---those who are technically trained and we know are capable of repairing the vehicle," explained MacDonald. "I'm not a big believer in YouTube videos teaching you how to repair vehicles."
Lucid's repair methodology is being developed in close partnership with the OEM's crash testing program.
After working with 11 different OEMs over his career, Hall's philosophy is to bring the Engineering, Serviceability and Body Repair teams together to be as effective as possible.
As a start-up company with limited resources and an aggressive schedule, Hall noted Lucid Motors doesn't have an unlimited number of crash cars for testing. As a result, vehicles are crashed more than once after being rebuilt by the service teams. For example, a car that has been front crash-tested at 35 mph is rebuilt to do a side crash test.
Through this experience, Hall said Lucid Motors has demonstrated the capabilities of rework. This allows the OEM to bring in the service team a lot earlier and offer cost efficiencies for the business.
"We're also a lot further ahead with repair procedures than we would normally be," he said.
In terms of training, Lucid plans to offer online education to deliver fundamental system knowledge requirements to shops. This includes approximately 10 days of structural repair training and 15 days of mechanical training. The instructor-led courses will cover structural aluminum repair, cosmetic repair, visual damage assessment, high voltage systems, mechanical, diagnostics and ADAS.
One of the biggest challenges now for shops, according to MacDonald, is the mechanical side of the business.
"There is no simple repair anymore," he said. "The days of doing a quick spot repair on a front-end bumper or rear-end are gone now because you have to align the vehicle and then calibrate it for ADAS."
As a result, Lucid is building measurement processes to determine how well vehicles have been repaired.
"With so much technology in vehicles, it's of paramount importance that when accidents happen and we're required to repair the vehicles, you have the right level of equipment and training in place to bring that car back to a pre-accident condition," said MacDonald.
"Safety is important for the lifecycle of the vehicle and it is for every OEM moving forward to meet the challenges we are going to face as we move into the ADAS world and safe driving," added Hall.
"For us, it's about providing education and transparency in what we are doing so insurers, repairers and customers all understand what we need to do in order to deliver the best possible service for them," said MacDonald. "A safe and proper repair goes without saying."
Rivian
The two Rivian representatives on the OEM panel included Kelly Logan, global body repair program senior manager, and Dan Black, manager for service engineering in collision repair.
Logan helped create Rivian's Certified Collision Program with Frank Phillips, collision program manager, and now manages the program.
"Having the opportunity to create an OEM collision repair program from scratch is a great honor," he said. "We want a highly trained network that can repair our cars and that aligns to what SCRS represents."
When Logan and Phillips began developing the program, they determined it did not make sense to have a single network encompassing both passenger and fleet vehicles due to their size and equipment differences. Instead, they created two separate networks that fall under the umbrella of Rivian's Certified Collision Program.
The Rivian Certified Collision Center network focuses on passenger cars, the R1T electric truck and the R1S SUV, while the Rivian Certified Fleet Center network includes commercial vehicles such as the 100,000 electric delivery vans Rivian is building for Amazon.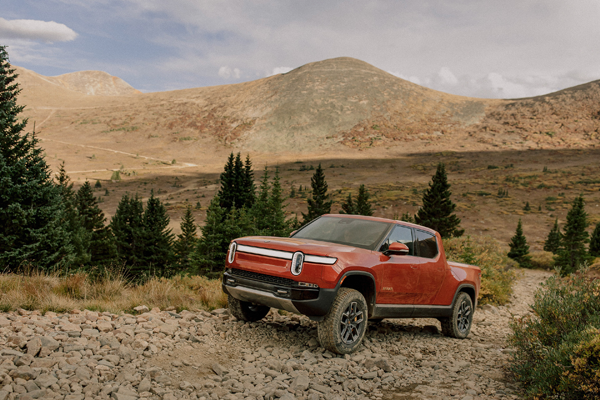 The 2022 Rivian R1.
Logan shared the program's mission: "Revolutionizing the collision repair customer experience with an efficient and highly trained collision repair network."
"It used to be easy to fix cars," said Logan. "I had my own collision repair center over a decade ago and back then, everything was mild steel; an aluminum hood or tailgate or a rear hatch on a vehicle was pretty rare."
That has since changed with the mixed materials and light-weighting going on now in the auto industry with efforts focused on removing mass and increasing efficiency to extend range and increase miles per gallon.
"It's definitely something you have to have training and tooling for to be able to repair vehicles properly," he said.
Logan said the Rivian team has been very busy connecting with many great collision centers over the last year.
"We want everyone to know that just because you didn't get chosen for the Rivian collision network today doesn't mean it's forever," he said. "As our vehicle population grows, we are going to continue to need more highly-skilled collision centers."
Black heads the service engineering side of the business and works with a team of technical specialists and service engineers to create collision repair procedures. They also perform hands-on validation of the repair procedures, tooling and equipment through their R&D Workshop team at their flagship location in El Segundo, CA.
"Their sole job on the team is to validate everything that the engineering team is creating," said Logan. "We do a lot of research and development work behind the scenes."
As part of the repair procedures used by shops, Rivian will include information about the different substrates used on the vehicle. The goal is to assist shops in clearly understanding what can and cannot be executed to restore a car to its pre-accident state.
"At the assembly plant, we can execute a variety of controlled vehicle construction processes with advanced equipment," said Black. "Some of the equipment and joint accessibility does not exist in the aftermarket so we're always developing new solutions that we can provide you to repair the vehicle correctly and restore the strength of the vehicle to ultimately perform correctly the second time around."
With the cameras and sensors being used in automobiles today, Black said pre- and post-scans are absolutely required on every vehicle and the calibration process is paramount.
"As we go forward, it should be the basics," he said. "That's the only way to restore our vehicles correctly."
He recommends shops perform analysis on the vehicles' diagnostic systems and document results and vehicle condition prior to beginning repairs to determine the scope of work required and the facility's capabilities.
"From my experience at a manufacturer that is developing advanced technology, Driver + systems (Rivian's suite of advanced driver-assist features) are becoming more sensitive," said Black. "As we move forward, frequencies are greater and the sensitivity of systems are higher so repair procedures are very critical to follow because you can easily introduce an issue into the vehicle without knowing it."
Logan said the Driver + system will be standard on all Rivian vehicles, and ADAS calibrations will be required.
"When you look at collision repair and what it takes to repair a car properly today, the lines between service repair and collision repair are now blurred," he said. "A collision center needs to know just as much as a service center needs to know."
To keep cycle times as low as possible and repair cars efficiently and properly, Logan said it is necessary to have the correct tools, training and knowledge.
"As an industry as a whole, we're just at the forefront of it," he said. "It's definitely something that isn't going to go away anytime soon."
Click here to register and access the lessons from the 2021 RDE full series pass. click here.