Page 2 of 2
Freeman Collision Center Nurtures Culture of Merit, Praises New ANEST IWATA Spray Guns (article continued)
"Laying down soft and undetectable blends with the Series 2 base was easy. I could see the OBS +1 being beneficial when the summer months heat up and the humidity drops, although I had no problem spraying wet, beautiful base coat with the OBS tip even at 80 degrees booth temperature and 20% humidity.
"The WS 400 Series 2 digital clear gun was equally impressive," he added. "Applying a clear coat finish that was very close to the factory appearance has never been easier. ANEST IWATA really hit a home run with the Series 2."
While having the best equipment and tools are essential to running a top-tier body shop, technicians also need to be at the top of their game. To this end, Freeman focuses as much on technician training and certifications as it does on fostering a culture of merit.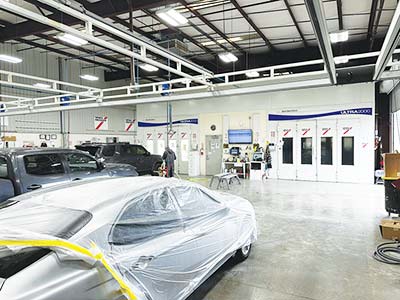 "We provide extensive technician training. All of our technicians are master certified," said Parks, who holds four I-CAR platinum certifications and is working on attaining a fifth. Parks is ASE certified and also holds many factory OEM certifications.
The shop itself has achieved I-CAR Gold status as well as the ASE Blue Seal of Excellence designation, both the result of continuous training and a determination to enhance key performance indicators (KPIs) that measure operational and procedural performance.
But what ties these efforts together is the company's unwavering commitment to a positive workplace environment, one that encourages employees' personal and professional development through a merit-based culture that motivates team members to keep improving.
"I was brought into this organization to take the culture and the team to the next level," said Parks. "I encourage everyone to lead by example---we are all role models---whatever it takes to support the team. In a culture of merit, anyone can excel based on their own merit.
"It's been a wonderful experience. I go out of my way to identify ways we can set ourselves apart from the competition and provide a unique work experience. We have a great team and great processes and we continue to build a culture of merit every day."
ANEST IWATA
800-470-7068
www.anestiwata.com
Facebook: @AnestIwataUSA
Twitter: @anestiwatausa
Instagram: @anest_iwata
To read more auto body shop profiles from the June 2023 Shop and Product Showcase, click here.