Forward-Thinking Program Creating Great Auto Body Techs of the Future
Written by Ed Attanasio, Autobody News
Published Aug. 9, 2022
In the summer of 2019, Southeastern Community College (SCC) in West Burlington, IA, hired Dr. Ashlee Spannagel as its new dean of career and technical education (CTE) and workforce development.
Spannagel entered the job excited and ready to take on the world---and then the pandemic hit. It's been a "work around" project ever since, but she hasn't been dissuaded one iota, taking the position and making it her own as the school's collision repair department benefits in many ways.
Spannagel came to SCC after working in education for nine years. One of the first things she did was to build relationships with established area educators, industry leaders and workforce and economic development partners to continue building opportunities for students. This included local body shops, car dealerships, vendors and companies that manufacture collision repair-related products, tools and equipment.
Spannagel stays busy as she oversees the school's entire CTE division and works closely with faculty and area employers to ensure SCC provides top-notch, industry-level education to its students. Her role within SCC's auto and collision repair programs is only one small part of everything she does at this forward-thinking institution.
While other CTE programs in the country have stepped back during the pandemic, you have stepped up in many ways for your collision repair department. Can you tell us about that?
We receive an annual allocation of funding that is called ACE (Accelerated Career Education) funding. The whole purpose of that money is to reinvest in infrastructure, so that we can provide more classes and accommodate more students. One of the things that we chose to do with the money was to remodel our auto collision facilities, and it has worked out very well. We are confident that this will lead to more enrollment down the road, which is obviously the goal. It shows that we are open and committed to collision repair and ready to pivot if needed.
It's a huge job and a big school, so how are you able to do it all?
Yes, I am responsible for 47 certificate, diploma and degree programs, and collision is just one them. I've been involved in technical education and post-secondary education 13 years now. The technology in the collision repair industry changes so rapidly that we can't possibly keep up with the changes that are occurring. We need to do our best to keep pace with what's going on, and then bring in other learning opportunities to help students to be up to date.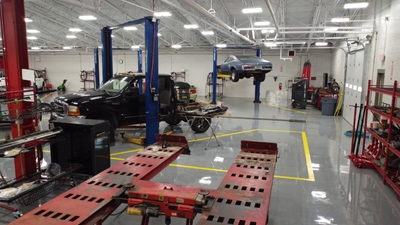 We have been working very hard to align with industry-recognized credentials and what our local shops need in our graduates, so we rewrote the curriculum and pursued ASE accreditation to match the newly remodeled shop. We've rewritten the curriculum to where we're actually going to be aligned with I-CAR more, so that our students now will graduate from the program with far more credentials than they would have been qualified to earn previously.
How can you stay current in an industry that is changing at a rapid rate?
I personally think our collision instructors are excited that the students are highly interested about technology. Our students have grown up with technology. They are technology natives. So anytime we can include those high-tech pieces---either tools, equipment or concepts that the students are likely to engage with---that is ideal. We want to enable the body technician of tomorrow to be adept at using technology and that's one of our main goals here at SCC.
How do you find, hire and maybe most importantly retain good instructors?
My biggest concern now is that we have a lot of staff on my team who are eligible for retirement in the next five years. There is a lot of talent, knowledge and experience that is highly skilled and invaluable to our programs. So, in the next five years, we'll have to figure out how to replace it. I think the way that we've handled the pandemic and our instructional continuity has really helped us retain our staff. But now I'm growing concerned about the fact that they'll be retiring here shortly.
How has establishing mutually beneficial partnerships with local shops and vendors helped your collision repair department?
Within the past 18 months, we have been been working on bolstering the relationships we have with our local body shops. We have a lot of body shops in our service area that are actually owned and operated by former students of the program. We also have a couple dealership repair centers in our area, and we have been able to partner with them as well.
I realized we had an opportunity to strengthen our program when six local businesses approached me questioning the skills they were seeing in our students who had entered the workforce. So, I personally built relationships with these companies, and their managers have partnered with us in the work we have done to strengthen our program.
We have worked to bolster our relationships with local body shops. The shops have been very receptive, very helpful and very engaged. We also work with vendors like PPG that come and do special paint classes for our students. This is just one great example of the learning opportunities we provide our students.
In addition, we did just receive ASE accreditation that we have been working on for the past 18 months.