Dynabrade Introduces Renny Doyle Series Geared-Dual-Action Polisher at SEMA
Developed with master detailer Renny Doyle, the new polisher's lightweight, low-profile design was built to be precision-balanced and deliver superior power.
Written by Stacey Phillips, Autobody News
Published Nov. 8, 2023
Dynabrade, Inc. introduced a new product during this year's SEMA Show, the DB8 Geared Dual-Action Polisher, part of the Renny Doyle Signature Series. Doyle is a master detailer and trainer. He owns Detailing Success based in California, is the founder of the Detail Mafia, a group of detailing experts, and is the official detailer of Air Force One.
Dynabrade showcased the Geared Dual-Action Polisher, along with its other products and equipment, at two booths during SEMA.
Ronald Veiders, Dynabrade's director of marketing, said the new electric polisher's lightweight, low-profile design was built to be precision-balanced and deliver superior power. It can be used with both 5- and 6-inch-diameter backing plates with coordinating-sized polishing pads. An ergonomic extended handle allows for increased operation comfort during use.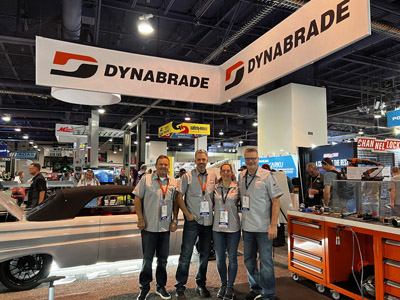 "We took a lot of ergonomics into consideration, so the handle is more conforming to the hand," Veiders explained. "Because it's a low-profile tool, it allows you to see what you're working on a little bit better than some of the other tools on the market."
Veiders said the polisher has a lock-on trigger, which eliminates accidental start-up.
"There's a little switch you can click to keep it on and then move your hand back so you have a little more flexibility in moving the tool," noted Veiders.
Other features include a rubberized tactile grip for user comfort and an electric motor with a 20-foot swivel cord to prevent cord fatigue and extend cord life.
Due to its power and design, Veiders said the tool can be used by a wide range of experience levels, from an amateur or "weekend warrior" to a master detailer.
"The polisher also runs a little slower than some other tools to provide more control," he said.
He added the polisher is ideal for removing oxidation, haze and correcting imperfections.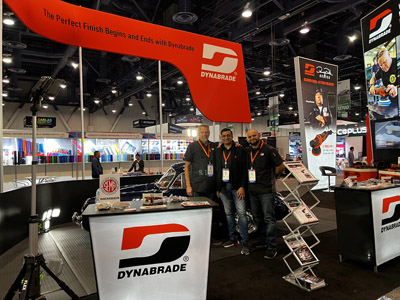 "It provides a nice shine on a variety of surfaces but it's not aggressive, so that it won't damage the clear coat," explained Veiders. "It gives the proper shine every time."
The polisher is 1000 watts and operates at a speed of 150–350 orbits per minute with a 6.8-mm orbit.
He said the geared dual-action motion can even assist experienced operators in avoiding fish eyes and halo patterns.
"You'll always have a consistent rotation in the orbit as well as the drive, no matter what pressure you're putting down," he said. "It really is a smooth tool."
Dynabrade has developed a line of compounds to complement this tool, as well as the company's other polishers on the market.
The company, headquartered in Buffalo, NY, was founded by Walter Welsch in 1969. Welsch developed the first Dynafile Abrasive Belt Tool to improve hand-filing metals and other hard surfaces. At the time, the inventor worked on Wurtlitzer jukeboxes and the Dynafile could be used to deburr and polish the grills.
"From that one tool, we've expanded into over 1,300 tools sold in more than 90 countries," said Veiders. These include two of their most popular items, the Dynafile and the palm-style random orbital sanders.
Veiders said over the years, the company has earned a reputation for excellence in designing and manufacturing portable pneumatic abrasive tools, accessories and dust collection.
"If there's a surface, we like to think that we've either pretreated it or finished it," said Veiders. "The perfect finish begins and ends with Dynabrade."