Do Vehicle Wraps Make Sense for Your Shop?
Written by Ed Attanasio, Autobody News
Published April 26, 2016
You've seen them everywhere and the graphics are pretty spectacular. Food trucks, large 16-wheelers, vans of all sizes and cars of every type now have advertising messages that entice viewers. Some people have allowed companies to put their logos on their daily drivers and paying them handsomely for doing so and this movement is growing fast.
Body shops all over the country have invested in car wraps to push their brands and gain valuable exposure. They're like moving billboards, except you don't have to rent them once you've put them on your vehicles. So, the real cost is only the initial investment, but the big question is--do vehicle wraps pay for themselves over time and do they actually attract customers?
It's all about ongoing branding and continually getting your name out there to the community. If you get vehicle wraps put on your delivery vans, will people see them and flock to your shop? Not likely, but the advertising message on your vans, in conjunction with your other marketing efforts, will eventually make your shop's name a household word. So, when someone gets into an accident, they will think of you instead of your competitor down the road.
Interesting and fun vehicle wraps seem to garner the most attention. Collision Specialists in McAllen, TX, has a car wrap that features its logo breaking through a wall of concrete. Offutt Collision Repair in Bellevue, NE, has a wrap featuring a cute little green alien with a spaceship that's damaged. "An Out of This World Body Shop" is the shop's slogan emblazoned on the car. And in Bluffton, SC, the Carriage Shoppe has a wrap on a van that is a real attention-getter, because from a distance the vehicle looks badly damaged. But, when you get a little closer, you can see that it's just a very deceptive (and creative) wrap.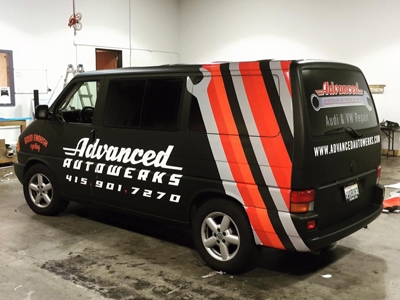 Simple, understated vehicle wraps are ideal for businesses that want to spread the word without them being too elaborate.
Creative Colors Studio in Burnsville, MN, has been creating award-winning vehicle wraps that drive business since 1998, according to the company's founder Jeff Volino. "We sit down with every client and create the image that they want," he said. "The graphics and the message have to go hand-in-hand or they won't work. We want to tell a story, instead of just sticking your logo on the side of a van."
After the staff at Creative Colors Studio comes up with a design everyone is happy with and a price they can all afford, the installation process is fast and drama-free, Volino said. "Without damage to the car, we simply adhere the wrap to the vehicle quickly. We can even safely cover the glass and windows, allowing individuals inside the vehicle to see out while those outside are shown your logo or company's message. Vehicle wraps can pretty much meet any budget and we've gotten very good at doing effective partial vehicle wraps to cut down the cost."
The King of Wraps in San Jose, CA is well-known for its high impact advertising car wraps. Owner Magno Lopez started creating and installing wraps for a wide range of Silicon Valley companies 13 years ago.
"Our motto is maximum impact with tremendous results," Lopez said. "A full wrap commands attention and turns your vehicle into a powerful moving billboard. It doesn't matter what angle it is viewed from, because peoples' eyes will always be drawn to it."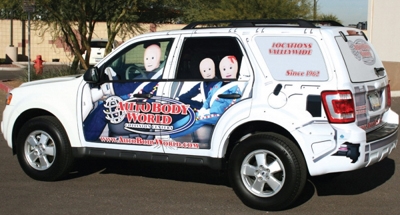 Some wraps include window wraps, like with this one for Auto Body World in Erie, PA.
If you're intrigued by the idea of putting vehicle advertising wraps on your delivery fleet or your companies cars, consider the pros and cons first. For $500-$5,000 a car wrap can be as simple and direct or as intricate and involved as you desire, but make sure it's within your budget and keep your expectations realistic. If you think the wrap will have the phone ringing off the hook within a few weeks, think twice.
With any sign or message on your vehicles, there also comes a level of transparency and accountability. Since wraps are a moving advertisement for your business, a bad driver can bring you unwanted attention. And if one of your vehicles possibly gets into an accident--get ready for some more adverse feedback.
The positive aspects of using car wraps for your marketing and advertising are numerous. A vehicle wrap is a far more effective tool than a basic magnetic sign. In fact, most magnetic signs look cheap, to be honest. In addition, a wrap can convert any vehicle into a billboard. You wouldn't be allowed to put a sign in front of a restaurant or a store, but if you're stopped in their parking lot you don't need a permit or permission to wave your company's flag.
And finally, wraps are removable, so if you change your name for whatever reason, you won't have to get the vehicle re-painted. Wraps offer flexibility and some shops will change them every 2-3 years, in order to stay fresh while conveying a new message. You can design a wrap to target a specific demographic---such as women, Millennials, senior drivers and even young drivers.
Some shops use their wraps to convey a safety or community-related message. One shop used their vehicle wraps to communicate anti-texting and other distracted driving warnings to the public and another shop promoted the local schools and Little Leagues through their wraps.
But, the bottom line is this---do vehicle wraps ever lead to new customers? The answer from Offutt Collision Repair is an emphatic maybe.
"I don't think anyone has ever come in here and said that a car wrap brought them here," Carissa Williams explained. "They all work together in a marketing and branding plan, so to track the results is a little difficult to do. But, it's all about getting the shop's name out there and for that purpose they do a very good job."