Day Job/Night Job: Painter/Technical Director Creates Amazing Art, Island-Style
Written by Ed Attanasio, Autobody News
Published March 8, 2022
I have been telling people for decades that car refinishers are truly artists, and every time I see a beautiful car at SEMA or on YouTube or social media, it reinforces my beliefs.
Great painters continually refine their skills and techniques, and many of them display their creativity and passion through other mediums that often shine brighter than painting vehicles.
In this story, a talented car painter created a side business that carves and paints tiki statues, as well as masks, furniture and skateboard decks, just to name a few.
Painter and Technical Director Todd Stogdell, 52, entered the collision repair industry three decades ago, when he was hired at an auto body shop in California as a helper. Within 10 years, he had moved up the ladder to become a production manager, and then decided to relocate to Hawaii.
Today, Stogdell works for Island Concepts, a paint jobber in Oahu that is the exclusive paint distributor for AkzoNobel in Hawaii. The company serves many of the 200-plus shops on the island, with product support and ongoing training.
He joined the company as its technical director back in 2012, where he helps collision repairers with things such as product inventory control, technical support, KPIs, work in progress (WIP) and training focused on OEM procedures.
Island Concepts recently established a training room as well as a storage area to house the products they provide to collision repair facilities. In addition, there is a separate area where the company has plans to set up a spray booth and/or prep station for hands-on training.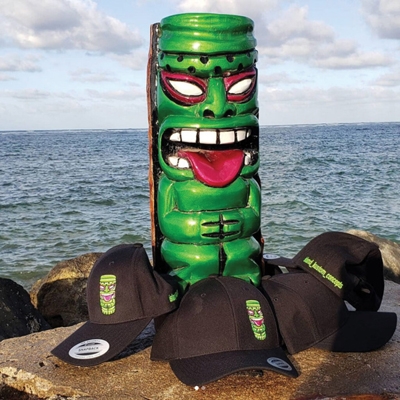 In the past, much of the instruction on the island was conducted by Honolulu Community College as part of its auto body repair and painting program. However, the program closed in the summer of 2021 due to a lack of enrollment because of the pandemic and travel restrictions in Hawaii.
With the addition of the new training center, Stogdell said Hawaiian technicians won't have to necessarily go to the mainland to learn new skills anymore.
"Our new facility will enable us to hold classes and offer hands-on skills training," Stogdell said. "Two years ago, I traveled to New York to be certified as an I-CAR instructor in Fusor's product line, teaching metal panel bonding, structural adhesives, seam sealing, plastic repair, fiberglass and composite repairs, so we can feature I-CAR classes now, which is great."
To get started in the world of tiki figures, Stogdell put out a call for tikis on Craigslist and through the Hawaiian grapevine, and got lucky with a few beauties almost immediately.
"I've always liked tikis and initially I got existing ones to paint and recondition," he said. "I am always looking for ones that are a little weathered. I could see early on I can get really creative with these and use my painting skills to make them look awesome. In some cases, I even surprise myself when I see the finished product."
As his interest in tikis grew, Stogdell yearned to learn more about the process and reached out to some of the finest carvers on Oahu.
"I met Tonu and Soni at Ohana Island Creations and we have become friends," he said. "They wanted me to paint a large wooden sailfish for them and of course, I said yes. When it was finished, they wanted to pay me and I said just teach me how to carve and that will be my payment."
The history of tiki culture dates back to ancient Polynesia. Such carvings were first discovered in Polynesia, and tiki carvings are said to represent a Polynesian god. They're an integral part of South Pacific mythology, culture and history.
Tiki statues were carved to represent the image of four gods as an embodiment of each of their mana, or power. With well-formed tikis in their possession, people could attain protection from harm, strengthen their power in times of war and be blessed with successful crops.
Kane is the god of sunlight and natural life; Ku is the god of war; Lono is the god of peace, winds, rain, sports and fertility; Kanaloa is the god of the ocean. Stogdell appreciates their role on the islands and loves finding out as much as he can about the history behind them and their cultural significance.
"Tikis are special here and people look at them as their protectors," he said. "I love the tradition and the heritage behind every tiki and enjoy the stories behind them. I have quite a collection now and feel connected to them in many ways."
Once Tonu at Ohana Island Creations showed Stogdell how to carve a tiki, he was on his way and excited to create his own from scratch.
"Tonu is a fourth-generation wood carver and is a teaching artist of fine art at BYU-Hawaii, so I couldn't have had a better teacher," Stogdell said. "The first thing I do when I get a piece of wood is use the chainsaw to do the basic shaping and create a rough version. Then I use a chisel and smaller knives to do the fine work, followed by sanding. And then finally I paint them and hit them with the clearcoat."
Stogdell is now using monkeypod wood for many of his creations and is enamored with the results.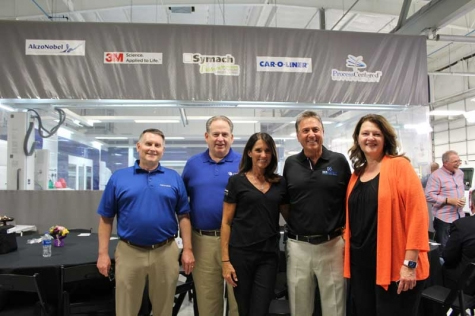 "Carvers want to use Albesia wood or palm, but I really like monkeypod wood," he said. "You can find monkeypod everywhere here and it's perfect for tikis. It's dark inside and lighter on the outside, so if you can integrate that into the design, it gives the piece more depth and definition."
Creating a buzz and garnering great reviews for his tikis and other items, Stogdell has enjoyed every step of his journey and is always looking for more challenges.
"When people say nice things on Instagram (@island_kustom_concepts) about my tikis, it's so satisfying," he said. "Doing the pieces is fun and the accolades are really fulfilling."