Compact WD-40 Precision Pen Debuted at SEMA Show
Written by Stacey Phillips, Autobody News
Published Nov. 7, 2022
When most people think of the WD-40 Brand, what typically comes to mind is the company's iconic blue and yellow can with a red top that contains the Original WD-40 Formula, a staple in most body shops across the country.
During the 2022 SEMA Show, the company debuted the WD-40 Precision Pen, which contains the same multi-use formula but in a compact size. The new product is expected to be released in early 2023.
"This is an innovation on our Original WD-40 Formula," said Dan Anderson, director of innovation at WD-40 Company. "What makes it unique is that it allows for a lot of control and precision wherever you need the product."
"We're proud to equip technicians and builders with what they need to get the job done right and take things to the next level," added Greg Kershaw, director of brand engagement and experience at WD-40 Company.
The company said the product is a result of feedback from end users and reflects the same spirit of perseverance, innovation and tenacity for solving tough challenges that led the brand to introduce the original formula nearly 70 years ago.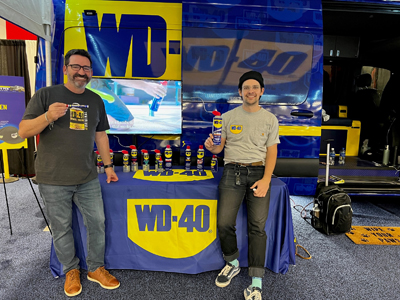 "There's a good amount of product in there and it's great for all the things that the Original WD-40 Formula is known for, such as getting squeaks out, lubricating moving parts, protecting against rust and corrosion, loosening rust and displacing moisture," said Anderson.
He said the pen is easy to use and store, ideal for tight spaces and small projects.
"The compact size is meant for times when technicians want to get the product exactly in a certain area," he explained. "This is great because you only get the formula where you need it and the amount you need."
Another benefit is the pen's portability. Due to its small size, Anderson said it can be stored in a toolbox, glove compartment, pocket and/or toolbelt.
The new product will be available in all the same places WD-40 Brand products are sold.
During the SEMA Show, WD-40 Brand gave away 2,000 limited-edition prototypes of the WD-40 Precision Pen with seven-time Pro-4 champion Kyle LeDuc's signature and a photo of his custom race truck. Those who received a pen with a golden cap were given a special edition Carhartt hat featuring LeDuc.
The WD-40 Brand team said they were thrilled to showcase their partnership with LeDuc at this year's SEMA Show. "Partnerships with pros like LeDuc and others in the motorsport and bike world exemplify the brand's longstanding mission of helping pros take things to the next level," the company said.
LeDuc's custom-built 4-wheel drive, 900-horsepower race truck was displayed at the WD-40 Brand booth. It featured a new look for the SEMA Show that included a custom chrome livery.
SEMA Show attendees also had the opportunity to view the WD-40 Specialist line, which includes lubricants, penetrants, greases, contact cleaners and degreasers and rust-management solutions.
"The Original WD-40 Formula does most everything," said Anderson. "However, when you have serious problems and need a specific solution, we have the WD-40 Specialist line."
This includes a Silicone option for surfaces such as rubber, plastic and vinyl, White Lithium Grease for metal-to-metal applications, and Contact Cleaner for electric parts. "Especially with the rise of electric vehicles, there are a lot more uses for that," said Anderson.
In total, WD-40 Brand offers more than 30 products and each is designed to solve a specific problem.
Many of the new products are shared with WD-40 Company's PRO Board for evaluation. "When we need feedback on something we can reach out to them," said Anderson. "We'll send them samples and they will try things out and provide feedback."
For more information about WD-40 products, visit www.wd40.com.