Collision Repair Industry Members Recognized at Red Carpet Award Breakfast at SEMA
Written by Stacey Phillips, Autobody News
Published Nov. 12, 2021
Members of the collision repair industry gathered at the Red Carpet Awards Breakfast on Nov. 3 during the SEMA Show in Las Vegas, NV.
Prestigious awards and recognitions were given out by the Collision Industry Electronic Commerce Association (CIECA), BodyShop Business, the Collision Repair Education Foundation (CREF), the Inter-Industry Conference on Auto Collision Repair (I-CAR) and the Society of Collision Repair Specialists (SCRS).

The free event was emceed by Jordan Hendler, owner of Admin Concepts and organizer of the Collision Industry Conference (CIC), and sponsored by BodyShop Business, SCRS and the participating organizations.
"I can't believe it has been 23 years that I've been in this industry and to be up here is a huge honor for me," said Hendler during the event. "I know what we're looking forward to is honoring those who go above and beyond the call of duty---those who stand out in a crowd."
The following is a summary of the award winners:
CIECA
Before announcing CIECA's 2021 awards, CIECA Executive Director Paul Barry named the 2020 winners, who were unable to receive their recognition in person last year due to the pandemic.
Andy Bober, a software engineer at Entegral, received an award for Outstanding Contribution. A special Lifetime Achievement Award for Outstanding Dedication was given to Charley Quirt, who retired in 2020 as CIECA's project manager after 18 years. Phil Martinez, senior technical consultant at Mitchell International, received the Chairperson's Award and Mitchell International was named Electronic Commerce Company of the Year. Debbie Day, executive vice president and general manager of APD, accepted the recognition on behalf of the company.
Jeff Schroder, CIECA's chairman of the board and founding CEO of Car-Part.com, then announced the 2021 award recipients.
In appreciation of his efforts over the last 25 years representing Axalta Coating Systems before retiring this year, Tom McGarry received an award for Outstanding Contribution.
"Thank you, Tom, for all of your dedication and commitment to CIECA," said Schroder. "You will truly be missed and we wish you all the best in your future endeavors both personally and professionally with your new company, Collision KPIs."
Schroder announced the two individuals who received a Chairperson's Award: Kim DeVallance Caron, director of product discovery for Enterprise, for her leadership on the executive committee and during CIECA's staffing transition; and Dan Webster, principal architect at Mitchell International, for his leadership on the Architecture Committee during CIECA's transition to the organization's new CIECA's API Standards.
Barry then announced the Board of Trustees named Car-Part.com as Electronic Commerce Company of the Year for its team's extensive committee involvement and promoting CIECA Standards throughout the industry. The award was accepted by Schroder.
Jeff Schroder, center, founding CEO of Car-Part.com, accepts the award for CIECA Electronic Commerce Company of the Year from Paul Barry, left, CIECA's executive director, and Paulette Reed, right, CIECA's technical project manager. Photo by Stacey Phillips.
BodyShop Business
Two awards were given out by Jason Stahl, editor of BodyShop Business, and Sean Donohue, publisher of the magazine and vice president of sales for Babcox Media. They included single-shop and multi-shop executive of the year.
Stahl said the winners of these prestigious awards are two collision repairer visionaries who have experienced great success through innovative thinking, overcoming challenges and persevering.
Steve Saunders, director of OE compliance/training at Faith Quality Auto Body, received the single-shop award.
"He probably has the most knowledge of correct OEM repair procedures for any modern vehicle in the entire industry," said Stahl. "He walks through the shop daily inspecting the technicians work to make sure his shop stays compliant with their OEM requirements and that's a lot of responsibility given that the shop has 17 different OEM certifications."
Cheryl Boswell, CFO and managing partner of DCR Systems, received the multi-shop award.
Boswell began her career in 1998 with Sterling Collision Centers as the national director of finance, where she helped expand the company from 23 to 70 locations. Since 2005, Boswell has been CFO and managing partner of DCR Systems, where she provides strategic leadership.
The owner of DCR Systems, Michael Giarrizzo, said what makes Boswell unique is that while she has the insight to ask tough questions, she can explain difficult concepts in a way that resonates with numerous audiences.
CREF
Brandon Eckenrode, CREF's managing director, then announced the recipients of the Fueling the Future Awards: Carl Boyer, midwest regional manager of Stertil-Koni USA, and Tim Adelmann, who worked with ABRA for 35 years and was the chief business development officer with Driven Brands for two years before he retired.
"The Fueling the Future Award is an opportunity for us to recognize individuals and/or companies that have gone above and beyond in joining us and helping the future of the industry," said Eckenrode.
Before handing out the awards, Eckenrode talked about his connection with the first award recipient, Boyer. While Eckenrode was employed with I-CAR in 2003, he read an interview with Jay Leno, which included information about his passion for supporting students. He sent Leno a letter telling him about I-CAR and the foundation. In January 2005, Leno called Eckenrode and told him to keep up the great work.
Years later, Eckenrode connected with Boyer on LinkedIn after noticing a picture of him standing with Leno and reached out to tell him about CREF. During their conversation, he learned Boyer's company had equipment in Jay's Leno's Garage and asked if Leno might be able to do anything to help support technical students.
"Within 24 hours, Carl called back and said that Jay Leno will donate a private tour of his garage to the foundation that can be auctioned off to raise funds for the industry and future professionals," said Eckenrode. Through Boyer's generosity, Eckenrode said the winning bidder, a Denver body shop owner, will have the opportunity to visit Jay Leno's Garage.
Adelmann was also recognized for his many years of service to the industry and CREF. Eckenrode said Adelmann, a former CREF board of trustees member, was instrumental in getting his staff involved with the local I-CAR committees around the country. He has introduced CREF to many industry contacts, which Eckenrode said is an incredible way to get involved in CREF. In addition, Adelmann has made a generous personal donation to CREF every year.
Mark Wahlin, vice president of franchise development and operations for Auto Body Repair of America, accepted the award on behalf of Adelmann.
I-CAR
On behalf of I-CAR, John Van Alstyne, I-CAR's CEO, presented the organization's awards, which recognize one collision repair shop and one individual for advancing technical education and professionalism in the industry.
"It's always a pleasure to present our annual awards to honor one exceptional Gold Class shop and one outstanding Platinum individual," said Van Alstyne. "They are a standout in any year but measuring against the tough year that 2020 was, their achievements shine extra brightly."
Schaefer Autobody Center in Webster Groves, MO, owned by Scott Schaefer, received the Russ Verona Memorial Award for its 2020 performance.
The award recognizes an I-CAR Gold Class® shop that demonstrates a strong dedication to technical training and reinforces the positive image of the collision repair industry. Since 2006, the family-owned and -operated business has been I-CAR Gold Class and has grown to include 12 locations since opening in 1985. Van Alstyne said the company's success is linked to its focus on quality repairs and customer service.
"It strives to not only meet, but to exceed the industry's highest standards," he said.
Kenny Hall of State Farm Insurance in Worthington, OH, received The Jeff Silver Award, which honors an I-CAR Platinum™ individual who demonstrates passion for training and professional growth.
Hall has been Platinum since March 2004 and serves as the Ohio I-CAR Chair and Committee Chair of Columbus, OH, and is a member of the board of directors. He also created the CCEG "Techs of Tomorrow" program to give back to students looking to work in the collision industry.
Kenny Hall, left, recipient of the I-CAR Jeff Silver Award, with John Van Alstyne, right, CEO and president of I-CAR. Photo by Stacey Phillips.
SCRS
SCRS presented three awards to deserving individuals.
Brett Bailey, SCRS immediate past chair, announced the Collision Industry Non-Individual Service Award winner. He said the award is intended to recognize contributions to the collision repair industry that originate at an organizational level.
"For 20-plus years, this organization has represented the industry, specifically bringing females into the industry [and providing] training, education, scholarships and all of the things we like to do as an industry," said Bailey.
On behalf of SCRS and in recognition of their tireless dedication, the award was given to the Women's Industry Network (WIN).
Aaron Schulenburg, executive director of SCRS, then announced the SCRS Collision Industry Achievement Award recipient. Typically, he said the award is given to someone who has taken action to make the industry better. It is to recognize anyone who exhibits actions that would be considered exemplary in maintaining and advancing the collision repair industry, and has only been awarded on 13 other occasions in SCRS's nearly 40-year history.
"I think everyone should be so lucky in their career, especially if they've been here for many years or decades, to be able to do something that resonates throughout the industry in a really significant way… not because they want the recognition or to be noticed but because they care enough to do something that really matters," he said. "I think to be recognized in the collision repair industry for putting the consumer first is the most honorable recognition you could get. It's why we are all here and all obligated to do."
Schulenburg presented the award to Jeff Peevy, vice president of technical products, programs and services at I-CAR.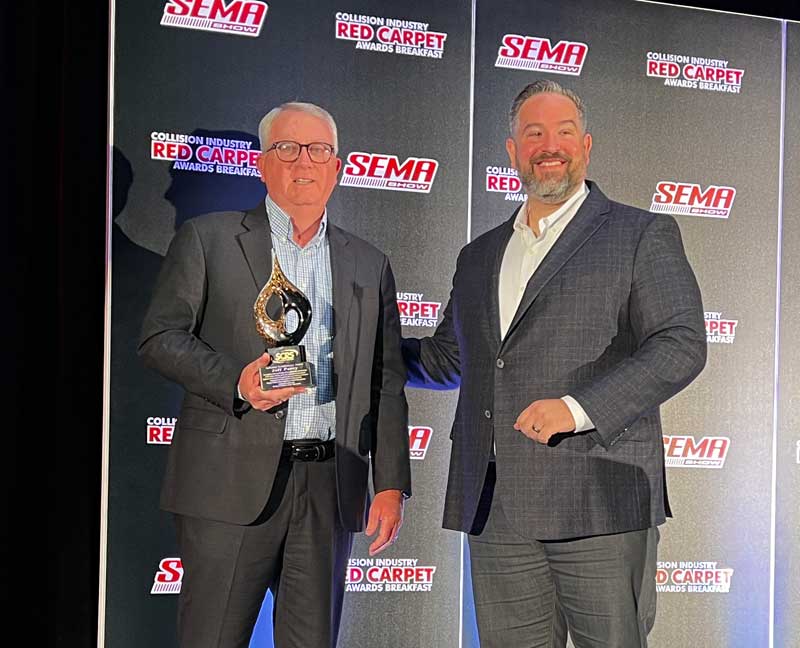 Jeff Peevy, left, recipient of the SCRS Collision Industry Achievement Award, and Aaron Schulenburg, right, executive director of SCRS. Photo by Stacey Phillips.
He said Peevy was recognized for putting the consumer at the center of industry discussions, represented by a chair out on stage at the Collision Industry Conference (CIC) while he was chairman to ensure nobody in the industry forgot why there were there and who they serve. That practice has been carried on during CIC meetings and referenced in trade publications and presentations.
The final recognition given out during the awards breakfast was the 2021 March Taylor Kina'ole Award, presented by Jeff Hendler, owner and president of J.D. Hendler Associates; Barry Dorn, vice president of Dorn's Body and Paint; and Kye Yeung, president of European Motor Car Works.
Hendler said the award is given out in memory of March Taylor, who owned a collision repair facility in Kona, HI, and is especially meaningful to the association and the three presenters who were all friends of his.

Taylor was known for living his life according to the Hawaiian word "Kina'ole," which means "Doing the right thing, in the right way, at the right time, in the right place, to the right person, for the right reason, with the right feeling … the first time."
"March Taylor lived this, embodied it and more importantly, he instilled it in just about everyone he met," said Hendler. "March didn't say a lot but when he spoke, people listened."
When Taylor passed away in 2007, a memorial fund was set up in his name to provide the next generation of technicians a "step upward" through tool scholarships and mentoring opportunities.
SCRS also created the Kina'ole Award, which is given every year to someone who reflects those same characteristics of Kina'ole. This award is less about an action, and more about the character of the recipient, and the embodiment of doing right in the industry in a way that harkens back to lessons taught by the late March Taylor.
Dorn said March was always about helping new technicians enter the industry. "He taught me more than I could ever thank him for," said Dorn. "He was a mentor and dear friend."
This year's award recipient is Toby Chess, who has taught for I-CAR, worked at Kent Automotive, served on the SCRS board and presented regularly at CIC committee chairman.
Chess, who is recovering from a kidney transplant, was unable to attend the awards ceremony. Yeung shared insight about the close relationship Chess had with Taylor.
"The friendship they shared was so golden," said Yeung. "They worked as a team and knew each other so closely. When March passed, it left a void not only in our industry… but Toby took it the hardest."
Yeung said the award is about honoring a man who gave his life to safe repairs and educating the techs out there.
"Toby's conviction is so strong, making shops better and more profitable and seeing to it that all technicians out there follow OEM guidelines," he said.