Page 2 of 2
Collision Center Relies on Go-Parts for Service, Availability and Fast Delivery (article continued)
"When the technician gets the job, he already has everything he needs, which means we can meet our ECD [estimated completion date] and it won't impact our cycle time," Sloan said. "We have a lot of DRPs, and the insurance companies like it when we hit our numbers in that regard. It's frustrating when a car is sitting waiting for a molding or a bracket, and Go-Parts has been able to come through for us on more than a few occasions."
Another major plus is the overall quality of the parts Sloan gets from Go-Parts.
"Price and delivery are a major deal, but quality is No. 1," he said. "We won't get a part unless we are confident that it is just as good as the OE, because we guarantee every repair for the life of the vehicle."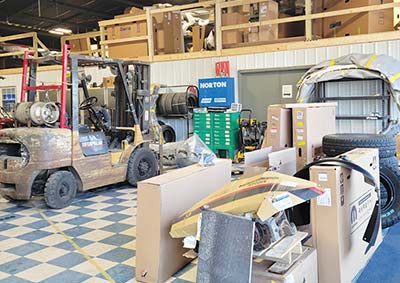 Order accuracy and follow-through is what makes or breaks any parts supplier, and Sloan said Go-Part's track record is awesome.
"I have only one person working with me in the parts department, so we are constantly busy. When I come in at 7:30 a.m. every morning all the way until 4:30 p.m. at the end of the day, parts are coming in and we need to know what they are and what we still need," Sloan said. "Go-Parts has no restocking fees and no cancellation fees, and they stress quick turnaround, so their customer service has always been excellent."
Communication is paramount and that's why tracking every part accurately and on time is mandatory if Sloan wants to keep his customers happy. Stock-checking and acquiring parts is like a big puzzle and Go-Parts is enabling Freedom Collision Center to put the pieces together easily and seamlessly.
"We want to know in real-time where are parts orders are, and Go-Parts has enabled us to achieve that," Sloan said. "If someone has a question when it comes to where a part is and when we will be getting it, we always have the answers."
Go-Parts is taking the good ol' over-the-top customer approach and leveraging the latest technology---a combination making shops more effective and positioning them for continued success.
Go-Parts
844-321-PART (7278)
order.go-parts.com
Facebook: @gopartsautoparts
Instagram: @GoPartsRacing
YouTube: @GoPartsAutoParts
TikTok: GO_PARTS
To read more auto body shop profiles from the June 2023 Shop and Product Showcase, click here.