Page 2 of 2
CIF Continues Legacy of Service, Providing Emergency Relief and Connecting Collision Repair Industry (article continued)
"Our annual donor commitments make it possible for CIF to provide assistance to our industry brothers and sisters in times of crisis," said Quinn. "We appreciate their generosity and ongoing support and are honored to conduct work on their behalf."
"We could not fulfill our mission without our entire network of donors, volunteers and supporters," added Ann Gonzalez, CIF vice president. "No words can express the depth of our thanks to this industry for allowing us to do this work on their behalf. Speaking for the CIF board, we thank our CIF community from the bottom of our hearts."
In 2022, the annual fundraising gala was held after being on hold for nearly two years due to the pandemic. "This event provided the opportunity to bring industry individuals together as well as raise additional funds through event ticket sales, raffles and silent auctions," said Quinn. For 2023, the event is going to be held during its usual timeframe on Jan. 18 in Palm Springs, CA.
Typically, raffle and auction items are donated to CIF so all proceeds from those sales go directly to the Disaster Relief Fund.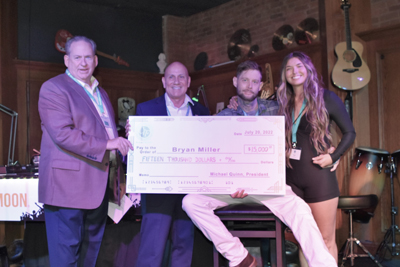 At the July 2022 gala in Pittsburgh, PA, CIF was proud to present a check for $15,000 to Bryan Miller, an individual from the collision industry who displayed heroic bravery and resiliency despite suffering third-degree burns over most of his body. Miller hopes to find a new role in the industry and continue working in a shop. Numerous donations of money, as well as training, equipment, etc., have allowed him to plan his next steps.
Unfortunately, Quinn said there will always be another disaster like the record flooding in Kentucky or wildfires in Oregon, or another health care emergency like COVID-19. "It is our intention that CIF will always be there---reaching out through our distribution channels, seeking to identify individuals in need, and providing whatever assistance we can," he said.
Future plans include expanding the annual donor program and gaining visibility with additional industry organizations. CIF is increasing the number of trustees on its board to fill the seats with leaders from various industry segments and building closer connections with other nonprofit organizations.
"People who become connected with CIF do so in support of our mission and vision, with a desire to contribute and serve," said Quinn. "We are part of an industry that looks after our own, who have big hearts and take generous actions. Whatever the need, CIF is there and will be there, continuing our legacy of service."