CAA Meeting Focuses on Inflation's Impact on the Collision Ecosystem
Written by Stacey Phillips, Autobody News
Published Oct. 5, 2022
Members of the Los Angeles/Orange County chapter of the California Autobody Association (CAA) recently met in Seal Beach, CA, to network, learn from one another and hear up-to-date industry information.

Part of the Sept. 20 event included a presentation from Tim Ronak, senior services business consultant for AkzoNobel, focused on inflation and its impact on the collision ecosystem.
"Tim spoke about the challenges in the economy and our industry that influence what we are charging our customers," said CAA President Melanie Allan, vice president of Craftsman Collision USA. "As shop owners and managers, we need to take information like this into consideration when running our businesses so we can stay viable and competitive in what will be an interesting next couple of years."
Allan said shops are experiencing increases in operational costs like never before and can't wait until it's too late to take action.
"We've survived the past two years through COVID and crazy inflation," she said. "We'll survive the next years as long as we are armed with knowledge."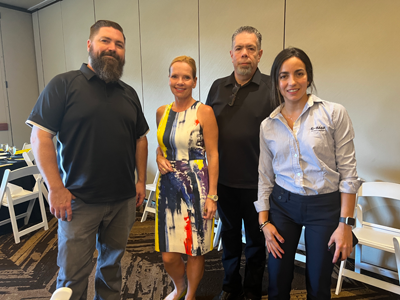 CAA is comprised of individual and independent businesses in the collision repair industry. Its mission is to enable the auto body industry to survive and prosper by helping members produce a quality repair for the consumer at a fair price for a fair profit.
"Today, the collision industry is facing unprecedented technological evolution," said Ronak. "Repairers need to have a single voice as they look for training and insight that helps them in their businesses."
Ronak said association involvement allows individual businesses to band together to have a larger voice and a bigger presence in the industry.
"Participation in CAA is something I feel should be essential for all repairers in California to stay current with repair procedures, methods and technology to keep consumers safe!" said Ronak.
"The camaraderie between the shops is reflected in these meetings," said Cindy Shillito, CAA Southern California representative for the Glendale/Foothills, San Diego and Los Angeles/Orange County chapters, and meeting coordinator. "A lot of friends get together and talk about what is happening in the association and the industry."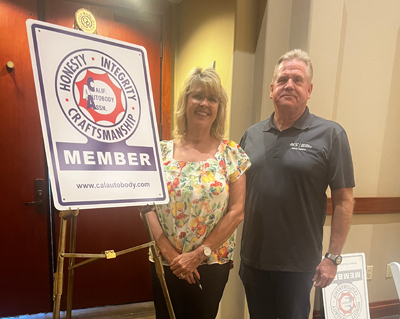 As CAA president, Allan encourages the California collision industry to join the association and attend local meetings. "Not only will you gain valuable information and insights in our business, you'll meet and learn from other shop owners and key participants," she said. "Shops that think they don't need an association like CAA are going to get left behind."
Allan has worked in body shops since she was 19. Craftsman Collision is owned by her father, Bill, who started the business in 1977 with a single shop and has grown it to include 43 shops across Canada with 500 employees. For the past seven years, Allan has operated Craftsman Collision USA, located in Long Beach, CA, with 22 employees.
While attending CAA meetings as a member, Shillito and Anthony Guinn, the previous chapter president, asked Allan to take over as president four years ago.
"We've had a lot of memorable, well-attended meetings and are going to build the momentum back up now that we can all get together again," said Allan, who was recently asked to join the state executive committee for CAA.
Her goal is to provide all members, especially independent shops, the latest information related to management, finance, technology, legislation and general trends in the collision industry.
"We are an incredible resource!" she said. "I'd like more shops to know that and get involved with CAA. We need each other."
The same presentation will be held at the CAA San Diego chapter meeting Oct. 19.
For more information about the meeting and/or membership in the Southern California region, contact Cindy Shillito: radiatorgirl@socal.rr.com or 714-944-4028.