Automotive Industry Trend Continues Towards Use of Lightweight Materials
Since the early 20th century, steel has been the material of choice by auto manufacturers worldwide. Almost every vehicle model has been designed using steel due to its strength, cost-effectiveness, workability and availability.
"Automakers are now moving away from the use of mild steel, which was a core substrate used for automotive construction for a long time," said Ryan Mandell, director, Claims Performance, Auto Physical Damage Solutions for Mitchell International.
Instead, OEMs are increasingly using lightweight materials such as aluminum, high-strength steel, ultra-high-strength steel and plastic.
Ryan Mandell, director, Claims Performance, Auto Physical Damage Solutions for Mitchell International.
Mandell has worked in a variety of industry segments over his career. He joined Progressive Insurance as an adjuster after graduating college in 2004 and then worked for a medium-size MSO, Precision Collision Auto Body, based in Washington. Before he was hired by Mitchell in 2017, he was in charge of five wrecking facilities owned by B&R Auto Wrecking in the northwest for four years.
Autobody News talked to Mandell about the use of lightweight materials in current and future model vehicles and how this shift will impact collision repairers.
Why are automakers moving away from the use of mild steel and using lightweight materials?
Manufacturers are moving away from the use of mild steel for a couple of reasons. First, they want to improve fuel economy in response to the National Highway Traffic Safety Administration (NHTSA)'s Corporate Average Fuel Economy (CAFE) standards, which regulate how far vehicles must travel on a gallon of fuel. The current requirement is for automakers to raise the average fuel efficiency of new cars and trucks to 54.5 miles per gallon by 2025.
With an increased focus on manufacturing electric and hybrid vehicles, lightweight materials are being used to offset the weight of the batteries. Many people believe electric cars are lightweight because they don't have an engine, but lithium-ion batteries are really heavy.
According to a study conducted by a global transportation company named Kar-Tainer, the company found that if you look at the average weight of an internal combustion vehicle versus an electric one, the electric vehicle on average was a little over 400 pounds heavier.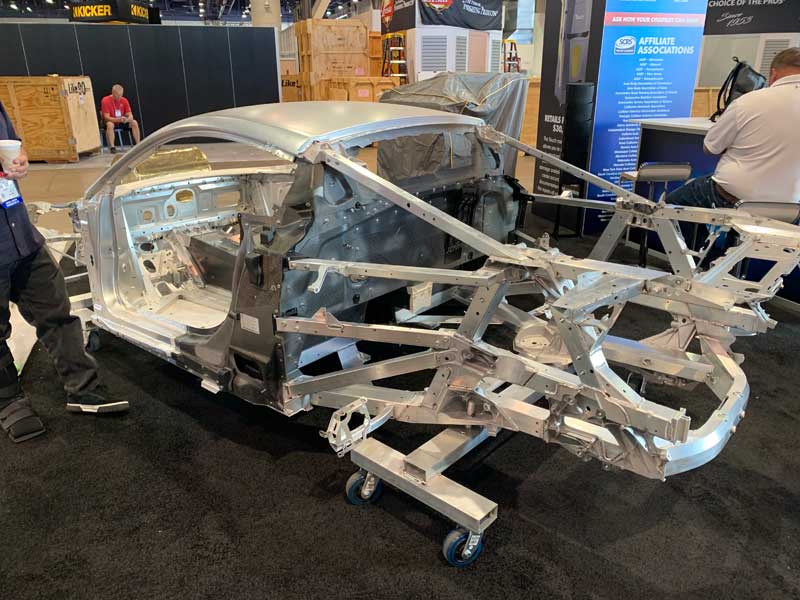 This Audi structure at the SCRS booth during SEMA consists of stamped and extruded aluminum with carbon fiber reinforcements. Photo by Tim Ronak.
Lithium-ion batteries have a low energy density ratio. In order to produce the kind of range and performance and be competitive in the market, you have to have a large battery. Until we get to the point where we're using solid-state battery technology with a higher energy density, this will be the case for some time.
The shift away from steel is also about improving crashworthiness. A university study compared structural aluminum to mild steel, which has been used in structural applications for an extended time. They found that aluminum absorbed twice the crash energy than steel.
Can you tell us about the trend toward lightweight materials and if it's expected to continue in the future?
The use of lightweight materials has ramped up over the last decade. When I worked in a body shop in 2008, the incidents of aluminum in our facility were minimal. By the time I left in 2012, it was becoming more common.
Looking at Mitchell data from our estimating customers, we see a couple of percentage points growth every year in terms of the major component parts constructed of these types of materials.
Looking ahead, it is predicted that this trend will continue to evolve. A study conducted by IHS Markit showed that over the next 10 years, we're going to see high-strength steels have higher percentage content in vehicles than mild steels. Higher tensile strength steels are fired at higher temperatures, which produces more rigidity, so the material is not only lighter, but also stronger.
How is this shift expected to impact collision repairers?
As manufacturers continue to use more non-traditional materials, it will ultimately impact collision repairers. When Ford manufactured the all-aluminum F-150 in 2015, there was much discussion around the use of this material. As a result, some collision repairers have already set up their facilities to accommodate aluminum repair with a clean room and dedicated tools, dust evacuation systems, etc.
In addition to aluminum and lightweight steel, I think we'll also see a shift in the use of composite plastics. All these changes are likely to affect the repair versus replace decision-making process. Certain materials are simply going to create a different pattern of damage than steel.
With some parts of the car comprised of ultra-high-strength steel, for example, a repair is prohibited because it will ruin the vehicle's structural integrity. Other parts, such as composite plastics and even carbon fiber, can be repairable in certain instances but this is rarer than if the panel was comprised of mild steel.
The properties of the metal in the vehicle dictate how it will respond in an accident. Because aluminum becomes more brittle when impacted, it's more likely that it will crack versus deform. When mild steel is impacted, it dents. It deforms the energy and continues to travel through the rest of the car because that energy hasn't been dispersed quickly enough.
When you have something that cracks, that energy disperses much more efficiently. If you have a fender with a dent, it might be repairable; however, it probably can't be fixed if it has a crack.
Take the 2018 Audi A3. There's an A3 with a gas engine and an Audi e-tron, the plug-in electric vehicle. With the gas engine version, the fenders are made of mild steel. The fenders on the plug-in version are aluminum. The front ends look identical and there is no difference cosmetically.
However, when those cars are in an accident and subjected to impact, the fenders are going to respond very differently. There will be different patterns of damage simply due to the materials. That's at the core of why this is important.
The chief engineer of the Ford Explorer, Bill Gubing, said that weight was a factor in every decision they made on the 2020 Explorer, according to FordAuthority.com. The engineering team looked at every part and how they could achieve weight savings and still achieve the same type of performance or better in a crash test. Ford uses aluminum in the 2020 Explorer, but it also uses steel, magnesium and plastic.
This is a great example of how automakers are looking at all the components in the vehicle to determine how it can be made lighter. For repairers, this means the opportunities for fixing the components in a collision repair setting are reduced. You don't have as much decision-making capability due to the materials being used. Subsequently, your potential profit margins are reduced and cycle times will likely increase.
How do you recommend collision repairers educate themselves and prepare for these changes?
As we see the use of these mixed materials increase, understanding the materials and the makeup of vehicles is key. In addition to having the proper tooling and equipment, training is critical. Although it can often be challenging to do in a shop environment, over the last 18 months during the pandemic, many shops have had more time to educate technicians. It's also important to include customer service representatives, estimators and managers.
I-CAR is going through a revamping of its content, which will be very valuable for the industry. There are also a variety of webinars and classes available that can be helpful.
A huge component of education involves referencing the OEM repair procedures, which are changing all the time. That's why we are working hard at Mitchell to integrate those in the estimating platform so it's not so cumbersome for shops to do that research.
Shops also need to set appropriate expectations with customers. This starts with the estimating process. When writing the initial estimate, it's important to educate owners of newer model vehicles about the types of materials used.
Consumers are unaware of many of these changes and don't understand the impact of the materials when they are in an accident. Having those types of conversations up-front is an opportunity for collision repair facilities to put themselves in a position where they are the experts and demonstrate they are looking out for their customers' best interests.
We've also seen interest from insurance clients wanting to understand more about how vehicles are constructed and the decisions that need to be made.
What are some of the opportunities available for repairers?
In the future, I think there will be more specialization in the market. By training employees to repair vehicles with these types of materials, shops can create a healthy profit center. It's not going to be for every shop but depending on the market and the customers you serve, there could be some opportunities, whether you are an independent repair facility or part of a consolidator.