Automakers at CIC Meeting Share News, Updates Related to Collision Repair
Written by John Yoswick, Autobody News
Published Sept. 5, 2023
The Collision Industry Conference (CIC) offers an opportunity for the industry to hear the latest collision-related news from the automakers, and this past summer's meeting held in Indianapolis was no exception.
Dan Dent, who oversees the certified collision repair network for Nissan, said the automaker has launched a new virtual academy for training, and is enhancing its shop locator to allow Nissan and INFINITI owners to schedule appointments and request photo estimates. That system will use Carwise so appointments and estimate requests will arrive at the shop "in a format you're used to seeing it in," Dent said.
But the change in the program he announced that actually drew applause from meeting attendees was some new dealership training launching this fall.
Dent asked shop owners at the meeting to all raise their hand, then said they should lower their hand if they'd ever had a customer say, "I talked to the dealership service advisor, and they said I didn't need to do that," referring to something the body shop said needed to be done. Every raised hand in the room dropped. Dent said Nissan is working with Collision Advice on training that will help service advisors "completely understand the situation you're in on a daily basis."
"So when they ask about calibrations, what does that really mean, how do we answer that," Dent said as an example. "Dealers will have about 90 days to complete that training once that class is out."
Using the OEM Repair Information
Dent described Nissan's TechInfo website as "the baseline truth for everything when it comes to our repairs," but noted current usage of the site does not correlate with the number of Nissan vehicles being repaired.
"I don't think if there's 100,000 repairs, I have to have 100,000 logins," Dent said. "But when I'm a lot less than that, that reflects on the operators [of] the majority of the body shops."
Shops and technicians can't continue to rely on "doing what we've always done," he said.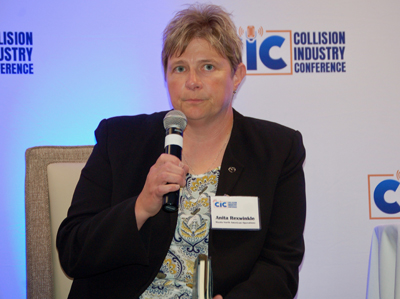 But Dent also was asked about the challenge of even a small job requiring hours of research.
"We know that's a problem. We see that," he said, noting he and a colleague worked on an estimate that required more than four hours of research. But he also pointed to other sources of information that could help bridge the gap, noting that using OEConnection's RepairLogic for that same estimate shaved hours off the research time.
"Is it 100%? No, but it's better than what you're doing" if you're not looking up any of the automaker's information, Dent said. "I have endorsed RepairLogic to say at the very least why aren't you using that?"
Other OEMs Share Information
Other automaker representatives offered a variety of insights during discussions at CIC. Anita Rexwinkle, who oversees the aftersales parts program for Mazda North America, said the message she's heard during recent industry meetings is that more collision-related position statements are needed from Mazda.
"That's a big issue of mine, to support you repairing a car properly, and having the directives to be able to utilize when you're writing estimates," she said. "I'm glad to say that's finally starting to move."
Ben Cid, collision manager for Mercedes-Benz USA, said the industry shouldn't look any time soon for vehicle telematics to provide a parts list for a vehicle after an accident.
"But it is highly possible to start using some of that information in the not-too-distant future for proper triaging of vehicles," Cid said. "You may not know the parts list on it, but you'll know how severe that impact was. You can start to get an idea of whether it's drivable or not."
Kelly Logan, director of the Rivian collision repair program, concurred that an accurate parts list through vehicle telematics won't be available soon.
"That's the ultimate goal [but] it's going to take a long time to get there," he said.
Vehicles are getting better at self-diagnosing problems, he said, but there are too many variables related to collisions.
"You have an accident and it shows the headlight is bad. But is the headlight bad? Or did the wiring harness get damaged in the accident and there's actually nothing wrong with the headlight?" Logan said.
Logan said shops working on Rivian vehicles---or others for which owners have a cell phone app---need good procedures for ensuring those vehicles are placed in service mode during repairs.
"It's not about disconnecting the customer from their vehicle," he said. "But in certain instances you can open doors or open the hood or honk the horn. I've known of probably two instances where there was a car in a paint booth and someone decided to [remotely] open a hood that was all masked off. If you're a technician working on the front end of a car and all of a sudden the horn blares, you're really not going to be too happy about that."
The next CIC meeting is taking place Oct. 31 in Las Vegas during SEMA week.