ALLDATA's ADAS Quick Reference Tool Receives SEMA New Product Award in ADAS Category
Written by Stacey Phillips, Autobody News
Published Nov. 8, 2022
Founded in 1986, ALLDATA is known for providing OEM automotive repair and collision information. The company said more than 400,000 technicians use ALLDATA's software solutions for faster diagnostics, updated OEM information covering 95% of vehicles on the road, and simpler shop management.
At the November SEMA Show in Las Vegas, NV, ALLDATA received a 2022 SEMA New Product Award in the Advanced Driver Assistance System (ADAS) category for its new ADAS Quick Reference tool. The annual awards program recognizes cutting-edge new products introduced to the automotive specialty-equipment market.
The company previously received a PTEN Innovation Award this year.
During the show, ALLDATA representatives shared information about the company's latest enhancements and provided live demonstrations of its OEM repair information products, diagnostic tools and shop management software, including ADAS Quick Reference, ALLDATA Inspections and its new partnership with Nexpart Multi-Seller.
"We're always looking for ways to help shops boost productivity and streamline the workflow process," said Satwinder Mangat, president of ALLDATA.
Autobody News had the opportunity to talk to Mangat about the award and the company's new products.
What was your reaction to receiving the SEMA New Product Award?
We were thrilled! ADAS was a huge topic at SEMA, and we were honored to be recognized for this latest update to ALLDATA Repair® and ALLDATA Collision®, which makes it easy for customers to find ADAS repair information in one place.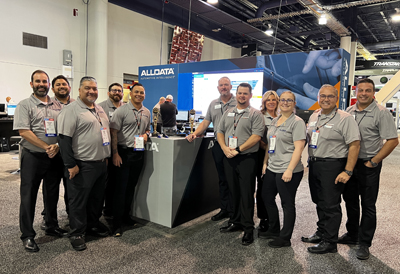 What are some features of the product that will benefit collision repair shops?
ALLDATA's ADAS Quick Reference provides one-click access to vehicle-specific ADAS information direct from the OEMs.
Shops can easily filter by system, component or location. The ADAS Quick Reference tool links directly to the ADAS system or component by name, such as Backup Camera or Lane Departure System. It also provides the location of the component, identifies removal/replacement requirements that could result in extra labor for calibration or sublet costs, and displays basic calibration information, required tools and prerequisites for servicing ADAS components.
Having all the ADAS information in one place helps shops save time and prepare more accurate estimates and detailed blueprints based on OEM requirements and procedures.
What did you showcase during the SEMA Show?
It was great to be back in full force for the first time since 2019. There was a ton of buzz about ADAS this year. That was certainly the case at the ALLDATA booth, where attendees lined up for demos of the new award-winning ADAS Quick Reference tool.
We were also excited to showcase our new partnership with Nexpart Multi-Seller. The tool makes it easy to add parts from leading vendors to an estimate, check local product availability in real-time, and quickly order from preferred suppliers. ALLDATA Shop Manager now includes Nexpart Multi-Seller parts ordering, providing 24/7 access to leading suppliers in one place, including the AutoZone catalog.
In addition, show attendees could see how ALLDATA Inspections, another new tool, enables shops to jumpstart the customer check-in process curbside and perform digital vehicle inspections (DVIs).
How will ALLDATA Inspections help collision repairers?
ALLDATA Inspections makes it easy to greet customers at the vehicle, look up or add a new customer, check off a digital inspection sheet, and email it to the customer---all in minutes.
The tool works with ALLDATA Repair®, ALLDATA Collision® and ALLDATA Shop Manager, so that the entire service team can share customer and vehicle documentation for estimates, repair orders and invoices in real-time.
ALLDATA Inspections gives shops flexibility to check in customers at their vehicles, identify services that are required or due soon, and deliver trustworthy advice on the spot for a better overall shop experience.
Is there anything you would like to share about ALLDATA's future focus?
We're excited about ALLDATA Find-A-Fix, a new information source that provides top-ranked diagnostic solutions for a specific vehicle and Diagnostic Trouble Code (DTC) based on data-driven analysis for trusted repairs. It's currently included at no additional cost for a limited time with ALLDATA Repair® and ALLDATA Collision®.
Another product on the horizon is ALLDATA Repair Forecaster. It generates a list of known failures for the next 12 months or 10,000 miles based on year/make/model/engine (YMME), location and odometer reading. This allows customers to use information from ALLDATA to share predicted repairs with customers.
For more information, visit www.alldata.com/en.