ALLDATA Introduces ADAS Quick Reference, Integrated AutoZone Parts Ordering, Instructor Toolkit
Written by Stacey Phillips, Autobody News
Published Nov. 9, 2021
Since ALLDATA was established in 1986, the California-based company has prided itself on making it easier for technicians to access OEM information and procedures for safe and accurate repairs.
Today, more than 400,000 technicians use ALLDATA for diagnostic tools, updated OEM information and shop management solutions.
"We constantly upgrade our flagship products to give customers the online tools they need to run their shops more efficiently and with greater accuracy," said Satwinder Mangat, president of ALLDATA.
The company's most recent updates include ADAS Quick Reference for ALLDATA Collision and ALLDATA Repair; integrated parts ordering from AutoZone in ALLDATA Shop Manager; and the Instructor Toolkit, a resource for the career and technical education segment.
Autobody News reached out to Mangat to learn more about these recent additions and how they will benefit the collision repair industry.
Can you share information about the new ADAS Quick Reference tool for ALLDATA Collision and ALLDATA Repair?
Now that Advanced Driver Assistance Systems (ADAS) are standard on practically all new vehicles, shops need quick access to ADAS information to see the extent of OEM-required calibration and whether they can perform the procedures in-house or will need to sublet.
Everything on the car affects ADAS systems. Repairs that were once considered routine will trigger multiple ADAS system requirements due to advanced safety and convenience features.
Camera-based system technology will require calibration due to tire replacement, suspension work, engine modifications, steering system repairs, outside rear-view mirror replacement or even a simple wheel alignment.
Calibrations may include static procedures in the shop or dynamic procedures on the road that can take an hour or more to perform.
That's why we added ADAS Quick Reference to ALLDATA. Now, just one click takes the estimator or technician to the latest ADAS information for that specific vehicle year/make/model/engine. Knowing what calibrations may be required is critical to vehicle safety.
What are some of the main benefits of ADAS Quick Reference?
Because ALLDATA publishes more OEM vehicle data---covering 44,000-plus vehicles, 95% of all vehicles on the road today---more frequently---we publish new data daily---shops can now access the latest ADAS information from within ALLDATA Collision, direct from the OEMs.
Selecting "ADAS Quick Reference" takes the user to the latest ADAS information for that specific vehicle, where they can link directly to the ADAS System/Component by name, such as Backup Camera or Lane Departure System.
The ADAS Quick Reference feature also provides the location of the component that may have been damaged in a collision and identifies component removal/replacement that could result in extra labor for calibration or sublet costs based on procedure complexity. In addition, it includes basic calibration information, required tools and prerequisites for servicing ADAS components.
With a range of ADAS now standard on new vehicles, it's critical that service writers and technicians be prepared for any vehicle that comes into their shop. The new ADAS Quick Reference tool does just that; it gives them one-click access to the latest ADAS information in ALLDATA, straight from the manufacturer.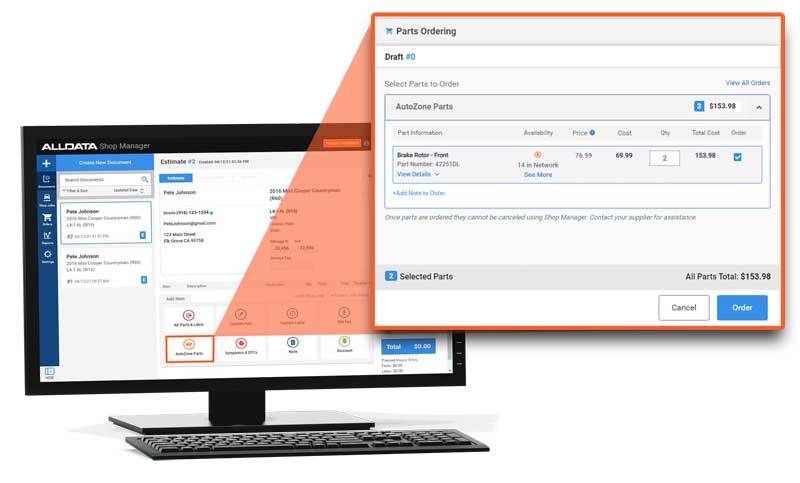 ALLDATA Shop Manager
What prompted the development of the integrated parts ordering from AutoZone in ALLDATA Shop Manager?
AutoZone, ALLDATA's parent company, is a leading retailer and distributor of automotive replacement parts and accessories, with more than 6,000 stores in the U.S. Providing seamless access to AutoZone's massive catalog of quality parts in ALLDATA's industry-leading software–all on one platform–is a huge time-saver for customers.
What are some of the main features/benefits?
ALLDATA Shop Manager makes it easy to generate the estimates, repair orders and invoices that are essential to every shop's workflow. With our latest update, shops can check availability at their local AutoZone store and order parts in real time.
Users can toggle between shop documents and OEM information and procedures without punching out to a separate browser, saving time and boosting accuracy. The new update makes it possible for users to add AutoZone parts to the estimate, check local product availability, order parts directly from Shop Manager with no calling required and receive the parts order.
We are constantly searching for additional ways that help shops save time and add value in every aspect of the repair and parts procurement process. By integrating AutoZone parts ordering into Shop Manager, customers can quickly check local availability and order parts from AutoZone with just a few clicks, saving customers valuable time and resources.
ALLDATA Instructor Toolkit cover
Can you tell us about Instructor Toolkit and why it was created?
Attracting and retaining quality, trained technicians is one of the biggest challenges facing our industry. ALLDATA provides automotive repair information software, and teaching students how to use the same technology that the pros use is essential to prepare them for success in the marketplace.
The Instructor Toolkit is a turnkey resource for automotive and collision career and technical education (CTE) programs that was developed in partnership with the Automotive Service Excellence (ASE) Education Foundation. It makes it easy for auto repair educators to create curriculum that meets ASE accreditation standards for researching OEM repair information.
For schools to attain ASE accreditation, they must follow the task list in the ASE standards guide. Each Instructor Toolkit follows this format, with tasks for students that mirror the task list at the end of the ASE standards guide. It also includes specific vehicle examples (year/make/model/engine) and the navigation path to the required information in ALLDATA.
To ensure accuracy and consistency with ASE standards, the Instructor Toolkit was developed with the guidance of an advisory panel that includes educators in both general repair and body work, ranging from first-year instructors to I-CAR Platinum master instructors and ASE certified master technicians, including public, for-profit, high school, and college-level institutions.
"We know this [using OEM repair information] is an important skill for students to learn, but it has always been very difficult for the instructors to put it into motion on a regular basis, and with consistency," said George Arrants, vice president of ASE Education Foundation. "The scenarios that you've created in each one of the lessons are directly related to the ASE's standard guide tasks. You've given them a solution in a box, and it is over-the-top awesome."
Is there anything else ALLDATA has recently introduced to meet the needs of the industry?
ALLDATA Diagnostics, our scan tool system, is now available on all platforms, including iOS. It turns any tablet, including an iPad, into a professional-level scan tool with the power of ALLDATA built in. Users can run unlimited vehicle-wide scans---at no additional cost---access DTCs that link to relevant OEM repair info, record live data and more.